Market-Moving News: Summary of 20 Articles
Retail sales are soft, but fall seasonal goods are picking up. The production indicators in the National Activity index were strong, but employment related data was only slightly higher. Consumption and housing was soft.
Overall manufacturing had mixed reports. The PMI Flash index reported slowing growth in the manufacturing sector, amid contraction in new export orders. New orders point to slowing output. The Richmond Fed manufacturing district showed no change. August Durables beat expectations; however, July was revised down by 8.1%. Excluding transport and motor vehicles, orders were off 0.1%. The Kansas City Fed district composite was 2 in September, down from 8 in August. Most factory indexes pointing to future growth improved considerably from the previous month. Price indexes moderated.
Real GDP growth was unchanged at an annualized rate of 2.5%. Final sales of domestic product were revised up 2.1% and headline inflation was revised down 0.6%. Second quarter corporate profits were revised down to $1.82 from $1.83 trillion. Personal income gained 0.4% after rising 0.2% in July. Overall consumer spending rose 0.3%, meeting forecasts, led by durables. Nondurables were flat. Services rebounded .4% following a 0.1%dip in July. The GDP headline inflation remained soft with o.1% rise for the PCE index. PCE core rose 0.2%. PCE levels are well below the Fed 2% target.
Home prices increased 1% annualized, after a 0.6% rise in June, 8.8%. Higher mortgage rates are affecting demand only slightly. Mortgage rates fell sharply, down 13 basis points to 4.62% last week. New home sales rose, but supply relative to sales slipped to 5 from 5.2 months. Existing home sales were down 1.6%, the lowest number since April.
The job market continues to improve as initial claims fell to 305,000, vs. a forecast of 315,000. The 4-week average is down for the 4th week in a row, by 7000 to 308,000, a new recovery low. Continuing claims continue to trend lower.
Overall, I conclude the economy is still in a pause, with housing and jobs improving. The news should create mild upward pressure on the U.S. markets.
Sentiment Metrics
Consumer sentiment is down, with a 2.1 point dip in the Consumer Confidence Index; however those saying jobs are hard to get is down to a recovery low. Expectations are at the softest level since May.
The Bloomberg Consumer Comfort index had small gains in the past three weeks, erasing half the August loss. Economic confidence was weak, but the buying climate number was better.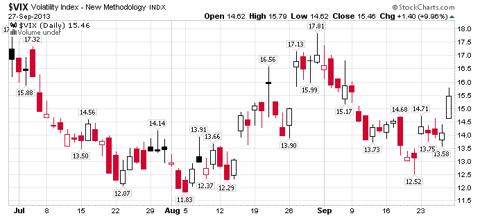 Overall sentiment is only mildly positive and, while the VIX is higher, 15.5 is not close to levels of concern or panic. If the congressional impasse comes into play, we could see a sudden surge to 25 or 30.
The Market (S&P 500)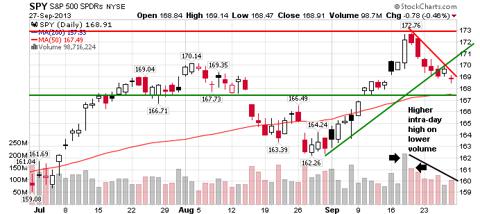 The market behaved about as I expected last week-no rise due to congressional dysfunction, yet no major sell-off. The selloff in the S&P 500 was relatively narrow, and the index was much weaker than the broad Russell 2000 (NYSEARCA:IWM). Note that after a strong up-day on a volume spike, the market rose on lower volume, and then dropped sharply. It would have been hard to detect this turn intraday on the 19th as the volume was building, but the downward move on the following day (Friday the 20th) was strong evidence of the trend reversal that triggered my selling on the 20th.
The Small Caps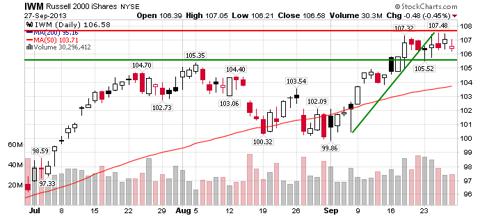 When there is a significant difference with the SPY, I bring out the IWM chart. The strong support indicates that many stocks rose during the week. Strong sectors are shown below.
Core Relative Strength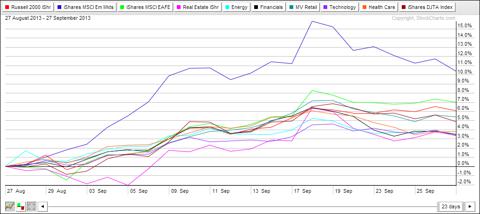 The core group is 10 ETF's that I think cover the major market sectors. I try to buy IWM when it is rising and then funds that outperform this broad index. Foreign stocks (NYSEARCA:EFA) and emerging markets (NYSEARCA:EEM) beat IWM last week, but I'm staying out of foreign funds, in the belief that they will be more sensitive to a government shutdown/debt ceiling crisis, and will move on overnight news (such as failure of a last minute vote) before the U.S. markets open. IWM itself is in a base, and I'm fighting to keep myself from buying it on an upside breakout before the crisis is resolved.
Important Sectors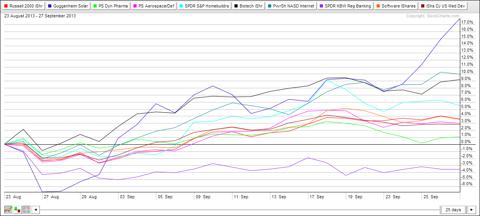 Solar (NYSEARCA:TAN) is on another leap higher, and I opened a small position. Internet stocks (NASDAQ:PNQI) are strong and many are small caps, less likely to be effected by government. Biotech (NASDAQ:IBB) is next, but could be impacted by closing of government labs, so I will stay away from any breakouts. Finally homebuilders are doing ok, but I'm not impressed enough by housing statistics to get into this volatile sector.
Selected Additional Strong ETF's
On top of those mentioned, a further search turned up gaming (NYSEARCA:BJK) and semiconductors (NYSEARCA:SMH). In order of relative strength, my buy candidates are TAN,EWZ,PNQI,BJK,IBB,SMH. Next week, I will move SMH into "Important Sectors," replacing regional banking (NYSEARCA:KRE).
Trades Last Week
Sold: SOCL, XLI, bought: TAN
Guess on Next Week
The market will continue to fall gradually while the country hangs fire waiting on Congress. If the crisis is resolved or delayed, we will see a short, sharp, broad relief rally followed by a gradual uptrend driven by the economy. Unfortunately, political positions seem harder than ever, and I estimate the possibility of a government shutdown to be at least 50/50. There is talk of a 1-week continuing resolution, but that will bring the shutdown up against the debt ceiling deadline. Both will have to be dealt with simultaneously. The possibility of a 500-1000 point Dow drop is out there. I plan to have a few puts in place ahead of the calamity. The buy list above is for the rally that will take place after the drama.
Disclosure: I am long TAN.