Well, they passed a bill-crisis over. Although the market opened down over 100 points on Thursday, it rallied all day to close -2 on the DOW. Damage to the economy? Only $24 Billion, 0.6% of GDP, and the possibility of higher interest rates for everyone, according to Moody's. The market now returns to worrying over earnings and the economy. Many delayed reports will surface in the next few weeks, including market movers like the Employment Situation. Earnings are likely to be reasonable and generate mild upward pressure, and cash will be coming back in.
Market Moving News: Summary of 15 Articles
Again this week, the economic news is sparse, due to government report delays. Here is a synopsis of what was available:
ICSC-Goldman reported reduced same-store sales resulting from the shutdown. Redbook reported no change, but is projecting a large drop for October.
The Empire State manufacturing index is near zero, indicating very low growth; however, shipments and 6-month expectations were strong. The Philly Fed index is dropped from 22.3 in September to 19.8 in October. Its new order index is at 27.5, and 6-mo. outlook is a record 60.8. Bellwether General Electric reported strong earnings in all business segments on Friday.
Government-related mortgage applications are down by over 7%. Housing supply constraints are slowing sales growth, but new homes are up by low double-digits for the year.
Businesses are expecting 1.9% year-ahead inflation. Their unit costs are up 1.7% annualized. Only 41% indicated profit margins are above "normal," vs. 49% In September.
According to the Fed Beige book, growth is "modest to moderate." The report indicates little probability of tapering in the Oct 30 announcements. Jobs data continues to be distorted, due to the shutdown.
Sentiment
Sentiment attempts to measure the mood of investors, a strong indicator of how they will react to news. If sentiment is strong, the market ignores bad news. If it is weak, the market ignores good news. If the market has been rising, but sentiment is weak, the probability of a sharp plunge is high.
This week, the Bloomberg Consumer Comfort Index (NYSE:CCI) fell by 4.4 points to -34, below the -20's for the 6th time in 27 weeks. There was a 13-point jump in the number of Americans saying the economy is getting worse. Several other measures are down and pessimism metrics are up sharply. Pessimism among Americans with incomes over $100,000 is the lowest in four weeks.
Since the CCI is a weekly report, it is reflecting the mood during the shutdown period. If its numbers fail to improve, the current rally is likely to end.
The VIX
The VIX is a sentiment measure of the degree to which institutions are protecting their portfolios by trading in options. When anxiety rises, option costs spike. The VIX usually rises in falling market, but spikes higher when serious threats are perceived. In the last two weeks, it stayed below a moderate 22, which shows some worry, but not much by historical standards. (In 2008, the VIX rose to 80.)
Last week the VIX reacted to the political drama, moving quickly 18.67 on Tuesday when a House vote failed, and fell to 12.5 as the threat was resolved on Wednesday and Thursday. It is now near levels where the market is "relaxed," and is probably having a gin & tonic.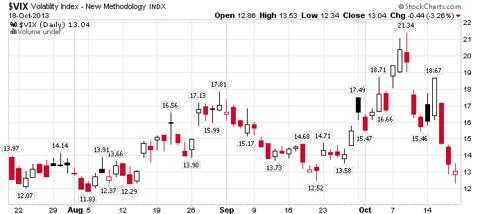 The Market (S&P 500)
The purpose of the following chart is to interpret the most watched market benchmark. Patterns in the chart can be predictive.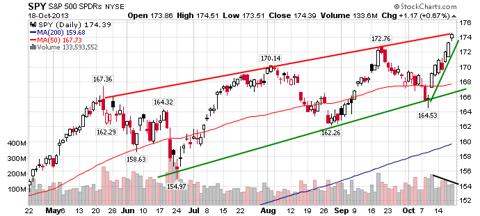 The SPY is in a one-week uptrend of 127%/year, gapping to a new all-time high on Friday. This rate could be sustained for a few weeks. Last week, I discussed a bearish rising wedge formation. The SPY shows this pattern slightly, but it is probably insignificant at this time. If we see a volume drop on a jump higher, the next move could be a trend break. Both a rising wedge and falling volume tell us that long-term investors are transferring shares to short-term players who will sell on bad news, causing the reversal.
Small Caps
Small cap stocks have the most potential to rise during bull markets. The Russell Small Cap index (NYSEARCA:IWM), which contains 2000 stocks, is a broad market indicator. When IWM is trending up, I buy it and follow the trend with relatively loose stops until it changes. IWM is also the benchmark for other items in my portfolio. If an ETF cannot outperform IWM, I usually don't buy it.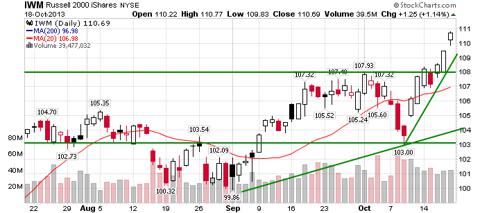 The secondary trend shown in the chart is rising at 193%/year. This is steep and won't last long, without changing to a lower slope or reversing. There's a chance this trend will end with earnings season, near the end of the month.
Depending upon whether you are pursuing a short- or long-term strategy, you could set stops at 107, the 20-period moving average, or 105, an area of weak support, or 103, which has stronger support.
I use stops as safety valves in the event of a sudden plunge. If there are clouds on the horizon, sentiment turns down, or bearish patterns emerge, I usually adjust them higher or sell in advance of the threat.
Core Relative Strength
This chart compares the strength of a group of large ETF's that cover ten major market sectors. Relative strength leadership changes whenever the market makes a big turn or the factors driving it change. Thursday qualified as a key turning point where sentiment and leaders could shift. Because Thursday is such a recent event, the chart has a short time 8-day timeframe in order to reveal emerging leaders.
I choose ETF's from this group if they exceed the relative strength of IWM, or are steady, low volatility gainers that can be held long term.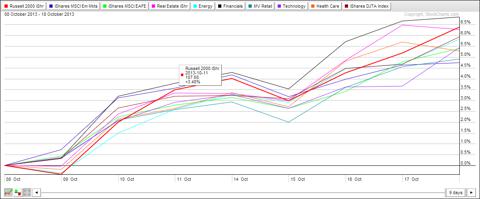 The most interesting leadership change is the interest-rate-sensitive REIT sector (IYR, pink). These stocks suffered a huge drop after the original tapering announcement, and could now be poised for a big run higher. IYR was the hottest ETF on Thursday, but was relatively flat on Friday. I'll be watching closely for a breakout. Financials (XLF, black) also rallied, but didn't do as well as many other issues on Friday.
Small caps (IWM, red) is the second-best performer in this group. It was strong on both Thursday and Friday. Watch for technology (XLK, purple) and transportation (IYT, brown) to outperform IWM.
IWM is a definite buy, and because it rises steadily with less volatility, I hold healthcare, (NYSEARCA:XLV).
Key Sectors
After buying IWM and selected members of the ten core funds, I add strong ETF's from the remaining 35 on my watch list. The following chart compares the next nine important sectors to IWM.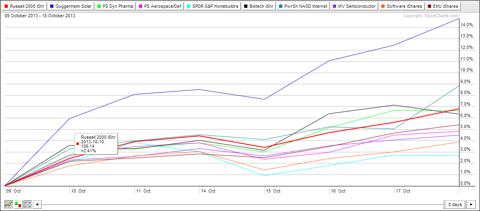 Solar (TAN, blue) continues to outperform everything over almost all time periods, and its volatility is somewhat less recently. Internet stocks (PNQI, turquoise) are surging.
Other Key Sectors
The Nasdaq 100 (NASDAQ:QQQ) was the fastest-rising major index on Friday, outstripping IWM. Other ETF's that surpass IWM are Internet (NASDAQ:PNQI), social networks (NASDAQ:SOCL), Brokerages (NYSEARCA:IAI), regional banking (NYSEARCA:KRE).
Trades Last Week
Bought: IWM, XLV, QQQ, IYR
Guess for Next Week
The economies of Europe and China are improving, and the U.S. economy could strengthen until the next Congress-generated crisis. Traders and institutions will be putting cash back into the market. Next week, I expect a gradually rising market, with strong performance in some sectors. After a two-week run higher, the market is likely to cooling off, and become dependent on reports relating to the Christmas shopping season.
A Model Portfolio
If building a portfolio from scratch, keep 30% in cash and buy 20% of IWM and 15% of XLV on Monday if the Market is flat or rising.
Of the remaining 35% of your funds, if their trends continue, consider gradually adding: TAN (10%), PNQI (5%), SOCL (5%), IAI (10%), KRE (10%), and XLF (10%). The percentages of PNQI and SOCL are lower because their holdings overlap.