Market Moving News: Summary of 15 Articles
The New York Fed reported slightly negative conditions, as the index fell to -2.21 vs. +1.52 in October. New orders were sharply lower. Industrial production slipped .1% after dropping .7% in October. Manufacturing increased, in spite of a 1.3% drop in motor vehicles and parts in October. Excluding vehicles, manufacturing gained .4%. Capacity utilization dropped slightly from 78.3% to 78.1%.
The national activity index was little changed in September. Year-ahead inflation expectations are 1.9%, in November, matching October. Business profit margins declined. Companies expect unit costs to increase 2.7% over the next 5 to 10 years. Sales growth expectations were 1.9% October vs. 1.8% in April.
Government receipts are up 8% from a year ago, Outlays are down 5%. Defense spending is down 5%. The trade deficit widened from goods excluding petroleum, and indication that the U.S is producing more of its own oil. Petroleum imports were down 3.6% in the month.
Business productivity gained 1.9% in 3Q. Unit labor costs dipped 0.6% annualized. Compensation rose 1.3% annualized following 2.3% in 2Q. These results may speed quantitative easing.
Mortgage applications dropped 1% in the November 13 week and home sales are in a flat trend. Refinancing fell 2%. Mortgage rates rose sharply, up 12 basis points to 4.44%.
Job claims edged slightly lower. The average is down slightly.
Conclusion: The economic news is neutral and not pushing the market higher. Records being set by the indexes are likely due to perceptions the price levels are supported only by the Fed stimulus. The first hint of tapering could reverse the current trend.
Sentiment
Small business optimism is sharply negative, and prospects for small business job growth (in the survey) dropped. The shutdown and debt ceiling threat were cited as factors. Numbers laying blame on the political climate are at a record.
The Market (S&P 500)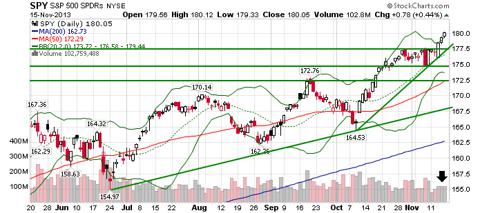 The S&P 500 reached an all-time high, closing at 180.05 on Friday, after a three day surge; volume was steady and about average. There is weak support at 177.5, stronger support at 175, and the possibility of a sharp drop below.
Small Caps (NYSEARCA:IWM)
Small caps are my key indicator, since I don't see the market advancing strongly without support from the 2000-stock Russell Small Cap Index. IWM has started a secondary uptrend, but is behaving with more caution than the large-cap SPY. Watch for a trend break or a big rise on decreasing volume.
Core Relative Strength
The strongest ETF's during the last 17 days have been retail (NYSEARCA:RTH), healthcare (NYSEARCA:XLV), tech (NYSEARCA:XLK), and transportation (BATS:IYT); however in the past week, note the recent upsurge of emerging markets (NYSEARCA:EEM). Energy (NYSEARCA:XLE) and finance (NYSEARCA:XLF) have also outperformed the small cap reference (IWM). I will increase my positions in these funds, with due consideration to the stimulus issues, if their trends continue.
Sector Composite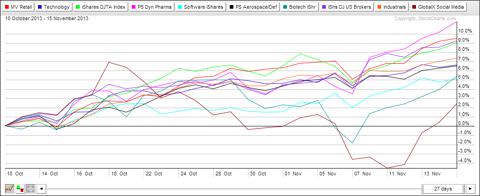 Several funds of the 36 that I follow exceed the IWM in relative strength. Pharmaceuticals (NYSE:PJP) lead, followed by brokers (NYSEARCA:IAI), retail (RTH), transportation (IYT). Social media (NASDAQ:SOCL) and biotech (NASDAQ:IBB) have recent sharp uptrends.
Funds on my buy list are RTH, XLV, XLK, IYT, PJP, IAI, SOCL, and IBB.
Trades Last Week
Bought: IGV, RTH, PJP, PPA, XLV, IBB, BA
On Monday, BA popped about 4% at the open on news of large orders from Arab airlines for the new 777X. Subsequently, the market took out BA and several of the above funds, as they hit stops.
Conclusion
The VIX has fallen below 12, an area that I and others consider to be indicative of excessive complacency. Earnings season has provided some stimulus, but as it winds down, sensitivity to the start of tapering seems to be increasing, and news from Congress is not suggesting any progress toward a budget deal or immigration reform, both of which could lift the markets. There is some indication that policy changes in China could increase demand, particularly in the mining and minerals sector.
At the moment then, the only stimulus remains traders' perceptions that QE will keep the market up. While one day doesn't make a trend, the market had a sharp mid-day sell-off on Monday, after the DOW hit 16000. Round number levels sometimes cause the markets to hesitate, and without more stimulus, to roll off.
The relative strength of IWM is improving. If this trend continues, rotation of money into small caps could move averages higher if the other factors don't intervene.
I remain only lightly invested until i see more evidence of market strength.