Market Moving News (Summary of economic reports)
Store sales are picking up going into Black Friday. Redbook reported year-on-year growth of 3.5%, a rate that has been gradually on the rise for the last month. Overall retail sales gained 0.4% vs. expectations for a flat October. This spending increase takes place during low sentiment readings.
Growth in the Philadelphia Fed's manufacturing sector is lower than the pace of the prior two months. In contrast, composite activity in Markit Economics' manufacturing sample is suddenly picking up steam, at an 8-month high of 54.3 vs. October's 51.8. Kansas City Fed District manufacturing activity continued to grow in November, and producers' expectations improved moderately.
Wage and income inflation remain low. Employment costs remain subdued, up 0.4% in the third quarter. The annualized rate, at plus 1.9%, has now been under 2% for 8 straight quarters. The wage component is up only 0.3% for the lowest increase since recession, in first quarter 2009. Annualized CPI inflation slowed to 0.9% from 1.2% in September. The core rate posted at 1.7% vs. 1.7% in September.
Producer price inflation declined at the headline level but nudged up at the core. The PPI rate held steady at the year-ago rate of 0.3% in October. The core rate firmed to 1.4% from 1.2% in September. For October, the year-ago headline PPI was up 0.3%, while the core was up 1.4%. Energy was the difference.
Inventories are well aligned with sales but they were moving a little higher going into the fourth quarter, a factor that may limit ongoing demand for employment.
Growth in e-commerce slowed during the third quarter, to plus 3.6% from a revised quarter-to-quarter gain of 4.8% in the second quarter.
The biggest news from the FOMC minutes is the debate on how and when to unwind QE. While QE could start at any time, recent Fed statements indicate that interest rates will not rise until 2017.
Housing, billed as a leading sector for 2013, has been stumbling during the second half of the year, held down by low supply and also by rising mortgage rates and a slow jobs market which are keeping first-time buyers out of the market. Existing home sales are down 3.2% in October to a 5.12 million annual sales rate. New home activity is being held down by low appraisals and rising costs tied to lack of available lots and to shortages in the construction supply chain.
The advantage is to home sellers with the median price up 0.5% in the month to $199,500. The existing housing purchase index popped 6.0% higher in the November 15 week to end a run of negative readings. The refinance index, however, fell 7.0%. Rates were little changed in the week with the average 30-year rate down 1 basis point to 4.47%.
The 4-week average of unemployment claims was down 6,750 to 338,500. The 4-week average of continuing dropped by 20,000 lower.
Sentiment Metrics
The Bloomberg Consumer Comfort Index, based on ratings of current conditions, stands at minus 34.6 on its scale of minus 100 to plus 100; however, economic expectations improved sharply this month. Views of current conditions flattened after a solid boost last week.
The VIX remained between 12 and 14, extending its complacent readings of the past 5 weeks. A break over 15 will probably indicate a change from bullish to bearish sentiment.
The Market (S&P 500)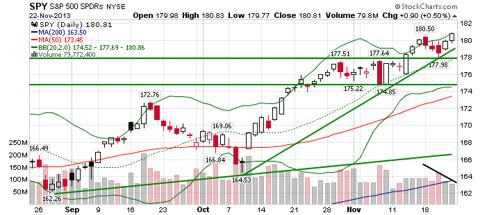 The S&P 500 closed at new highs after a 3-day sell-off at the beginning of the week. There is support at 178 and 175. Volume fell on the two up-days, but this is probably an effect of the approaching holiday week. Further increases on falling volume could indicate a trend reversal
Small Caps (IWM)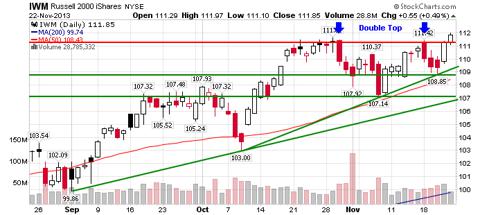 The small caps returned to former highs, and then broke resistance on Friday to also close at new highs. This indicator tells us that the two-day rally was broad, involving many sectors
Core Relative Strength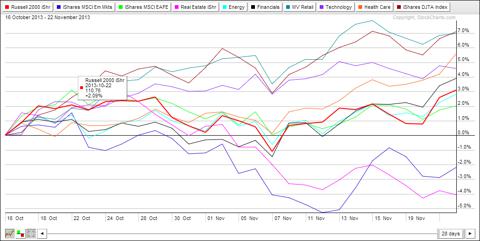 Although the indexes are all up, many sectors, notably emerging markets (EEM) and real estate (IYR) are not participating in the bonanza. The strongest core funds are retail (RTH), transportation (IYT), healthcare (XLV), technology (XLK), and financials (XLF). Energy (XLE) and foreign large caps (EFA) are underperforming the small cap reference (IWM).
Sector Composite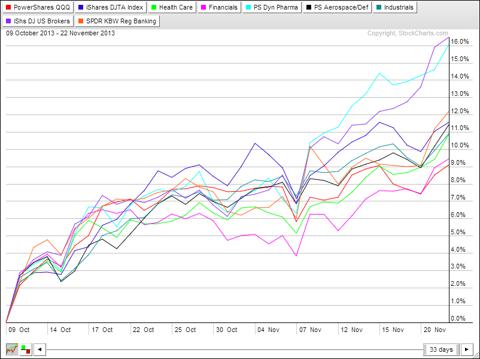 The chart formatting option on StockCharts went away Friday night, hence the large graph above. Reviewing all ETF's on the list revealed the strongest major index to be the Nasdaq 100 (QQQ). Outperforming QQQ are IAI, PJP, KRE, IYT, PPA, XLI, XLV, and XLF, in that order.
Trades Last Week
Bought: XLV, PJP, IWM, LMT
Sold: RTH, IGV, PPA, BA
The choppy market creates a dilemma for investors. If you place a tight stop, you often miss out on stocks that drop and then reverse to new highs. On the other hand, a loose stop exposes you to a large loss if the market has a major sell-off, as in 2000 and 2008. If you are under fifty, you have time to take up to a 10% loss and recover; however if you are over fifty and have significant resources that you expect to use in retirement, loose stops are dangerous.
Being much older than fifty, my approach is to pick a rising stock like (last week) LMT, and see if it gets a quick profit. If it fails, I take a small loss. If it runs higher, I have a profit cushion and place a stop at breakeven plus the commission. As to stock continues higher I move the stop well below resistance, allowing additional volatility, but still above breakeven, guaranteeing a profit. If there is some warning ahead of a market reversal, I quickly move stops to just below the highest resistance level. I currently have a nice profit in LMT and a stop at 140.16, $0.58 above my purchase price.
We had three successive down days last week, and I sold stocks and ETF's that I now wish I had held. This tactic capital, which is the main goal. A good run in LMT will erase the small losses in the other trades.
Conclusion and Action
The market remains choppy at all-time highs, mostly influenced by short-term speculation on QE, as was apparent from the sharp drop in reaction to Fed QE comments in the minutes on Thursday, and some economic releases, which powered the rally on Friday. The economic data is not triggering massive or sustained rallies.
Certain legislation in Congress could rip the market higher, if in a miracle, he budget committee gets something that is passed, or if an effort at corporate tax reform succeeds.
We could be near a top, or at least a long-term choppy base that could remain through the end of the year. The market will be very sensitive to next Fed meeting on December 17-18. If they say "taper" expect a violent market reaction. Tapering will be done in small amounts, in response to an improving economy, in a way that tries to limit disturbances to the markets. Consequently, unlike many traders, I don't expect anything like a crash. The market will level off and possibly climb after tapering news.
Next week trading volume will be low due to Thanksgiving. If QQQ continues its course, I will take a large position, between 10 and 20%, but will maintain a relatively tight stop. I may add to my PJP, IWM, IBB, and XLV positions and may purchase IAI, KRE, PPA, or XLI. I am watching BA and DAL.