Market-moving News (Summary of 19 Articles)
Spending is up somewhat going into Black Friday. Indications are positive for retailers.
Job claims fell last week, as did the 4-week average, which is down to a new recovery low. The unemployment rate is at a recovery low.
The national Economic Activity index dropped in October, mostly due to consumption and housing; however, the 3-month trend had the first positive reading in 8 months.
Manufacturing is a mixed picture, with Texas, Dallas, Kansas City, and Chicago higher, but Philadelphia and New York are reporting slower conditions. Durables were sluggish in October but there may have been some impact from the government shutdown-increased uncertainty. New factory orders in October fell on a downward swing in aircraft orders and the core was flat.
Home sales are being held back by high home prices and unattractive mortgage rates. The pending home sales index, down 0.6% in October to 102.1, is down for a 5th month in row. Permits increased 5.2% in September following a decline of 2.9% in August. Home prices continued to rise in September but at a moderate pace, as the year-on-year rate for September came in at 8.5%. Volume levels for mortgage applications were flat.
On balance, the economic news is neutral, not pushing the market in any direction.
Sentiment Metrics
The economic shock from the government shutdown proved limited, not affecting jobs or manufacturing, but badly shaking up the Consumer Confidence report, which took a big hit in October. Weakest is the expectations component, which fell to 69.3 vs. 72.2 in October and against 84.7 in September.
Investor confidence pulled back again this month, reflecting increased pessimism among European institutional investors, North American confidence also lags.
In contrast, the weekly Bloomberg Consumer Comfort Index now stands at minus 33.7 on its scale of minus 100 to plus 100, its best in seven weeks, the numerically highest reading into a Thanksgiving week since 2007, but only 0.2 points higher than last year.
The Consumer Sentiment report also popped higher to 75.1, vs. a mid-month reading of 72.0, the best reading since August.
The VIX has marked 6 weeks under 15, indicating little expectation of a market drop in the near future.
The Market (S&P 500)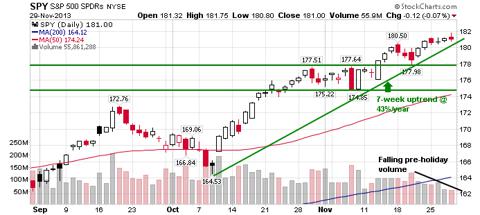 The S&P 500 remains above a 43%/year uptrend. I view this rate as sustainable; a slope of over 200%/year is a trend likely to end because of perceptions that the market is overbought. Volume is falling, most likely due to the holiday. If it does not pick up next week, a trend reversal is more likely.
Small Caps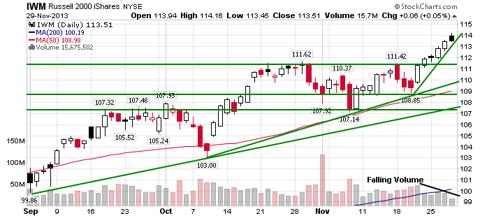 Small Caps, flat for about a month, recovered sharply in the last week-and-a-half, to an all-time high. This trend, at 97%/year is likely to moderate, unless there is more stimulating news.
Core Relative Strength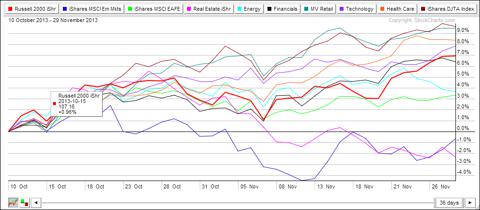 There is relatively little change among the ten core sectors. Transportation (BATS:IYT) leads, along with retail (NYSEARCA:RTH), followed by healthcare (NYSEARCA:XLV) and Technology (NYSEARCA:XLK). Finance (NYSEARCA:XLF) relative strength moved higher, but remains below small caps (NYSEARCA:IWM). Energy (NYSEARCA:XLE), foreign stocks (NYSEARCA:EFA), emerging markets (NYSEARCA:EEM), and real estate (NYSEARCA:IYR) remain laggards. I plan to stay in or get in funds that outperform IWM.
Sector Composite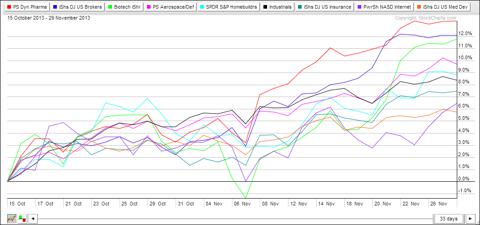 The composite relative strength of the 36 ETF's I monitor is shown in the above chart. In order of relative strength, they are PJP, IAI, IBB, PPA, XHB, XLI, IAK, PNQI, and IHI. All outperform the small cap index, IWM. The period is the length of the rally beginning around October 15, and includes a sell-off in early November. Not the sudden strength of pharma and biotech and brokers after the November dip. The smoothest uptrend is aerospace (NYSEARCA:PPA).
Trades Last Week
Although the relative strength charts are strong, many stocks flattened and dipped last week, causing the sales below.
Sold: BAC, XLV, IBB
Bought: XLF, IYT, QQQ, PPA (holding all)
Conclusion and Action
Consumer confidence has been week, but appears to be rebounding ahead of Thanksgiving and Christmas. With economic news at neutral, retail sales could be the focus during the next two weeks. Keep an eye on RTH.
On December 17&18, the Fed will meet. Any mention of the word "tapering" could rock the market briefly. Watch also for news of a budget agreement from Congress. Given their record, failure to reach an accord or doing a deal that defers real decisions could easily drop the markets.
On an uptrend, I will buy the funds mentioned above, but I will keep my stops relatively tight, and may lighten up ahead of the Fed meeting. If you are investing longer term, I suggest waiting until individual stocks establish a downtrend on a 3-month chart before selling.
Absent news, the market is likely to chop during the holidays, but January is often the beginning of major trends. I think there is a strong possibility of a correction.