Market Moving News (Summary of 19 Articles)
Store sales are little changed during the last week of January.
New factory orders for durables in December dropped a monthly 4.3%. Texas factory activity increased for the ninth month in a row in January. The new orders index surged from 1.3 in December to 14.4 in January, reaching a seven-month high and suggesting a sharp rise in demand. Business is solid in the Richmond Fed's manufacturing district and new orders are up 4 points. Business continues to expand at a solid rate in the Chicago economy with the PMI composite index well above 50 at 59.6 in January.
Sales of new homes nosedived in December, to a 414,000 annual rate. The total number of new homes on the market fell 5,000 to an adjusted 171,000. The median price rose 0.6% to $270,200. The S&P Case-Shiller month-to-month composite-20 index came in at 0.9% vs a revised plus 1.1% in October. Prices rose in all 20 cities for a 4th month in a row. The MBA purchase index bounced back a bit in the January 24 week, up 2.0% but still down an unadjusted year-on-year 12.0% indicating weakness in non-cash home sales. The refinance index fell 2.0% in the week. Pending home sales declined a greater than expected 8.7% in December. Weather, lack of homes for sale and high prices were all factors.
The FOMC said that asset purchases will be reduced by another $10 billion monthly in February, leaving asset purchases at $65 billion per month. The latest statement said "that growth in economic activity picked up in recent quarters. The labor market is noted as improving but although the unemployment rate improved, it is still "elevated."
The jobs picture is mixed. Initial claims rose 19,000 to a much higher-than-expected 348,000, and the 4-week average was up only slightly to 333,000 which is more than 20,000 below the month-ago trend.
There was a 16,000 dip in continuing claims to 2.991 million; the 4-week average, however, is up sharply, 43,000 higher to 2.970 million which is the highest reading since August.
Fourth quarter GDP rose an annualized 3.2%. This followed a 4.1% boost in the third quarter. The consensus expected a 3.0% rise in the fourth quarter. But demand was not as strong. Final sales of domestic demand gained 2.8% after a 2.5% boost in the third quarter.
Personal income was unchanged after rising 0.2% in November, vs. views of a 0.2% rise. Personal spending, however, was moderately strong, rising 0.4% after a 0.6% boost in November.
Employee costs were up 0.5% in 4Q and 2% annualized which is in line with on inflation.
Sentiment
Consumer confidence was up 3.2 points to a higher-than-expected 80.7, vs. 77.5 in December. Confidence among institutional investors is up 18.6 points this month to a 4-year high of 114.4 from a revised 95.8 in December. Confidence in North America rose 21.5 points to 113.6 with smaller but still very solid gains posted in Europe and Asia. Readings in all 3 regions are over 100 to indicate demand for risk relative to safety.
The Consumer sentiment report improved the last two weeks, to a final January reading of 81.2 vs 80.4 at mid-month, but ends up a little bit short of December's final reading of 82.5.
In contrast, the weekly Bloomberg Consumer Comfort Index declined to minus 31.8 in the week ended January 26 from a minus 31 reading the prior period. The buying-climate gauge slumped to a three-month low.
The VIX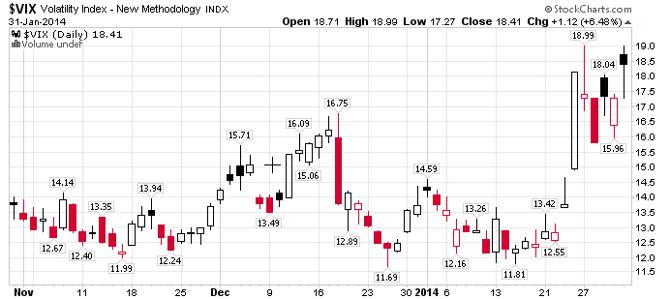 Investors are comparatively nervous about the market, as shown by the large rise and wide swings in the VIX last week. Wednesday's rise was likely protection against a market reaction to the Fed, while Friday's spike was institution seeking protection against volatility stemming from emerging market stock and FOREX prices.
The Market (S&P 500)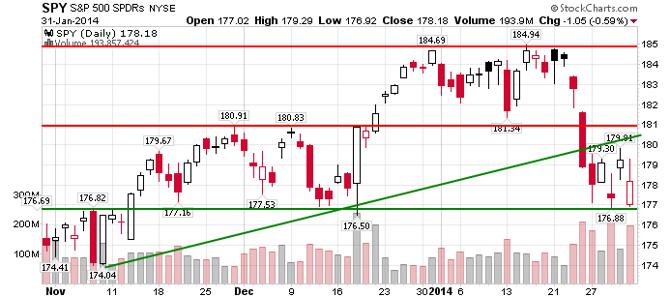 It appears as if the S&P 500 found some support in the area between 177 and 179 after breaking the primary trend in a volatile week; however we will need additional reversals above 177 to confirm the strength. Resistance at 181 is relatively weak.
Small Caps (NYSEARCA:IWM)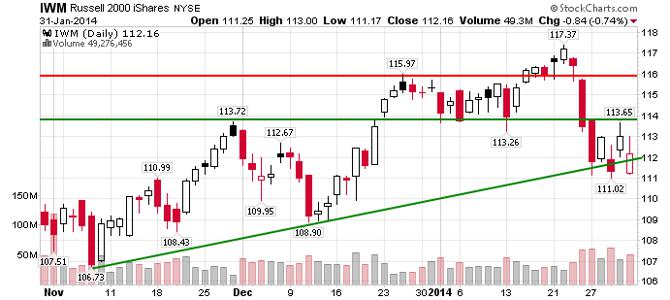 Small caps also broke trend and found support just above 111. The small caps need to establish an uptrend from here, without which prices could plunge to support at 108 or lower.
Core Relative Strength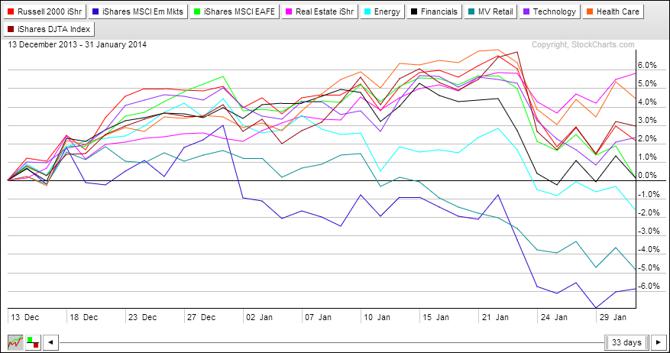 I used a 33-day chart to show the differences in performance of various categories. Beating the IWM are transportation (BATS:IYT), Healthcare (NYSEARCA:XLV) and real estate (NYSEARCA:IYR). Sectors that have been weak since December are emerging markets (NYSEARCA:EEM) and retail (NYSEARCA:RTH).
Highest Relative Strength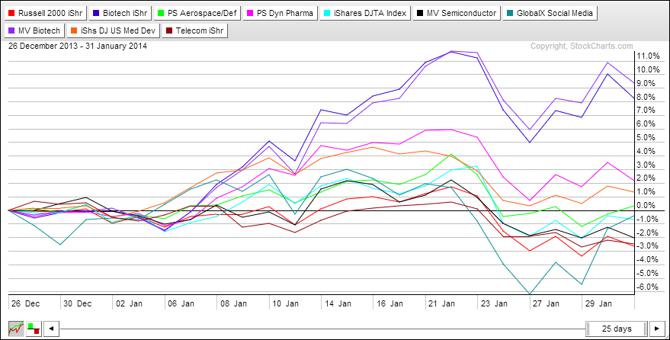 As has been true recently, biotech (IBB, BBH) remains strong, followed by pharma (NYSE:PJP), and medical devices (NYSEARCA:IHI). Aerospace (NYSE:PPA) is a possible candidate. I may buy some of these for short-term moves. Otherwise I will wait for the small caps to show an uptrend.
Trades Last Week
I sold AGNC for a small profit and SBUX for a small loss.
Conclusion and Action
Overall sentiment seems positive for the U.S. stock market, and money is flowing to North America out of emerging markets, as many countries are experiencing currency inflation. A possible trigger for these flows is the expectation of higher treasury rates as the Fed tapers. So much money is going into treasuries that their yields are remaining low, the opposite of expectations.
The currency issues are spooking the foreign and pre-markets, so on several days the U.S. awoke to sharp declines in the futures and foreign, only to have most of the losses in U.S. holdings reversed during the day. The announcement of continuation of the taper rattled the markets on Wednesday, but they quickly recovered on Thursday.
The foreign problem is currently the major cause of market volatility. You can see the damage in Latin America (NYSEARCA:ILF), and a much more limited drop in Europe, for example Austria (NYSEARCA:EWO).
Earnings have been mixed, with big gains in some trader's favorites, like CMG, and big losses in others, namely AMZN. With the season almost over and the market becoming acclimated to the end of tapering, the main threat remains foreign holdings.
I continue to take my cues from the small caps and the strongest relative strength stocks. These have suffered only moderate damage. When fears of a foreign collapse abate, I expect the U.S. economy to move the market higher and will follow stocks or ETF's showing the strongest gains.
I am watching IBB, IHI, TAN, SCTY, and PPA. Some stocks of interest are LMT, REGN, ILMN; however I will wait for an uptrend before buying.
Disclosure: I have no positions in any stocks mentioned, and no plans to initiate any positions within the next 72 hours.