Market Moving News (Summary of 22 Articles)
January spending is off slightly. After reaching a five-year high of $96 in December, Americans' average daily spending fell to $78 in January, similar to the $80 in January 2013. January's $78 is the first time spending has averaged less than $80 since November 2012. Vehicle sales fell only slightly in January, to a 15.2 million annual rate vs 15.4 million in December. Construction spending growth eased in December but housing was strong. Retail sales were off in last week's reports. Weather was likely a factor.
Manufacturing has lost momentum. Monthly growth of new manufacturing orders in the PMI slowed 2.1 points from December to 53.9 which, nevertheless, is a respectable rate. The ISM report is signaling very significant slowing in composite growth for January, at 51.3 for a sharp 5.2 point decline from December. This is the lowest reading since May 2013 and the sharpest monthly drop since May 2011. A swing lower in aircraft orders masks what is otherwise a mostly respectable factory orders report for December.
Services are strong. The PMI Services index shows that January's cold weather didn't slow down the US service sector as business activity accelerated to a solid 56.7 vs 55.7 in December. The ISM Non-MFG index picked up in January, 1.0 point to 54.0 for the composite index. The component for business activity rose 2 points to 56.3 which, points to monthly acceleration for services output.
The trade gap widened to $38.7 billion from $34.6 billion in November. The petroleum deficit worsened slightly to $15.6 billion from $15.3 billion in November. The services surplus improved to $19.8 billion from $19.5 billion.
Productivity in the fourth quarter remained healthy, posting at an annualized gain of 3.2 percent after a 3.6 percent boost the prior quarter. Year-ago unit labor costs were down 1.3 percent, compared to up 1.9 percent in the third quarter.
Housing continues weak: The MBA purchase index continues to weaken, down 4.0 percent in the January 31 week and down a very sizable 17 percent year-on-year.
Jobs are neutral: Initial claims for the February 1 week fell a sharp 20,000 to a lower-than-expected 331,000. The 4-week average, at 334,000, is trending 15,000 below the month-ago comparison. Continuing claims for the January 25 week rose 15,000 to 2.964 million with the 4-week average up 26,000 to a 2.986 million level that is more than 100,000 above the month-ago trend. Total payroll jobs in January rose 113,000, following a revised increase of 75,000 for December and after a revised rise of 274,000 for November. The unemployment rate slipped to 6.6 percent from 6.7 percent in December. The labor force actually rebounded 523,000 in January after dropping 347,000 the month before. Household employment spiked 638,000, following a 143,000 rise in December.
Sentiment
The Bloomberg Consumer Confidence index has fallen back in several areas, influenced by January's sharp stock sell-off, and current economic conditions.
The VIX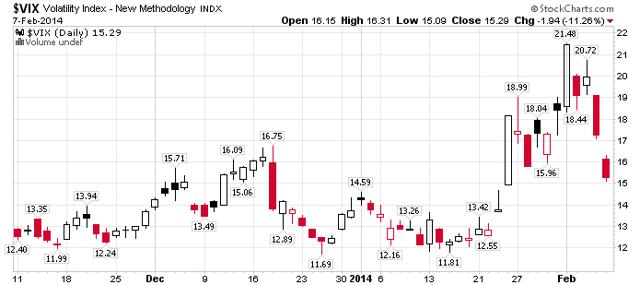 The VIX spiked Monday on the sharp sell-off, but quickly came off the highs, yet, at 15.29 remains above January levels. The reaction was to foreign and emerging market stocks, influenced by emerging market currency concerns. Pundits dismissed the idea that current currency issues are of the magnitude experienced in the 90's when devaluations in Thailand and Mexico caused world-wide sell-offs.
The Market (S&P 500)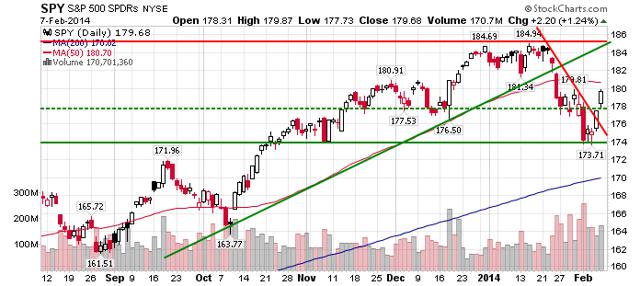 After Monday's freefall, the market found a bottom at support levels back at the beginning of November, and had a strong reversal. Support at 178 proved to be fleeting. The rally broke the downtrend established after the break on January 23; however confirmation is needed before a new uptrend can be identified.
Small Caps (NYSEARCA:IWM)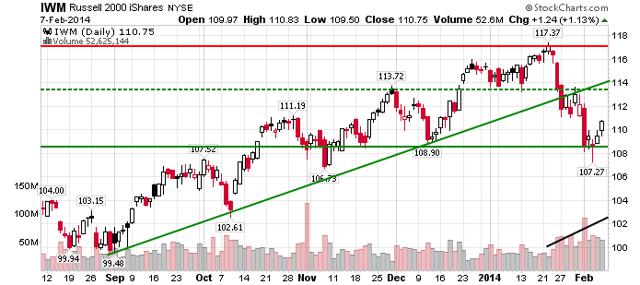 Small caps demonstrated the same pattern as the market, but fell 6.8% vs. 6% for the S&P 500. QQQ, not IWM, is the leading index in the recovery.
Core Sectors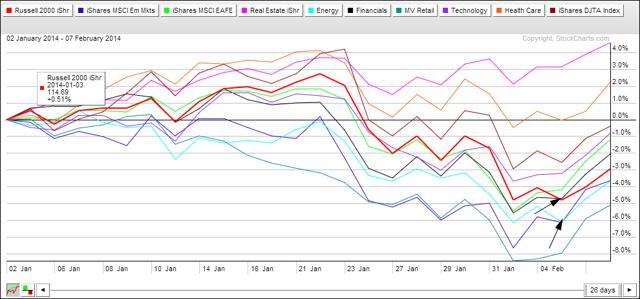 For the core sectors chart, I chose a 26-day length to compare both amount of fall off and amount of recovery. I favor sectors that either did not drop much during the sell-off, or crossed higher lines during the recovery. Qualifying ETFs are real estate (IYR, pink), healthcare (XLV, orange), foreign stocks (EFA, green), and technology (XLK, violet). Financials (XLF, black) increased relative strength, but I'm more impressed with tech.
Highest Relative Strength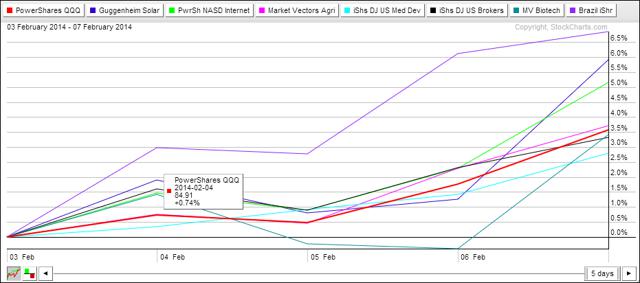 Comparing 36 ETF's that exceeded QQQ performance, reveals Brazil (NYSEARCA:EWZ) as the leader, followed by solar (NYSEARCA:TAN) and Internet (NASDAQ:PNQI). Biotech (IBB, BBH) spiked higher on Friday I'm suspicious of Brazil, but will look closely at the others.
Trades Last Week
Bought IBB, LMT, and PANW.
Conclusion and Action
Although Thursday and Friday were broad higher-volume rallies, two days don't make a trend, and I have no expectations for next week, other than that the market is more likely to move sideways or up, rather than down. The market seems to have shaken off a mediocre jobs report and begun ignoring currency issues, so a new round of bad news will be needed to take it down. The charts will need a dip and rebound from a higher low to establish the next uptrend.
Since the QQQs are particularly strong, I'll focus on large cap tech, solar, biotech, and Internet.
Have a great week!
Disclosure: I am long IBB, LMT, PANW.