Market Moving News (Summary of 15 Articles)
Manufacturing is up, but not strong. The Richmond Fed manufacturing index moved back into positive ground, at plus 7 vs minus 7 and minus 6 in the prior two months. Markit's US manufacturing solid growth PMI at 55.4 vs 55.5 in March. New orders were at 58.9, one of the strongest readings of the recovery. Durables orders jumped 2.6%, topping expectations. The Kansas City Fed composite manufacturing index eased in April at 7, versus 10 in March.
Services have fallen off. The National Activity index for March came in at 0.20 vs 0.53 in February; Markit's flash PMI services index dipped to 54.2 from 55.3 in March.
Jobs lost ground. Jobless claims jumped 24,000 to 329,000 in the April 19 week. The 4-week average is up by 4,750 to a 316,750, slightly lower than the month-ago comparison. Continuing claims, which lag, continue to move lower, down 61,000 to a recovery low of 2.680 million in the April 12 week. The 4-week average, at a recovery low of 2.752 million, is roughly 100,000 below the month-ago comparison.
Housing is in trouble as prices appreciate and sales fall. The FHFA reported home prices increasing 0.6% in February, following a 0.3% gain the month before. For the seventh time in eight months, existing home sales contracted by minus 0.2% in March, to an annual rate of 4.59 million. Year-on-year sales are down 7.5%, the steepest rate since May 2011. The blame is placed on unattractive mortgage rates and higher prices; the median price soared 5.4% to $198,000 in March. The MBA purchase index, 3.0% in the April 18 week, and is minus 18% annualized. The refinancing index was down 4.0% in the week, while rates moved up 2 basis points to 4.49%.
Sentiment
Sentiment is improving. The index of leading indicators is taking off, up a higher-than-expected 0.8% in March following an unrevised 0.5% gain in February. Low interest rates and a longer factory workweek are factors.
Consumer confidence rose last week to its highest level since August as Americans were more upbeat about being able to provide for their families than at any time in six years. The Bloomberg Consumer Comfort Index climbed to minus 25.4 in the period ended April 20, the second-strongest level since January 2008, from minus 29.1 the prior week. The personal finances index increased to 8, the highest level since April 2008, from 2.7.
The consumer sentiment report is very strong, with the composite index at 84.1 vs the flash April reading of 82.6 and the final March reading of 80.0. The latest reading is tied for the third best of the recovery,
The VIX
The VIX ticked up on Friday from rather complacent levels during the week. Friday began positive, but lost an opening gap to heavy across-the-board selling. Investors remain nervous about a further drop.
The Market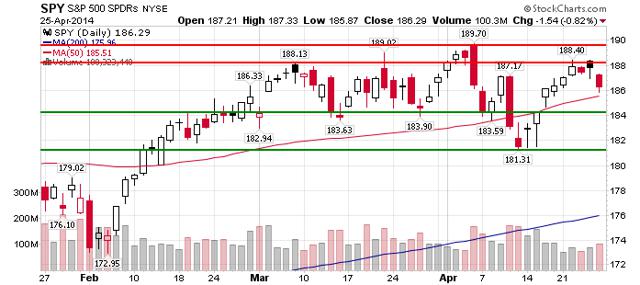 The SPY formed a top on Thursday opening with a downward gap and falling most of the day. A further drop and breakout above the 190 area would confirm a new uptrend; however the market must push through much resistance to get there.
Small Caps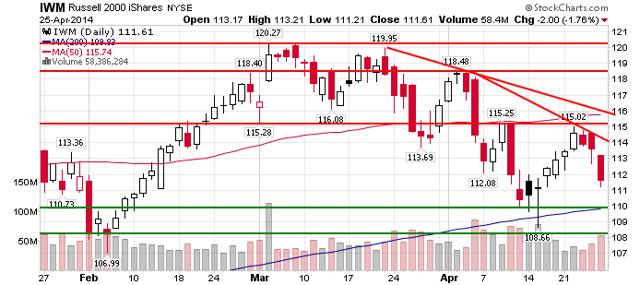 The small caps and much of the market were rocked good AAPL earnings that caused many stocks to open higher. Then relentless selling came in. The Tuesday high in the IWM is a higher-high failure that anchors a new, steeper downtrend. A bounce above 119, followed by another low and a rise above 119 would be required to confirm a reversal. This isn't likely to happen soon.
Core Sectors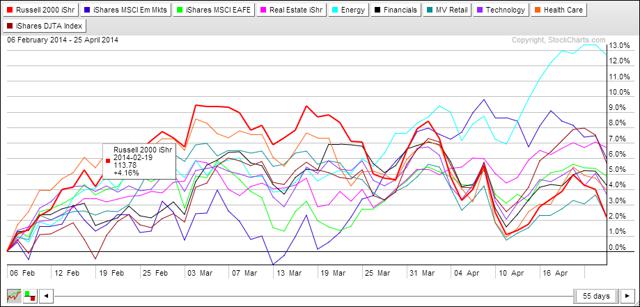 The core sectors were very hard to read this week. I chose a 55-day chart to best visualize strength relative to the small caps (NYSEARCA:IWM). IWM is still vulnerable to selling, not a good sign for the overall market. Real estate (NYSEARCA:IYR) and energy (NYSEARCA:XLE) pop out from the most recent uptrend. International stocks (EFA, green) also show relative strength; however if Ukraine explodes, European stocks could take a relatively larger hit than domestics.
Best Relative Strength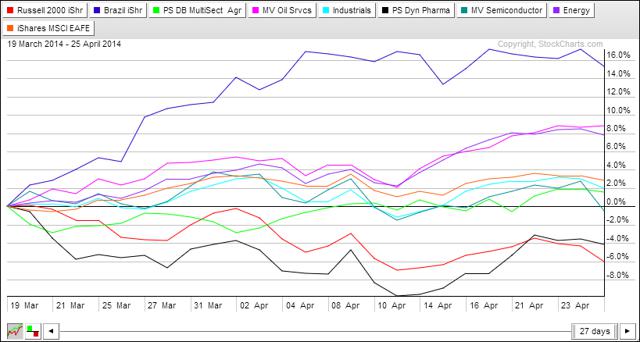 In attempting to ferret out buyable ETF's, had difficulty, but came up with a 27-day chart led by Brazil (NYSEARCA:EWZ), oil services (NYSEARCA:OIH), and energy (XLE). Big pharma (NYSEARCA:PJP) is showing a recent rebound.
Trades Last Week
I sold SSO and bought and sold IBB, and LNG, for a total very small loss.
When I buy into a new uptrend, I try to start with a short-term trend and relatively tight stop, on the expectation that it will continue higher. If it fails, I am out with a small loss. The disadvantage with this approach is that a choppy market can rise over a longer period, but trigger short-term stops, accumulating a series of losses that add up. The alternative, however, is looser stops that trigger on a large loss such as the ones in the SPY chart on April 4 and 10.
Conclusion and Action
Economic news was weaker last week, adding to the choppy nature of prices. Friday's drop, was very broad, and caused some to the strongest trends to level off, potentially on Ukraine instability. These considerations don't suggest a stronger market next week.
I have been focusing on best relative strength, but this approach produces the choppiest stocks in a choppy market. Here are ETF's that are either in uptrends or building bases, and are buy candidates on an upside breakout. I will continue to use tight stops on anything I buy.
EFA is forming a symmetrical triangle. Buy on break higher.
EWZ has formed a base. Buy on a break higher.
DBA is in an uptrend. It is a commodity play, benefiting from rising agricultural prices and could be volatile.
OIH and XLE are in uptrends, buy on a move higher; but watch oil news.
PJP may be starting a new uptrend. If it falls and then rises, buy above Friday's level
IYR is in a shallow uptrend. This may be the best long-term bet, unless commercial real estate starts following trends in home/multifamily sales.
Have a great week!
Disclosure: I have no positions in any stocks mentioned, and no plans to initiate any positions within the next 72 hours.