Market Moving News (Summary of 20 Articles)
Economic reports improved last week. Spending is up; there was a small increase in construction and solid growth in manufacturing. The GDP report was down, reflecting no growth in 1st quarter due to weather, but there are many signs of demand rebound with the approach of spring. Personal income and spending are higher. Inflation is slightly higher, but well below Fed targets. Jobs are volatile, but improving, and construction is up. Home sales are up slightly despite higher prices.
Sentiment
Sentiment is also improved. Consumer comfort is higher for reasons cited in the news summary. The consumer confidence report is at the high of the recovery and expectations are stronger. Confidence among global institutional investors is slightly down, with North America leading, followed by Asia and Europe. The drop may be a reaction to Ukraine.
The VIX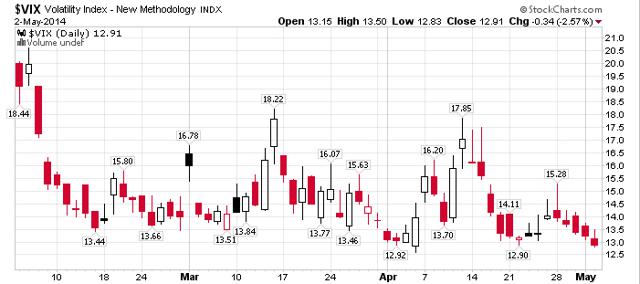 Improving sentiment sent the VIX down to recent lows.
The Market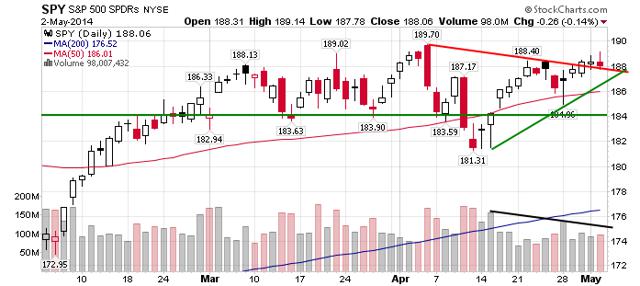 The market rebounded somewhat, but seems limited by prior highs and the broader market. A break of the SPY above 190 could signal a new uptrend. Many stocks are showing the base formation around 188.
Small Caps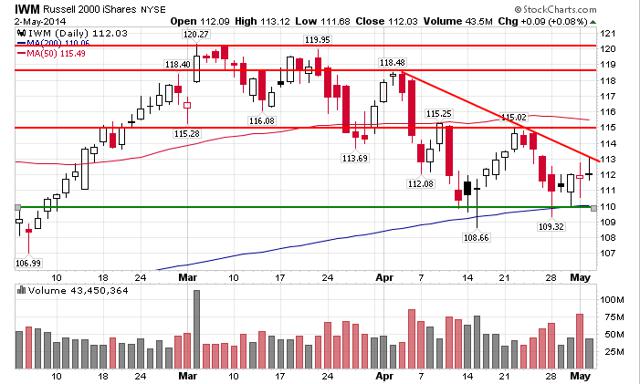 Small caps (NYSEARCA:IWM) show a much starker picture. The Russell 2000 is in a bearish rounded top with volatile drops and potentially an accelerating downtrend, caused by flight from tech, biotech, brokerages, and small caps in general; however a double-bottom may be forming in the vicinity of 110. A rise above 115 could signal a renewed uptrend. There is great indecision that could move into a downtrend on big negative news.
Core sectors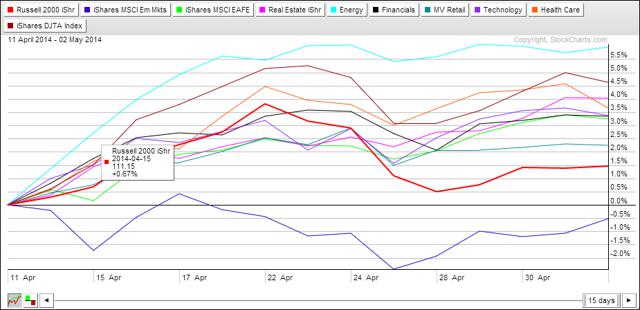 This week I used a 15-day period to detect early leaders in the next rally, should it arise. In the core ETF group, energy (NYSEARCA:XLE) is followed by transportation (BATS:IYT), which gained sharply last week, real estate (NYSEARCA:IYR), and healthcare (NYSEARCA:XLV). All substantially outperformed the small caps (IWM).
Best Relative Strength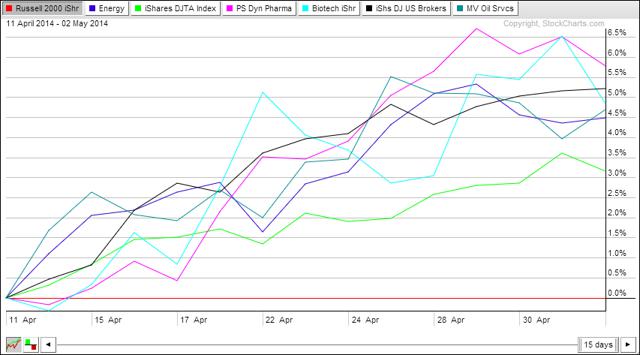 The best of the 36 ETF's I follow are shown above in a display of relative strength with reference to IWM (the horizontal red line). The smoothest line is brokers (NYSEARCA:IAI); the most volatile is biotech (NASDAQ:IBB). The least volatile and possibly the best choice for a long-term trend is transportation (IYT). All except IWM are poised to break out, at the following prices:
| | |
| --- | --- |
| XLE | Breakout > 94 |
| IYT | In an uptrend buy > 139 |
| PJP | In a cup & handle > 58 |
| IBB | Buy > 235 |
| IAI | Buy > 38 |
| OIH | Buy > 52 |
| IWM | Lagging; buy > 115 |
Trades Last Week
I bought IYR and IYZ.
Conclusion and Action
With the economy approving, brakes on the market consist of stocks that rose above their values during 2013, fear of a Ukraine event, which could be very costly to large European companies. I think the charts are telling us that the market is weak, and we will need some patience for it to move into a new uptrend. I will buy a few strong ETF's, but keep stops relatively tight.
Disclosure: I am long IYR, IYZ.