Market Moving News (Summary of 12 Articles)
Store sales are still trending higher. Existing home sales jumped 6.4% in April; the new home market is experiencing supply constraints. The 433,000 number is the second weakest rate of the last seven months.
The Fed expects a pickup in growth. First quarter softness was considered to be weather related. The minutes indicate that taper is still on but the balance sheet will likely come down slowly, and rates are likewise expected to rise slowly.
After two prior weeks of solid improvement, initial jobless claims rose 28,000 in the May 17 week to a 326,000. Continuing claims continue to show steady improvement, down 13,000 in lagging data for the May 10 week to 2.653 million and a new recovery low. The 4-week average is down 5,000 to a recovery low of 2.689 million.
The national activity index shows a sharp deceleration for the economy in April, to minus 0.32 from March's revised plus 0.34. The biggest negative was a reversal in production which was hit by the heavy 0.4 percent decline in the manufacturing component of the industrial production report. The 3-month trend is up, however, as the average is up to plus 0.19 from March's plus 0.04.
Markit's reading on manufacturing so far this month is up to 56.2 vs 55.4 in both the mid-month and final readings for April.
The KC Fed composite index was 10 in May, up from 7 in. Manufacturing activity improved slightly at most durable goods-producing plants, particularly for machinery and construction materials, but remained mostly flat for non-durable products.
Sentiment
For the May 16 week, the Bloomberg consumer comfort index dipped to 34.1 from 34.9 the prior week. Some 37 percent of those surveyed for the Bloomberg comfort index said the economy was worsening, up from 31 percent in April, while the share of respondents who saw an improvement dropped by the most since October. Bloomberg's weekly measure of the economy declined to 20.6 last week, the lowest level since early February, from 21.5 in the prior period.
Growth in the index of leading economic indicators slowed in April to 0.4 percent from an upward revised and outsized gain of 1.0 percent in March.
The VIX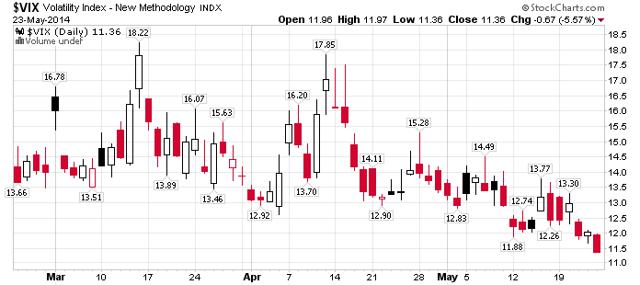 The VIX is making headlines as it approaches a greater-than three year low, closing at 11.36. In March of 2013, the close was 11.05, when the SPY was in a strong, steady uptrend.
The Market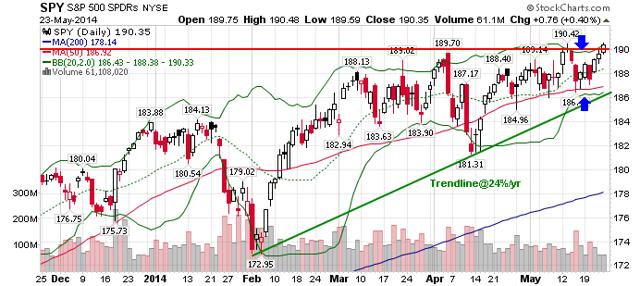 The SPY is currently above a trendline of 24%/year, coming out of an ascending triangle formation to close at a new high on Friday of 190.35. Pre-holiday volume was somewhat light, but many ETF's and stocks are showing formations where they are breaking out of long-term resistance.
Small Caps (NYSEARCA:IWM)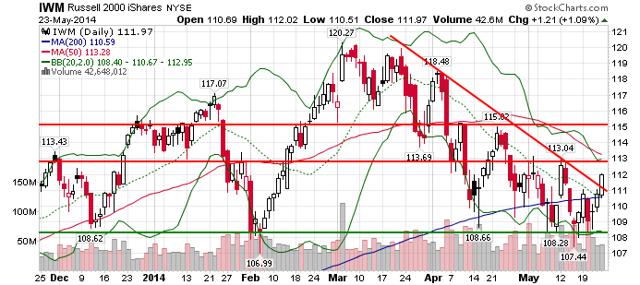 The key to this market remains IWM, which broke out of a 3-month downtrend. If it can break resistance at 113, it could lead the market sharply higher. IWM was the leading major index on Thursday and Friday. The IWM, if higher on Tuesday, is my signal to get partially into the market. Above 113 with a subsequent confirmation by a higher low-or-a rapid move above 115 would constitute confirmation of a new uptrend.
Core Sectors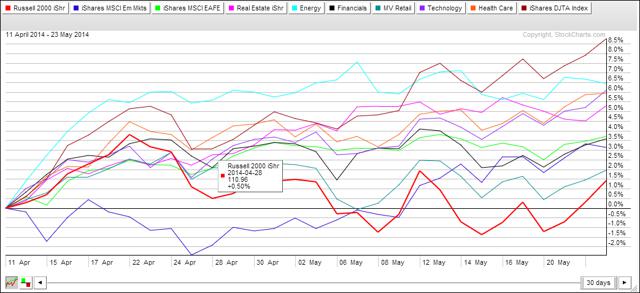 The core sectors chart shows IWM in a sharp upward break. Note the steady climb of transportation (BATS:IYT) and healthcare (NYSEARCA:XLV), and the strength of tech (NYSEARCA:XLK). Energy (NYSEARCA:XLE) is relatively flat recently. Emerging markets (NYSEARCA:EEM) are strong, but I'm staying domestic as long as many opportunities exist.
Best Relative Strength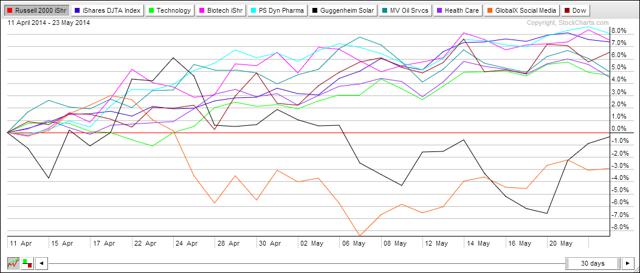 Comparing the relative strength of the best of the 36 ETF's I follow to IWM (flat red line) produces the following list of buy candidates, any of which are buys above their current highs: The following list contains the ETF's I am closely monitoring: IBB > 245.5, PJP > 59.3, TAN* > 40.5, SOCL* > 17.75, XLK > 37.35, XLV > 59.3, IYT > 143.
*TAN and SOCL, given their volatility, will be short-term trades. I will attempt to stay in the others by using looser stops, as I wait for confirmation.
Trades Last Week
Bought IWM.
Conclusion and Action
The ascending triangle breakout of SPY is similar to the formations on most chart patterns. Some are breakouts from long bases; others are moves above the initial point of a saucer-shaped pattern, and still others are in sharp uptrends to new highs.
On Tuesday, I will invest up to 40% of my portfolio in the ETF's listed above that I perceive to be the strongest performers, if they rise above the indicated levels.
Have a great week!
Disclosure: I am long IWM.