Market Moving News (Summary of 21 Articles)
Manufacturing data was mixed. Markit's flash PMI is at 57.5 for June vs 56.4 in the May final. New orders were 61.7, a 2.9 points above the May number. Input prices were up 6 tenths to 57.0, a moderate rate of monthly gain. The Richmond Fed's headline index slowed 4 points to a reading of 3. New orders improved slightly, up 1 point to 4. Durables orders fell 1.0 percent in May after rising 0.8 percent in April. Excluding transportation, orders slipped 0.1 percent, following a 0.4 percent gain in April. This index is volatile. The KC Fed manufacturing activity composite index was 6 in June, down from 10 in May and 7 in April.
The economy and service sector continues to slowly advance. The Chicago Fed's national activity index moved back into the plus column, to plus 0.21 vs April's revised minus 0.15. The contribution from sales/orders/inventories moved into the slightly positive ground while the positive contribution from employment fell back in May following April's one-month surge for payroll growth. Consumption & housing, pulled down by weakness in housing starts & permits, moved deeper into the minus column. Despite the overall gain for May, the 3-month average slowed to plus 0.18 from a revised 0.31 in April. Real GDP, delayed data, surprised on the downside. Adverse winter weather had a huge impact as the first quarter fell a revised 2.9 percent after rising an annualized 2.6 percent in the fourth quarter.
Markit's service-sector reading is at its best levels in the 5-year history of the report. Headline business activity at 61.2, was up 3.1 points from final May. The plus-60 reading indicates very sharp monthly growth. The index has risen 7.9 points from its winter low in February.
Personal income rose 0.4 percent in May, following a 0.3 percent advance the month before. Expectations were for a 0.4 percent boost. The important wages & salaries component increased 0.4 percent after a 0.3 percent gain in April. Consumption posted a sluggish 0.2 percent rise in May versus no change in April. Analysts forecast 0.4 percent for May.
First quarter corporate profits gained an annualized 0.5 percent after a 7.9 percent boost in 4Q. The year-on-year basis was up 6.8 percent, compared to 6.0 percent the prior quarter.
Inflation is up slightly. PCE inflation came in at a monthly 0.2 percent for both May and April and coming in a little below expectations of 0.3 percent. Core PCE inflation monthly numbers were the same as headline for May and April and matched expectations. Annualized headline inflation was 1.8 percent in May versus April's 1.6 percent. Core inflation on a year-ago basis firmed to 1.5 percent from 1.4 percent in April.
Home sales are up, and so are prices. Existing home sales jumped 4.9 percent in May on top of April's 1.5 percent gain. Supply at the current sales rate fell to 5.6 months from 5.7 months as the median price jumped 5.9 percent in May to $213,400. Distressed sales in May were at a record low of 11 percent vs 18 percent this time last year. New home sales surged in May, up 18.6 percent to a 504,000 annual rate that is far beyond expectations. Prices rose 4.6 percent to a median $282,000. New homes on the market were unchanged in May at 189,000 as the surge in sales lowered supply to 4.5 months vs 5.3 months in April.
The Case Schiller home-price index slowed sharply in April, to only plus 0.2 percent seasonally adjusted from plus 1.2 percent in March. The adjusted year-on-year rate was 10.8 percent down from 12.3 percent in March. Mortgage application data were little changed in the June 20 week. The purchase index fell 1.0 percent as did the refinancing index. Rates moved lower in the week with the average 30-year conforming mortgage ($417,500 or less) falling 3 basis points to 4.33 percent.
The jobs picture continues to improve. Initial jobless claims fell 2,000 in the June 21 week to 312,000. The 4-week average, at 314,250, has been very steady the past month, holding in a tight range roughly between 310,000 and 315,000. Continuing claims were up 12,000 in the June 14 week to 2.571 million; however, the 4-week average is down 13,000 at 2.587 million. This is the 18th straight decline for the 4-week average.
Sentiment
Consumer confidence is moving steadily to new recovery highs, to 85.2 in June vs a revised 82.2 in May. The consumer sentiment report edged higher the last two weeks, coming in at a final 82.5 for June vs a mid-month reading of 81.2 and vs a final May reading of 81.9. Investor sentiment up 0.9 points to 119.5, led by North America and Europe, due to central bank simulation, while Asia is down 7.9 points 96.5, from concerns over economic slowing in China. The Bloomberg Consumer Comfort Index was flat vs. last week. The VIX remains complacent, below prior "normal" levels of 15.
The Market (S&P 500)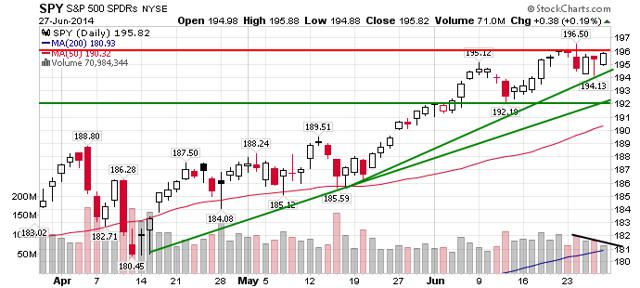 The market had a choppy, but essentially flat week as the S&P 500 failed to close above resistance at 196; however the index remained above a secondary trend. Volume dropped during the week. The higher lows suggest a break higher soon.
Small Caps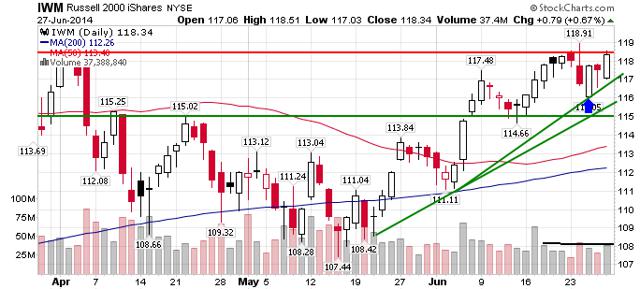 Small Caps have the same pattern, but more volatility. The drop caused my IWM stop to hit. On a break above 118.5, I will re-purchase.
Core Sectors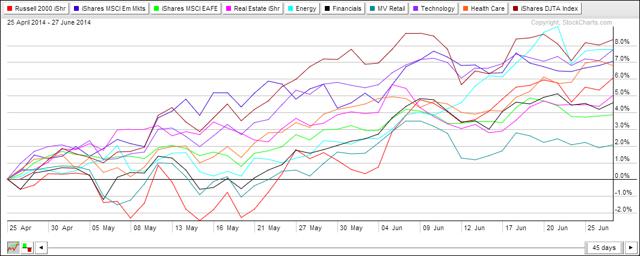 The best comparison for the recent rally seems to be at 45 trading days, or about 55 calendar days. As the chart shows, energy (NYSEARCA:XLE) has moved from the lower half of the pack to 2nd place in the past 30 calendar days. Emerging markets (NYSEARCA:EEM), Transportation (BATS:IYT), tech (NYSEARCA:XLK), remained ahead of small caps (NYSEARCA:IWM). Real estate (NYSEARCA:IYR) may move above IWM in the near future. XLK and EEM have been flat for the last month. IWM moved from the lowest position to 6th place since May 13th; however its relative strength has been volatile. I will continue to stick with the least volatile funds that also exceed the relative strength of IWM. The best of these is XLV. XLE is more volatile, but I am betting that geopolitical activity will keep it among the leaders.
Best Relative Strength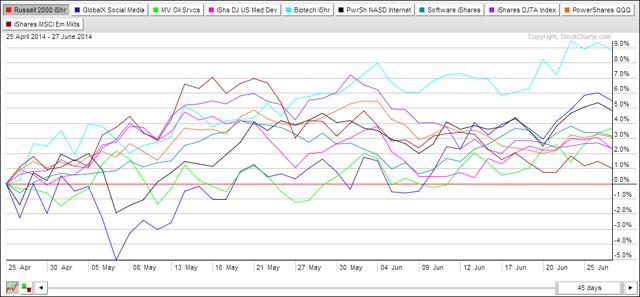 In this chart, the horizontal line is the relative strength of IWM. All selections of the 36 ETF's I follow are above the IWM line. Recent gainers are biotech (NASDAQ:IBB), social media (NASDAQ:SOCL), Internet (NASDAQ:PNQI), oil services (NYSEARCA:OIH), and software (BATS:IGV). Note the steady rise of SOCL over the period. QQQ's relative strength has been falling slightly against IWM.
Trades Last Week
The list below contains stocks that are leaders in sectors whose ETF's are strong. I don't recommend stocks in this letter, because these are short-term trades that typically last only a few days; however, if a stock has continued gains, I will turn my short-term position into a swing trade.
Bought and sold: TAN, NUAN, QQQ, ROBO
Bought: SOCL, IGV, OIH, SSYS, DDD, AGNC
Sold: XLE, IWM, SMH, IBB, ROBO
Holding: XLV, OIH, IGV, AGNC, CREE, SCTY, SSYS
Conclusion and Action
The first quarter was strongly depressed by weather, yet corporate profits managed a gain. With a recovery in 2Q, I expect July earnings numbers to be good. Working against higher prices is the summer season, geopolitical risk, and a slight slowing of recent economic statistics.
Choppiness caused a number of stops to trigger, but I plan to quickly repurchase XLE, IWM, SMH, and IBB if they again break out. All of these were previously sold at a profit. During the past two weeks, many funds and stocks have hit resistance and formed bases, with multiple attempts to break higher, as is shown in the SPY chart. One to watch is XLK, which is trading in a range between 38 and 38.5. I will buy when it breaks above 38.5.
My strategy is to continue to buy on breakouts, secure a short-term profit, and hold on to stocks or funds that survive my short term intra-day or daily stops, by loosening stops and holding for longer periods.
Have a great day!
Disclosure: The author is long XLK, OIH, IGV, AGNC, CREE, SCTY, SSYS.