Market-Moving News (Summary of 16 Articles)
Spending is higher in store reports, but lower in Gallup's June poll. Refineries are operating at the high capacity rate in seven months, as wholesale supplies are at their lowest readings of the year.
Housing improved. Mortgage applications rose 4.0 percent in the July 4 week; however the annualized rate is down 17.0 percent. Applications for refinancing edged 0.4 percent higher in the week. Mortgage rates rose in the week, up 4 basis points to an average 4.32 percent for 30-year conforming loans ($417,500 or less).
Inflation is controlled. Minutes of the June 17-18 FOMC meeting indicate that taper is on schedule and likely will end in October if the economy follows forecast. There is evidence that inflation "moved up recently." However, many participants noted that labor market slack remained elevated even though there has been improvement in this sector. Wage pressures were viewed as modest.
Jobs continue to improve. Claims remain steady at favorable levels with initial claims down 11,000 in the July 5 week to a lower-than-expected 304,000. The 4-week average is down 3,500 to 311,500. Continuing claims rose 10,000 to 2.584 million but the 4-week average is at a new recovery low, down 8,000 to 2.571 million.
Sentiment
Business sentiment is weaker. After moving up more than 5 points over 3 months, the small business optimism index fell back 1.6 points in June to 95.0, primarily from those who expect the economy to improve, which fell 10 points. Declines were also seen in those who expect their sales to move higher and those who say now is a good time to expand.
Consumer sentiment is positive. The Bloomberg Consumer Comfort Index rose to 37.6 in the week ended July 6, the third-strongest reading since the start of 2008, from 36.4 in the prior period. The gauge measuring views of the economy, which has surged 7.1 points since a mid-May low, reached the highest point since January 2008.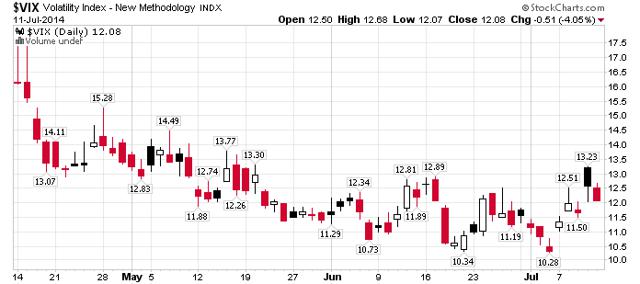 The VIX jumped higher in reaction to the market drop, but fell on Friday. In my judgment, this is a trader's reaction to the market top, not an indication of major negative sentiment.
The Market (S&P 500)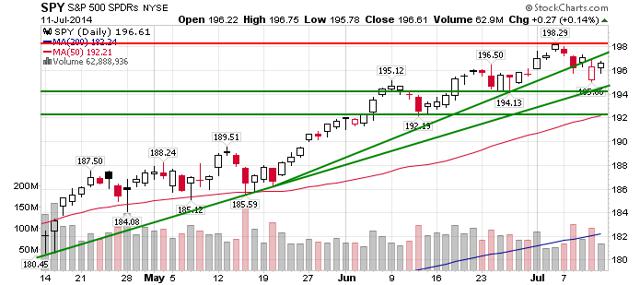 The market fell 1.6% between Friday a week ago and Thursday last week, before recovering on Friday, and is in-between support at 194 and resistance at 198. The move broke the secondary trend, but remains above the 3-month primary trend, and appears to be simply a trend that got ahead of itself.
Small Caps (NYSEARCA:IWM)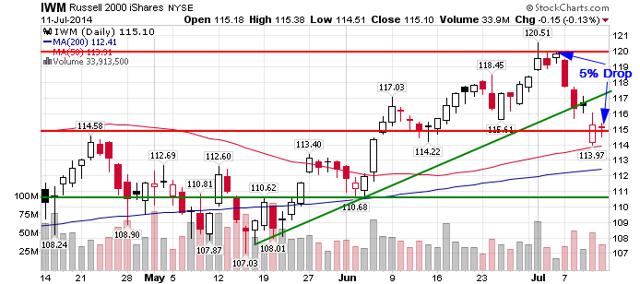 The Russell 2000 and certain tech stocks took a major 5% hit last week, breaking strong upward trends and bouncing off the 50-day MA on Thursday. If support around 115 fails, some stocks could see a further drop.
Core Sectors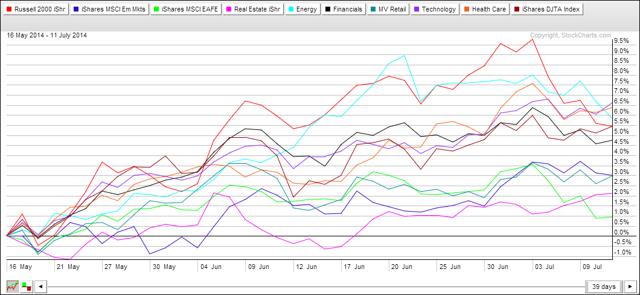 The core sector list shows the small caps, which had greater strength than all other sectors taking a sharper hit, losing three places in the final ranking. Note that tech (NYSEARCA:XLK) dropped less and had a quicker recovery. Finance (NYSEARCA:XLF), like small caps dropped through the week. Real estate (NYSEARCA:IYR) rose in relative strength.
Core vs. IWM (14 Days)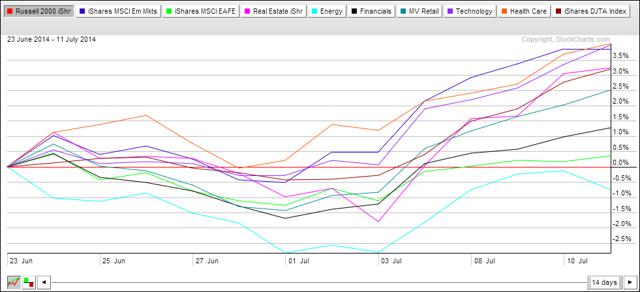 When the market reverses, I assume that the support behind all prior trends is questionable, and wait to see what new trends are emerging. To zero in on stocks most likely to rise, I look short term at ETF's with the strongest relative strength reading and the least drop. The 14-day chart, showing relative strength vs. IWM gives this picture. The horizontal red line represents IWM. You can see that many funds gained strength in the period since July 3. Healthcare and pharma (NYSEARCA:XLV) has been a stalwart, and leads the pack, tied with technology (XLK). Real estate (IYR) has moved up several places, along with transportation (BATS:IYT). Emerging markets (NYSEARCA:EEM) is also a leader.
Best Relative Strength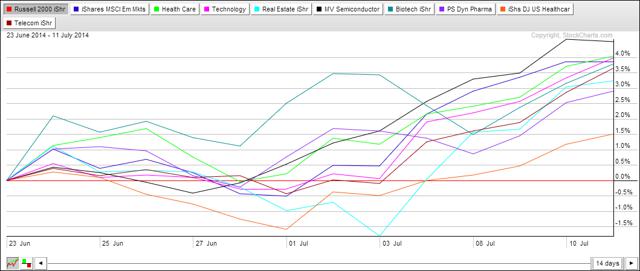 Reviewing all 36 ETF's and again comparing them to IWM, we see the leader to be semiconductors (NYSEARCA:SMH), which undoubtedly held up the tech sector, followed by the core funds XLK, XLF, and IYR. Biotech (IBB or BTK) held up if you could handle the volatility. Gaining in strength is healthcare/hospitals (IHI, orange). XLV (green) is a combination of pharma and hospitals. Note the recent entry of telecom (BATS:IYZ) into the leadership group.
Trades Last Two Weeks
Bought: SMH, AAPL
Sold: DDD, CREE, SOCL, IGV, OIH, IBB, SCTY
Holding: XLV, AGNC, QQQ, AAPL, SMH
Conclusion and Action
Well, I went on vacation and the market crashed! My strategy was to keep my looser stops and let the chips fall. Everything held on Monday, July 7, but at Tuesday's open, five stops were immediately triggered. The remaining ETF's in my portfolio are the survivors of the reversal. I bought more AAPL on Friday.
I conclude that the news environment, despite a lot of escalation in the Middle East, was minor and affected mostly traders, who were already nervous from the long market rise. The U.S. market drop on Thursday from a Portuguese bank rumor was driven by European traders, and led to sharp rebound. This action indicates to me that the overall market is sound and we are seeing temporary trading volatility.
Next week, I expect the market to be dominated by earnings reports. If any bellwethers generate a rise in the indexes, I'll buy with relatively tight initial stops to guard against a subsequent earnings report (or geopolitical event) that rolls the market over.
Most and ETF's that held up are in bases, and have the potential to go higher if they break out on a strong day. Using the relative strength diagram above, I have potential buy stops on the following: EEM > 44.25, XLV > 62, XLK > 39, IYR > 72.5, SMH > 50.8, IBB > 258.5 or BBH > 92.5, PJP > 61.6, IYZ > 30.65.
I will wait for alerts to trigger and check to see whether the market is rising. If so, I will buy small positions. If a new uptrend develops, I will increase the best performers.
I don't do in-depth analysis of stocks, but I follow some that explode short term or that I believe in long term. AAPL has lots of product news coming, has sold off after the split, and easily survived the sell-off last week. I may buy more if it continues to move higher.
Have a great week!
Disclosure: The author is long XLV, AGNC, QQQ, SMH, AAPL.