Market Moving News (Summary of 14 Articles)
Store sales are strong with hints at strength ahead for the back-to-school season, and there is demand for fans, air conditioners, outdoor furniture and sports apparel.
Manufacturing is enjoying a strong summer. The PMI came in at 56.3, which is down 1.0 point from June. Orders for durables rebounded 0.7%, following a decline of 1.0% in May, and have been up in four of the last five months. The Richmond Fed's manufacturing index rose 3 points to 7 in July for a fourth straight gain. Growth in Tenth District (Kansas City) manufacturing activity edged higher in July. Producers' optimism increased, as the month-over-month composite index was 9 in July, up from 6 in June.
Inflation pressures held steady in June, headlined by a 0.3% rise for the consumer price index. The year-on-year rate remains just above the key 2% level at 2.1%.
Housing was mixed. FHFA home prices rose 0.4% in May, but the year-on-year rate slowed by 6 tenths to plus 5.5%, down from a previous high in 7.0% range. Sales of existing homes rose 2.6% in June to a higher-than-expected annual rate of 5.04 million. . New home sales came in at a paltry annual rate of 406,000 in June, while the May number was revised 62,000 lower to 442,000. Relative to sales, supply rose to 5.8 months from May's 5.2 months.
Jobs improved sharply. Initial jobless claims fell a very surprising 19,000 in the July 19 week to a much lower-than-expected level of 284,000. The four-week average fell 7,250 to 302,000, the lowest since 2007. Continuing claims fell 8,000 to 2.500 million in data for the July 12 week, dropping the four-week average 17,000 to 2.542 million.
Sentiment
Sentiment is more positive. The Bloomberg Consumer Comfort Index was 37.6 in the week ended July 20, up from 37.5 in the prior period. The measure reached a 2014 high of 37.9 in April. The indicator reflects the gap between the highest- and lowest-income Americans, which last week was one of its widest this year. Households earning $100,000 or more reaching 58.1 and those in the $15,000-and-less bracket came in at 17.2. Those earning $50,000 and more showed the best reading since April.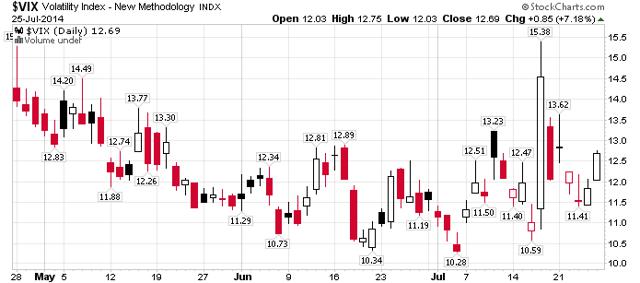 The VIX became more volatile as the market flattened. I think some variation comes from the effects of earnings reports (like AMZN's 11% stock plunge), but mostly from increasing geopolitical tension.
The Market (S&P 500)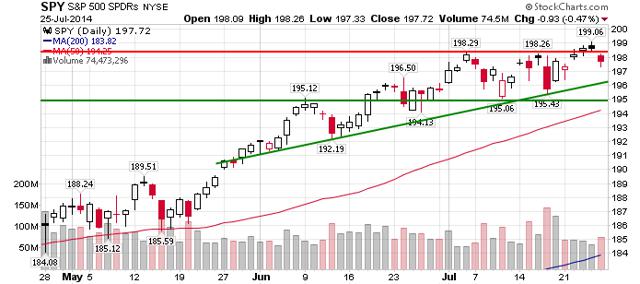 The market moved higher during the week, mostly on gaps as opposed to intra-day moves; then it got nervous on Friday. The index remains between support at 195 and resistance near 198.
Small Caps (NYSEARCA:IWM)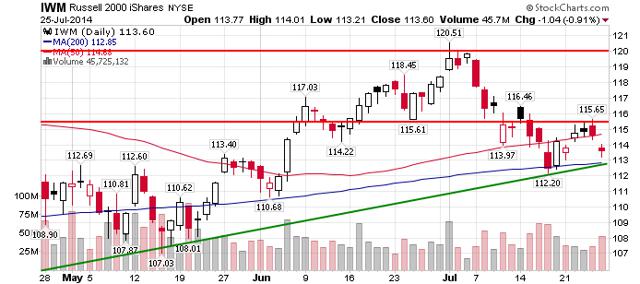 Early in the week the small caps looked like they were going to resume leadership, but weakness returned Thursday and Friday, behavior that indicates continued weakness and a drag on the overall market.
Core Sectors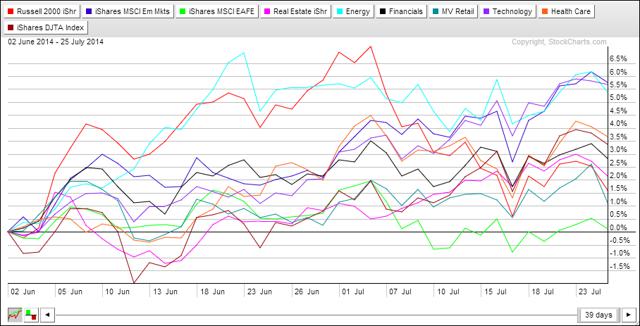 Over a 39 day period, only retail (NYSEARCA:RTH) and foreign stocks (NYSEARCA:EFA) were weaker than the small caps in the Russell 2000 (IWM). Emerging markets (NYSEARCA:EEM), tech (NYSEARCA:XLK), and energy (NYSEARCA:XLE) are clustered in the lead. Energy has not gained much recent strength as the others.
Core Sectors (11 Days)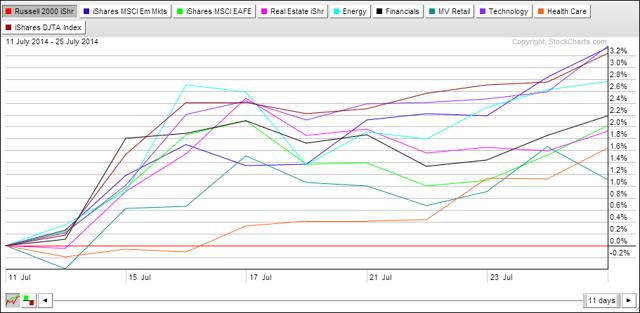 To better identify leaders in a weakening market, I looked at the core sectors over an 11-day period, relative to IWM, which shows as the red horizontal line. IYT, XLK, and EEM are the clear top performers at 3%. Healthcare/pharma (NYSEARCA:XLV) is weaker, but shows steady strength.
Best Relative Strength (vs. QQQ)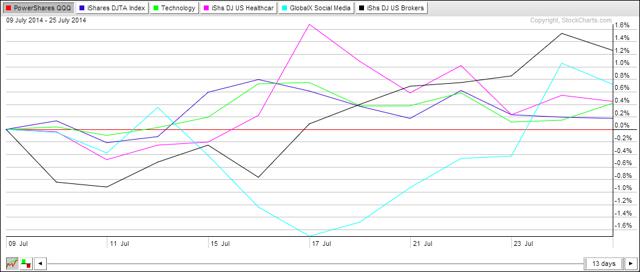 I set a high bar by comparing 36 ETF's with the Nasdaq 100 (NASDAQ:QQQ), which shows as the horizontal red line. U.S. Brokers (NYSEARCA:IAI) had a recent burst of strength, followed by social medial (NASDAQ:SOCL), U.S. healthcare (NYSEARCA:IHI), and technology (XLK). I will consider buying QQQ and these ETF's next week, unless I decide their volatility is too high.
Trades Last Week
Bought: IWM, EEM
Sold: FDN, INTC, IWM, IYR, SMH,
Holding: AAPL, AGNC, EEM, MBI, RFMD, XLV
Conclusion and Action
While the small caps remain weak, I don't think rest of the market will make a large upside move, and I remain concerned that Putin could do something that will cause a sharp break. Nevertheless the Q's, tech, social networking, transportation, Brazil, and hospitals (IHI) are showing strength. Otherwise, the market is mixed with most sectors falling on Friday.
My plan is to follow strength, beginning with, QQQ if it moves higher and following with additional sectors and individual stocks that break out. I will keep stops relatively tight.
Candidates are QQQ>97.5, IHI>103.5, IAI>38.3, SOCL>19.5, XLK>39.8, IYT>151, and EWZ>51.7.
Have a great week!
Disclosure: The author is long EEM, MBI, AAPL, RFMD, XLV.