Market Moving News (Summary 12 Articles)
In a light week for economic news and a slight throttling down of Ukraine rhetoric, the market was pushed higher along with some good reports.
Back-to-school spending has been strong, according to retailers.
Manufacturing remains strong, but some data is mixed. Strong growth in employment leads a very strong PMI manufacturing report where the composite index, at 58.0 for the August flash reading, is up a sharp 2.2 points from final July's 55.8. The report cites acceleration for output and new orders and a 3-year high for export orders. In the Philly Fed's manufacturing report, new orders slowed sharply, to 14.7 vs July's 34.2 and shipments fell to 16.5 vs. 34.2 in July. Employment growth is down. Price pressures are down. The report's headline index, the result of the answer to a survey question, was higher at 28.0 vs July's 23.9.
Inflation is benign. On a seasonally adjusted basis, the headline CPI was up 2.0% in July versus 2.1% the month before. Overall consumer prices rose 0.1% in July after a strong 0.3% boost the month before. Excluding food and energy, the CPI gained only 0.1%, and below forecasts.
The Fed is on a steady course. According to the minutes, while the unemployment rate has come down, many FOMC participants still see labor market slack as suggested by sluggish wage rates. Policy rate tightening is still seen as data dependent. Most participants see inflation moving closer to goal of 2% PCE price inflation.
Housing improved somewhat. The housing market index came in at 55, up 2 points from July for the best reading since January. Housing starts for July jumped to an annualized pace of 1.093 million units-up from 0.945 million units the prior month. Existing home sales in July advanced 2.4% to an annualized pace of 5.15 million units, topping expectations for 5.00 million. Mortgage rates fell 0.4% in the August 15 week. The trend of the mortgage purchase index remains weak. Total refinancing applications rose 3.0% in the week.
Jobless claims continue to trend lower. Initial claims fell 14,000 to a better-than-expected level of 298,000 in the August 16 week, an improvement of 5,000 over July. The 4-week average, at 300,750, is up 4,750 from the prior week but is down 8,500 July. Continuing claims are down 49,000 from the prior week to a new recovery low of 2.500 million. The 4-week average, at 2.528 million, is down 2,000 from the prior week and is down 16,000 from the July sample week.
Sentiment
Two sentiment metrics improved. The Bloomberg Consumer Comfort Index advanced to 36.8 in the period ended August 10 from 36.2. An improving job market and lower gasoline prices appear to be lifting sentiment along with higher stock prices. Sentiment about whether or not it's a good time to buy waned last week, with the buying-climate index falling to 32.3 from 32.6. The index of leading economic indicators is taking off, up 0.9% in July vs a sharply upward revised 0.6% gain in June (plus 0.3% prior).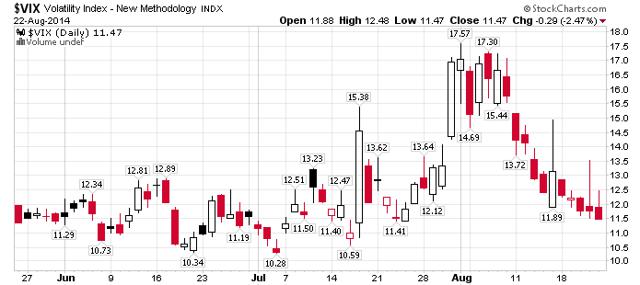 The VIX continued to fall lower as concern over Ukraine abated. The market may be getting less sensitive to this event. The S&P 500 futures fell sharply and the VIX spiked on Friday when Russian trucks crossed the Ukrainian border; however, both indicators immediately recovered.
The Market (S&P 500)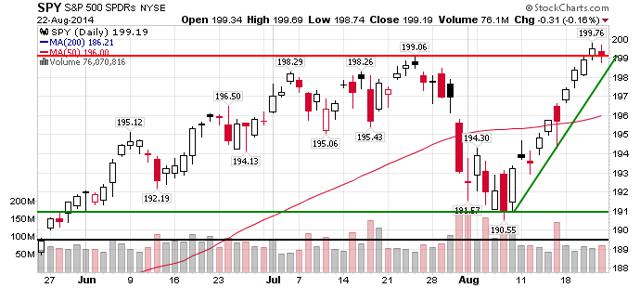 The S&P 500 continued last week's v-shaped recovery, returning to all-time highs. Had we not got another "Ukrainian Friday," the Friday close would likely have extended the rally.
Small Caps (NYSEARCA:IWM)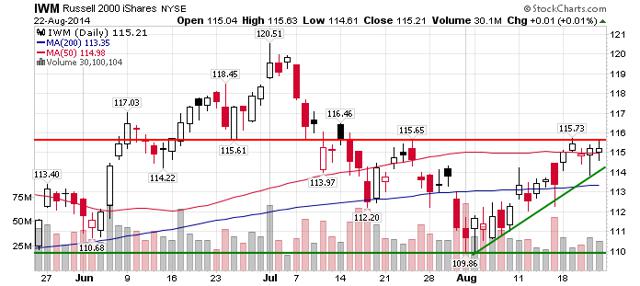 Small caps again tell a different story. After a week of tracking the S&P 500, the IWM lost relative strength and became flat on the week, at resistance around 115.6. The divergence shows up strongly in the relative strength charts. Many sectors are weak.
Core Sectors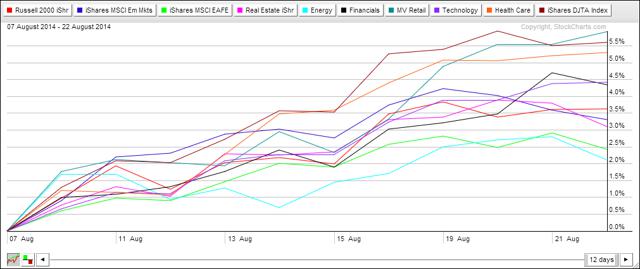 The IWM (red) flattened out toward the end of the week, but exceeds real estate (NYSEARCA:IYR), emerging markets (NYSEARCA:EEM), foreign stocks (NYSEARCA:EFA), and energy (NYSEARCA:XLE). The strongest sectors are retail (RTH-note the mid-week spike higher), transportation (BATS:IYT), and healthcare (NYSEARCA:XLV). Technology (NYSEARCA:XLK) is a steady gainer, as is financials (NYSEARCA:XLF).
Best Relative Strength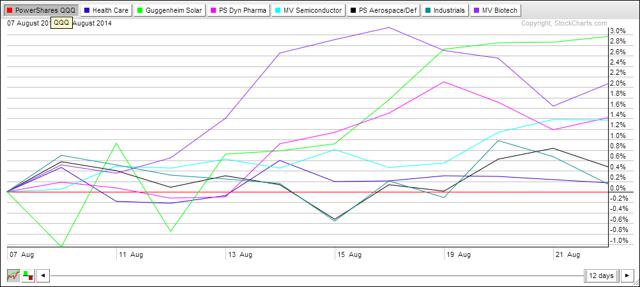 Of the 36 ETF's I follow, the following chart shows seven relative to the Nasdaq 100 (QQQ, horizontal red line), which remains stronger than the Russell 2000 (IWM). Solar (NYSEARCA:TAN) is volatile, but gaining in strength. Biotech (NYSEARCA:BBH) weakened during the week. Semiconductors (NYSEARCA:SMH) strengthened and is less volatile. Industrials (NYSEARCA:XLI) and aerospace/defense (NYSE:PPA) are relatively flat. Healthcare (XLV) matched QQQ.
Trades Last Week
Exercising caution but reacting to the sharp rise in some sectors, I executed a number of swing trades last week.
Bought and Sold: BBH, IGV, IYR, ITY, SMH, TAN, XLI, XLV
Holding: AGNC, AAPL, LMT, SSO, XLK, QQQ
Overall, the trades were profitable. The largest gain was in SSO.
Conclusion and Action
There is an excellent article in Friday's Wall Street Journal that debunks a notion that I often hear and see in traders' comments. When the Fed starts raising rates, they will sell off all of the mortgage and treasury bonds they have been buying through the quantitative easing program. The massive influx of bonds will soak up cash and crash both the economy and the markets. This is a fallacy. The Fed has the option of simply holding these instruments until they mature.
The parameter to watch is wage inflation, of which we have little today. When wages start rising, the initial impact will be good for the economy, so there will likely be a period where the Fed allows some inflation. Then they will raise rates. The market, being highly sensitive to a rate rise will have a spasm when it actually happens, and then will realize that the economy isn't going to tank, and resume its bullish ways.
Next week, I remain sensitive to geopolitical events, but expect the market to react a little less to Ukraine fighting. If Europe gets serious about curtailing business with Russia, expect a sell-off. There are many projects between western oil companies and Rosneft that could be curtailed.
My buy candidates for next week are JBLU, XLV, TAN, PJP, SMH, PPA, IHF, and RTH.
Have a great week!
Disclosure: The author is long AGNC, AAPL, LMT, SSO, XLK, QQQ.