Market Moving News (Summary of 15 Articles)
Consumers are spending. Retail sales jumped 0.6% in August after a rise of 0.3% the month before. The weekly ICSC Goldman store sales reported the year-on-year rate at 4.0% vs 4.8% in the prior week. Redbook's latest same-store sales comparisons are mixed, showing no change in the year-on-year rate, at plus 4.9% in the September 6 week, but a slowing gain for the September-to-August outlook, now at a thin plus 0.2% vs 0.7% in the prior week.
Consumer credit jumped an outsized $26.0 billion in July on top of an upward revised $18.8 billion jump in June. Revolving credit, the component that tracks credit cards was, up $5.4 billion vs a $1.8 billion gain in June. Non-revolving credit from vehicle financing was strong, up $20.6 billion in July vs a $17.0 billion gain in June.
Inflation remains tame. Import prices fell 0.9% in August but were skewed by a 4.4% fall in petroleum products. Excluding petroleum, import prices edged 0.1% lower. Export prices fell 0.5% in the month for a year-on-year rate of plus 0.4%. Excluding agricultural products, prices fell 0.3% for a year-on-year rate of plus 0.5%.
Housing data are weak. MBA's composite mortgage application index fell 7.2% in the week with the refinancing component down 11.0% and the purchase component down 3.0% in a short holiday week. The year-on-year rate steady in the week at minus 12%. The average 30-year mortgage rate for conforming loans ($417,000 or less) rose 2 basis points to 4.27%.
Jobs are steady. The JOLTS report cited 4.673 million job openings on the last business day of July, little changed from June's 4.675 million. The hires rate (3.5%) and the separations rate (3.3%) were unchanged. Within separations, the quits rate (1.8%) and the layoffs and discharges rate (1.2%) were unchanged.
Initial claims rose 11,000 in the September 6 week to 315,000, pulling up the 4-week average slightly to a 304,000 level that is 8,000 above the month-ago comparison. Continuing claims show a 9,000 rise in the August 30 week to 2.487 million. The 4-week average is trending slightly lower, down 15,000 in the week to a recovery low level of 2.499 million.
Sentiment
Overall sentiment is more negative. The Small Business Optimism report index is up 0.4 points to a recovery high of 96.1. Those saying now is a good time to expand fell 1 point to 9.
The Bloomberg Consumer Comfort Index declined to 36.5 in the period ended September 7, the worst reading since the beginning of August, from 37.7 the week before, with numbers falling in four of seven income brackets. A gauge of Americans' views on the current state of the economy fell to 25.3 last week from 26.7 in the previous period. A gauge of the buying climate, which shows whether this is a good time to purchase goods and services, decreased to a 10-week low of 31.2 from 32.1.
The Consumer Sentiment Report rose rise this month, climbing to 84.6 vs a final August reading of 82.5 and a mid-month August reading of 79.2. The gain, however, is centered in the expectations, not current conditions, which slipped to 98.5 vs 99.8 in August final.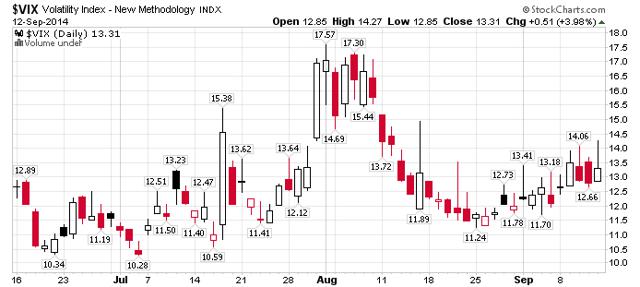 Note the gradual rise in the VIX and volatility in the chart. This corresponds with the more volatile, falling market in the SPY chart below, and the anxiety creeping into the sentiment measures.
The Market (S&P 500)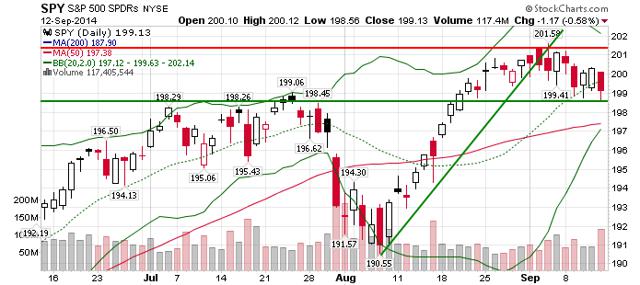 The SPY chart resembles a classic cup-and-handle formation, except that the cup has a "V" shape. Note also the "pinching" of the Bollinger bands. A Bollinger pinch is a fairly reliable of a coming big move; however the indicator does not specify direction. In theory, the cup-and-handle pattern is bullish, because the handle indicates reluctance to sell, creating a shortage of available shares at higher prices. When the market (or individual stock) gets good news, share prices move sharply higher.
Small Caps (NYSEARCA:IWM)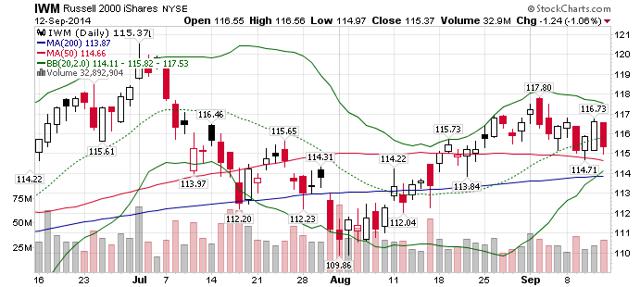 Small caps are displaying a much broader cup & handle pattern along with a Bollinger pinch, indicating that they might be the leaders in a new rising trend.
Core Sectors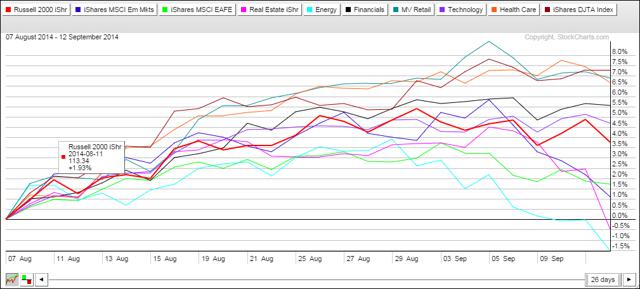 The core sectors show a bifurcated market, with five sectors higher than small caps (IWM) and four below. The lower sectors experienced a sharp break, led by energy (NYSEARCA:XLE), and followed by real estate (NYSEARCA:IYR). Emerging markets (NYSEARCA:EEM) show a more gradual loss of strength. The strongest sectors are healthcare (NYSEARCA:XLV), transportation (BATS:IYT) and retail (NYSEARCA:RTH).
Best Relative Strength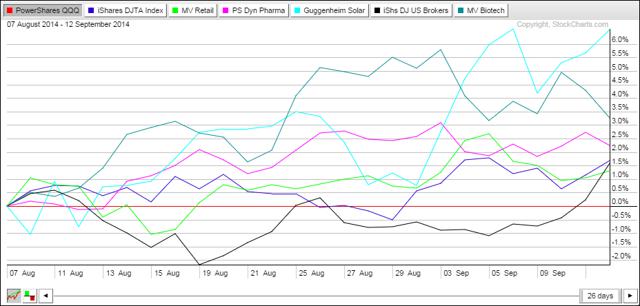 The Nasdaq 100 (NASDAQ:QQQ) has been stronger than IWM recently, so again our reference is QQQ. The list of buy candidates by relative strength are solar (TAN, note the volatility), biotech (NYSEARCA:BBH), pharmaceuticals (NYSE:PJP), transportation (IYT), retail (RTH), and brokers (NYSEARCA:IAI). Note the recent surge in IAI.
Trades Last Week
Sold: FDN, IGV, IYT, IYZ, LVLT
Bought: AAPL, BBH, IAI, IHF, PJP, QQQ, TAN, XLV
Holding: AGNC, RTN, AAPL, BBH, IAI, IHF, PJP, QQQ, TAN, XLK, XLV
Conclusion and Action
My strategy is to buy and hold QQQ and ETF's that are stronger, with stops one to two ATR's below the current price. When buying in, however, I wait for a strong breakout and follow initially with a tighter stop. If the breakout doesn't fail, then I maintain the stop at the second ATR, or second support level.
The relative strength charts look much better than the individual ETF charts, many of which are declining, as is QQQ. The candidates for purchase need to show breakouts to new highs before I would buy them. Specifically, breakout prices are IYT >154, RTH>63.7>, PJP>63.6, TAN>46, IAI>40.18, BBH>107.
Have a great week!
Disclosure: The author is long AGNC, BBH, IAI, IHF, PJP, QQQ, TAN, XLK, XLV.