News Summary of 19 Articles
This is a holiday-shortened summary. Most indicators are somewhat lower as the economy seems to be slowing; however some areas are slowing only their rate of gain. The event of the week was OPEC's holding its price, which caused a big drop in oil and oil services stocks. The market responded higher on Friday, but gave up the gains late in the day.
The Market (S&P 500)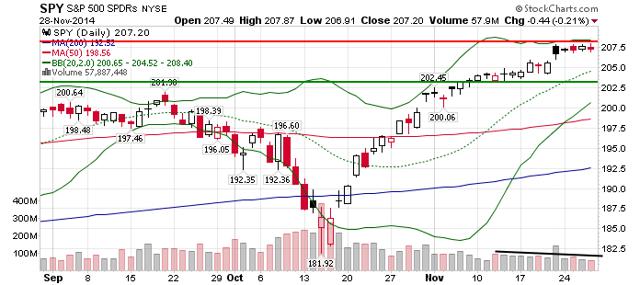 The S&P 500 was remarkably flat during the shortened week, on falling volume. The Bollinger bands are pinching down, indicating a forthcoming breakout. The indicator doesn't say which direction, buy my bias is higher.
Small Caps (Russell 2000)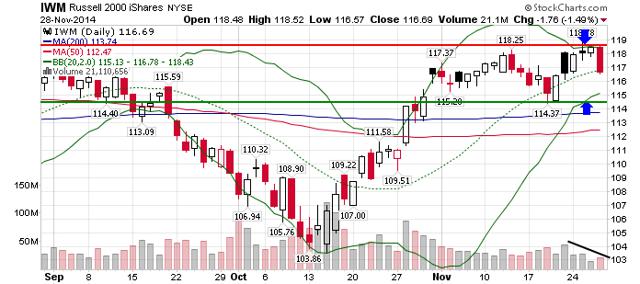 Any breakout is unlikely without the coincidence of the Russell 2K, which took a big hit on Friday, for no apparent reason. Again, note the Bollinger pinch.
Core Sectors (Vs. QQQ)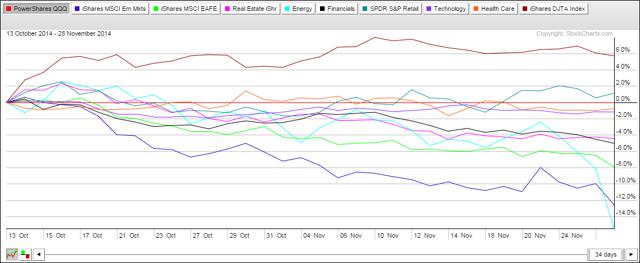 The key to this market is the extraordinary strength of the Nasdaq 100 (NASDAQ:QQQ). It is stronger than most of the core sectors, so the chart above compares them to QQQ, indicated by the red line. Transportation (BATS:IYT) is consistently stronger, as is retail (NYSEARCA:XRT). Other sectors lag QQQ. Energy (NYSEARCA:XLE) shows the hit from the price drop in crude. Emerging markets (NYSEARCA:EEM) and foreign stocks (NYSEARCA:EFA) became continually weaker over the last 34 days. Real estate (NYSEARCA:IYR) has been gaining, but at a much lower rate than QQQ.
Best Relative Strength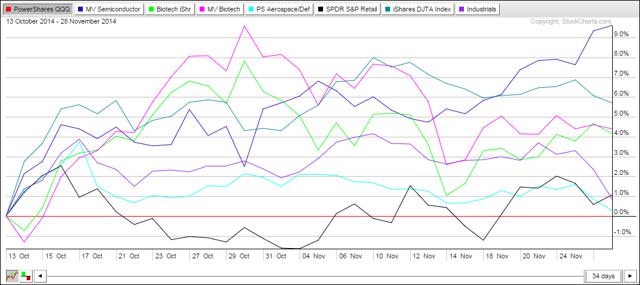 Comparing all 36 ETF's I follow with QQQ, the strongest is semiconductors (NYSEARCA:SMH), followed by transportation (IYT), biotech (NYSEARCA:BBH), and more biotech (NASDAQ:IBB). Aerospace (NYSE:PPA) and retail (XRT) are pacing the Q's.
Trades Last Week
Bought: SMH, XRT, HPQ, QQQ, XLV
Sold: XRT, XLV
Holding: AGNC, AAPL, SMH, BA, HPQ, QQQ
I was stopped out of XRT and XLV due to volatility last week; the remaining holdings had strong gains.
Conclusion and Action
We are in a narrow, slightly volatile market, with most potential concentrated in large cap techs that compose most of the Nasdaq 100. The dominant holding in QQQ is AAPL. Next week, I will continue to look for stocks in strong sectors and the few ETF's that can outperform QQQ. These include IYT, BBH, IBB, XLI, PPA, and XRT. Stocks include FDX, UNP, R, AAL, JBLU, and DAL.
Disclosure: The author is long QQQ, SMH.