Market Moving News (Summary of 15 Articles)
Spending is strong. Retail sales in November posted a 0.7 percent boost after rebounding 0.5 percent in October. Autos jumped 1.7 percent after gaining 0.8 percent in October. Excluding autos, sales increased 0.5 percent after rising 0.4 percent in October. Gasoline station sales fell on lower prices.
The federal deficit fell 29 percent in fiscal year 2014. Two months into the 2015 year, the deficit is down an estimated 8 percent.
There is no inflation pressure from overseas or at producers. Import prices dropped 1.5 percent in November, the 5th straight drop and the steepest since June 2012, and export prices fell 1.0 percent for the 4th straight drop and matching the steepest drop since June 2012. The year-on-year rate for import prices is at minus 2.3, the steepest negative reading since April 2013, with export prices at minus 1.9, the steepest since October 2013. Separately, the PPI declined 0.2 percent after rising 0.2 percent in October. Excluding food and energy, producer price inflation was flat, following a jump of 0.4 percent in October.
Housing bumped up slightly. The Mortgage Bankers' composite index rose 7.3 percent in the December 5 week, while the refinance component rose 13.0 percent. Rates moved mostly higher in the week with the average 30-year mortgage for conforming loans ($417,000 or less) up 3 basis points to 4.11 percent.
Jobs are little changed. Initial claims fell 3,000 in the December 6 week to 294,000 but the 4-week average, up slightly to 299,250, is still about 15,000 higher than in early November. Continuing claims rose 142,000 to 2.514 million in lagging data for the November 29 week, the highest level since mid-August. The 4-week average, up 28,000 to 2.386 million, is also up about 15,000 vs the month-ago comparison.
Sentiment
Sentiment is positive. The small business optimism index surged 2.0 points in November to 98.1 for its highest reading of the recovery, going back to February 2007. The index is suddenly at its historic average of 98.0. Expectations of an improving economy and higher sales caused the index to surge. Earnings trends show a small gain while plans to increase employment also rose though just barely. Inflation readings remain very low. Reasons for the surge are hard to pinpoint. The Bloomberg Consumer Comfort Index increased to 41.3 in the period ended Dec. 7, its highest since December 2007, from 39.8 the week before. Measures on the economy and buying climate also climbed to the strongest levels in seven years. Consumer sentiment is surging this month, to 93.8 for the mid-month December reading vs an already strong 88.8 in final November and 89.4 in mid-month November. This is the strongest reading since January 2007. The lowest gasoline prices since 2010 and the biggest job gains in more than a decade are giving consumers the means to boost spending.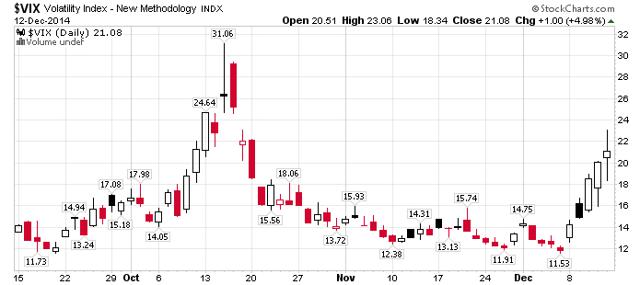 The VIX spiked last week, an indication that institutions are hedging their portfolios, possible as they prepare to make some large shifts.
The Market (S&P 500)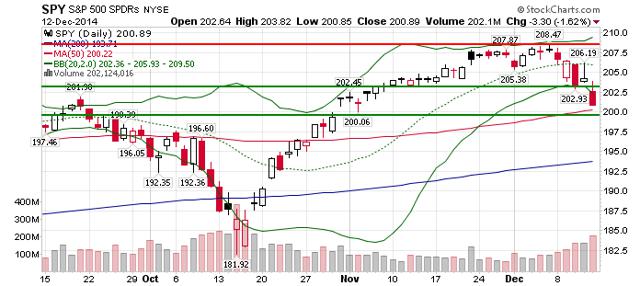 The market took a moderate hit on Monday, opened down on Tuesday, but recovered, fell again on Wednesday, had a failed recovery on Thursday, and broke resistance to go back to early November levels on Friday. There is little support above 190. Volatility was much higher, as reflected in the option volatility levels measured by the VIX. Volume built steadily all week.
Small Caps (NYSEARCA:IWM)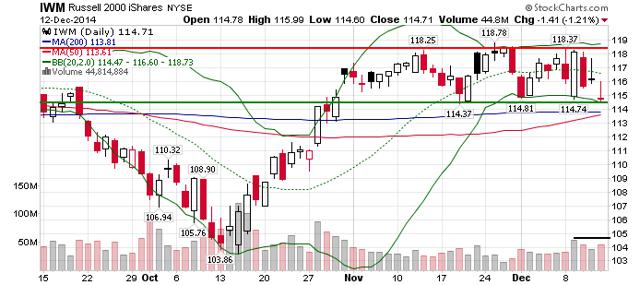 Small caps were even more volatile than the SPY, and remained above support in the 115 level. Trading volume increased.
Core Sectors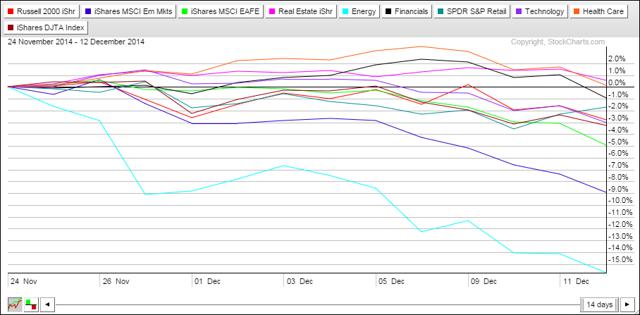 The core sector over the past two weeks showed energy (NYSEARCA:XLE) with a 15% relative strength drop. Funds that beat IWM are healthcare (NYSEARCA:XLV), real estate (NYSEARCA:IYR), and financials (NYSEARCA:XLF). With holiday shopping looking strong, retail (NYSEARCA:XRT) showed a relative gain.
Best Relative Strength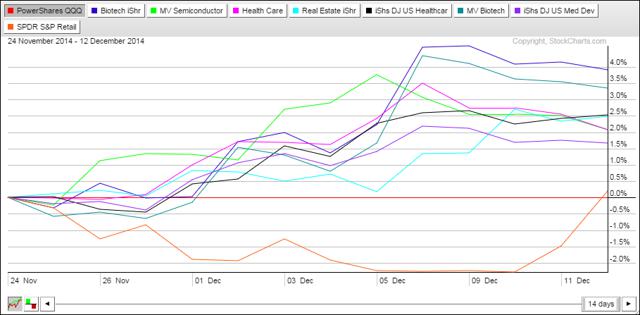 This charts looks at 36 ETF's and shows those with higher relative strength than QQQ. As has been the case for many weeks, the leaders are biotech (IBB, BBH), healthcare (IHF, XLV), semiconductors (NYSEARCA:SMH), real estate (IYR), and medical devices (NYSEARCA:IHI). Retail (XRT) popped higher on Wednesday.
Trades Last Week
Sold: HPQ, AMAT, ARMH, SMH, XLV
Bought and Sold: AAPL, QQQ, SMH, XLV
Holding: AGNC
Monday's drop took everything except AGNC out of my portfolio. I later sold it and bought back a small position.
Conclusion and Action
Economic reports are good, sentiment is good, but the market is volatile and correcting. Three factors are declining economic statistics in Europe and Asia, high valuations on some U.S. Stocks, falling oil prices affecting the energy sector and the dollar, and the fear of higher interest rates, indicated by the probable change in language of next week's Fed announcement.
With the exception of a small position in AGNC, which offers an 11% annual dividend return, I am out of this market. I will wait for Wednesday's Fed announcement, and probably stay out until I see the direction of the market in January. This is a good time to take a Christmas break!
Have a great week!
Disclosure: The author has no positions in any stocks mentioned, and no plans to initiate any positions within the next 72 hours.