Market Moving News (Summary of 15 Articles)
Redbook reports a surge in holiday spending in the December 20 week, to a year-on-year same-store plus 5.3% for a 1.1%age point gain from the prior week.
Manufacturing is tapering off slightly. Activity has picked up this month in the Richmond's Fed manufacturing district, to 7 from 4 in November. New orders show relative strength, at 4 vs November's 1, but are still on the soft side. Separately, the big 1.1% jump in the manufacturing component of the Industrial Production report fed a very strong plus 0.73% reading for November's National Activity Index vs a revised plus 0.31 in October. Other components in November, however, were flat with the positive contribution from employment edging lower while the positive contribution from sales/orders/inventories all but disappeared. The drag from consumption & housing remained moderate. The outsized manufacturing gain also boosted the 3-month average which rose to plus 0.48 in November from October's revised plus 0.09 for its strongest reading since May 2010.
Durables orders dipped 0.7% in November after rising 0.3% in October. Market expectations were for a 3.1% boost. The core declined 0.4% in October after a drop of 1.0% in October. Transportation fell a monthly 1.2% after jumping a monthly 3.3% in October. Motor vehicles and nondefense aircraft were up but defense aircraft orders were down notably. Outside of transportation, weakness was mixed but mostly down.
Corporate profits are solid. The third quarter came in at $1.895 trillion, following $1.842 trillion for the second quarter, an annualized 11.9% after a 27.1% gain in the first quarter. Corporate profits on a year-on-year basis were up 5.1%, compared to 4.6% the prior quarter.
Personal income advanced 0.4% in November after growing 0.3% in October. The wages & salaries component increased 0.5%, following a gain of 0.3% the month before. Personal spending grew 0.6%, following 0.3% in October.
PCE inflation, at minus 0.2% on a monthly basis, continues to be weak-largely due to lower energy costs. Core PCE inflation was flat in November. On a year-ago basis, headline PCE inflation eased to 1.2% in November from 1.4% the prior month. Year-ago core inflation came in at 1.4% in November compared to 1.5% in October. Both numbers are below the Fed goal of 2% year-ago inflation.
Housing statistics are exasperating the experts. Existing home sales dropped 6.1% to a 4.93 million annual rate in November, ending five months of plus 5.0 million rates. The weakness in sales is not inflating supply which, due to a drawdown of homes on the market to 2.09 million from 2.24 million, held steady relative to sales, at 5.1 months. The median price fell for a 5th straight month, down 1.1% in November to $205,300. Year-on-year the median price is up 5.5%, at about the same level since last March.
Mortgage rates are below 4.0% for some 30-year fixed loans. Home price appreciation showed unexpected strength in October, gaining 0.6% after no change in September.
New home sales were down 1.6% in November to an annual sales rate of 438,000 vs expectations for 460,000. The median price was down 3.2% in the month to $280,000, up only 1.4% since a year ago. Supply data are stable with 213,000 new homes on the market vs 210,000 in October. Supply relative to sales is up slightly, to 5.8 months from 5.7.
The MBA purchase index showed was up 1.0%, lifting the year-on-year rate to minus 1.0%. The refinance index rose 1.0% in the week. Rates remain at year-and-a-half lows, down an average 4 basis points in the week to 4.02% for 30-year fixed mortgages.
Initial jobless claims fell 9,000 in the December 20 week to 280,000, pulling down the 4-week average by 8,500 to 290,250. Continuing claims, rose 25,000 in the December 13 week to 2.403 million and the 4-week average was up 20,000 to 2.418 million, is higher than last month.
Sentiment Metrics
Consumer sentiment held steady the last two weeks at a very high level of 93.6, little changed from 93.8 at mid-month and far above November's final reading of 88.8. Inflation expectations are very soft, with both the 1-year and 5-year outlooks at 2.8%.
The Bloomberg Consumer Comfort Index increased to 43.1 in the week ended December 21, its highest level since October 2007, from 41.7 in the prior period. All three components of the index advanced.
The VIX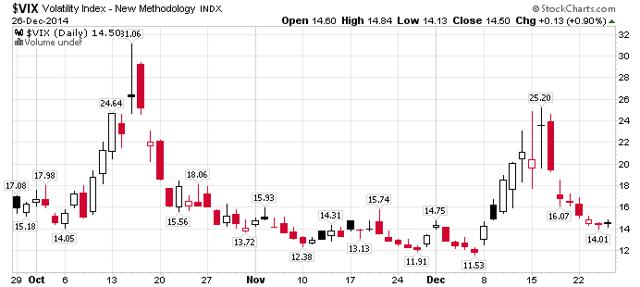 The VIX has returned to "normal" and isn't suggesting a sell-off in the near future.
The Market (S&P 500)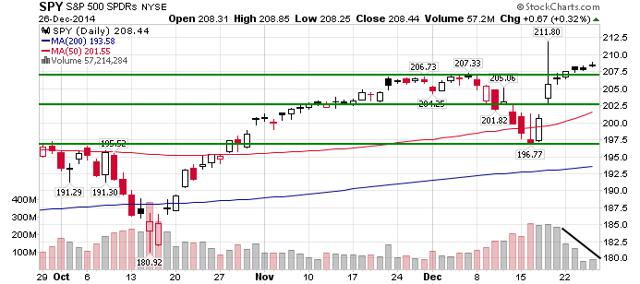 Market volatility and volume have dropped sharply (due to the holiday week). The big stocks have begun a slow uptrend, as energy rebounded and the ruble stabilized. The market seems to have recovered from fears surrounding rapidly falling oil prices.
Small Caps (NYSEARCA:IWM)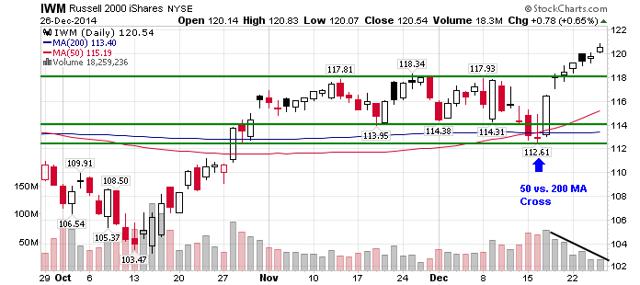 IWM is in a strong uptrend vs. the S&P 500. The relative strength of the indices is IWM, SPY, QQQ, in that order.
Core Sectors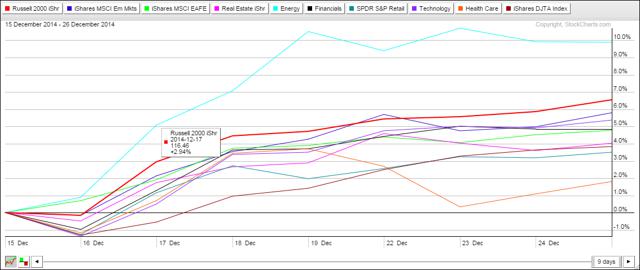 The core sectors are in a different configuration from what we have seen lately. The only sector exceeding the strength of the Russell 2000 is energy (NYSEARCA:XLE), which has been in a sharp rebound from a sharper drop. XLE and oil services (NYSEARCA:OIH) are volatile while the price of oil tries to find stability. Emerging markets (NYSEARCA:EEM) are next, followed by technology (NYSEARCA:XLK) and foreign stocks (NYSEARCA:EFA). Healthcare (NYSEARCA:XLF) dropped sharply, reflecting a shock in biotech.
Last week, ExpressScripts dropped Gilead's (NASDAQ:GILD) Hepatitis C drug in favor of a competitor. Traders assumed that the reason was the high price GILD charges. Traders seemed to think that price pressure would spread to the entire industry and slammed biotech, weakening IBB and BBH. The sell-off was probably emotional; if these ETF's strengthen, there may be a buying opportunity in the next few weeks.
Best Relative Strength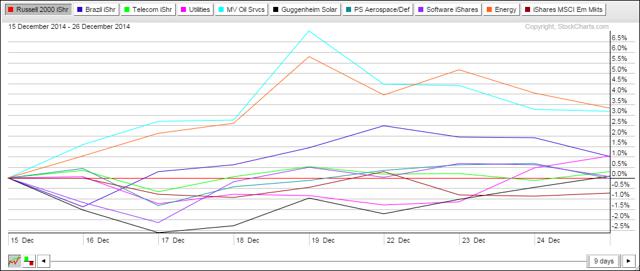 Among the 36 ETF's I follow, the relative weakness of many sectors leaves only a few ETF's outperforming IWM. Oil services (OIH) and Energy (XLE) are leaders. Brazil (NYSEARCA:EWZ) has been very strong, and probably because of lower oil prices, utilities moved up. Performing at about the level of IWM are Telecom (BATS:IYZ), software (BATS:IGV), and solar (NYSEARCA:TAN). Emerging markets (EEM) are lagging slightly.
Trades Last Week
Bought: AAPL, HAIN, IGV, IWM, QQQ
Sold: FEYE, LMT, XLI
Holding: AAPL, AGNC, GLW, HAIN, IGV, IWM, QQQ
Conclusion and Action
The indices are moving higher and IWM has resumed the lead after many months of giving way to QQQ. I think this is a good sign since IWM is a composite of 2000 stocks. Leadership, however, is different from previous rallies. Energy is sharply rebounding, and biotech is at least temporarily recovering from a large hit. Few sectors are beating the small caps. The economy remains strong, but appears to be leveling off.
I am bullish for next week, as long as small caps continue their momentum; however I will probably go into the New Year in cash. January often opens with a new set of leaders and can rally strongly or sell-off sharply. I intend to be lightly invested during the first week.
I will look for continued strength in solar and possibly telecom; however if the current trends in IWM and QQQ break, I will tighten stops. AAPL looks bullish.
Have a great last week of 2014!
Disclosure: The author is long AAPL, AGNC, GLW, HAIN, IGV, IWM, QQQ.