Market Moving News (Summary of 14 Articles)
Spending: Retail spending is off slightly. Retail sales in February declined 0.6% after decreasing 0.8% in January. New auto sales dropped 2.5%, following a 0.5% rise in January. Excluding autos, sales decreased 0.1%, following a 1.1% drop in January. Gasoline sales actually partially rebounded 1.5% in February after dropping 9.8% the month before. Excluding autos and gasoline, sales fell 0.2% after slipping 0.1% in January.
Store sales opened March on a soft note according to Redbook whose same-store sales index dipped 1 tenth in the March 7 week to plus 2.6%.
Jobs: The labor market remains positive. The JOLTS report showed 4.998 million job openings on the last business day of January, little changed from 4.877 million in December, the U.S. Bureau of Labor Statistics reported today. Hires decreased to 4.996 million in January from 5.239 million the prior month. Separations were little changed at 4.821 million versus 4.901 million in December.
Initial jobless claims fell 36,000 in the March 7 week to 289,000. The 4-week average fell by 3,750 to 302,250, which is still more than 10,000 above the prior month. Continuing claims are mixed, down 5,000 in the February 28 week to 2.418 million. The 4-week average is up 13,000 to 2.417 million, and up 20,000 month-on-month.
Inflation: Threat of deflation. Import prices rose 0.4% in February. Excluding petroleum imports, prices of which rebounded 8.1%, import prices fell 0.4% following a 0.6% decline in January. Year-on-year, total import prices are down a deflationary minus 9.4% and -1.8% excluding petroleum. Export prices are down minus 0.1% for a year-on-year decline of minus 5.9%. Agricultural prices were down 2.0% and minus 5.5% year-on-year.
The producer price index (PPI) fell 0.5% in February after decreasing 0.8% in January. Expectations were for a 0.3% rebound. Energy was flat, following a 10.3% drop while foods decreased 1.6%, following a 1.1% dip in January. Excluding food and energy, the PPI was minus 0.5% after slipping 0.1% the month before.
Economy: Inventory is rising. Wholesale inventories were higher 0.3% against vs. a huge 3.1% plunge in wholesale sales, the largest drop since May 2009. The stock-to-sales ratio is up sharply, to 1.27 from 1.22, which is the highest reading since July 2009. Business inventories were unchanged in both January and a revised December vs sizable declines in sales of 2.0% in January and 1.0% in December. The inventory-to-sales ratio is at 1.35 vs 1.33 in December and 1.31 in November.
Housing improved: Mortgage applications for home purchases rose 2.0% in the March 6 week with the year-on-year rate also up 2.0%. Applications for refinancing fell 3.0%. Average mortgage rates were up 5 basis points to 4.01%, the highest level since early January.
Sentiment metrics are mixed but somewhat weaker:
The February 2015 Investor Movement Index for the four weeks ending February 27, 2015, came in at 4.70, compared to 4.85 in January. The trend direction is negative with the trend length at 2 months. TD Ameritrade clients' exposure to equity markets declined for the second month in a row.
Heavy weather in February didn't hurt the small business optimism index which edged 1 tenth higher to 98.0. The strongest component is job openings hard to fill.
The Bloomberg Consumer Comfort Index was little changed last week retreating to 43.3 in the period ended March 8 from 43.5 in the prior week. A measure of the buying climate in the U.S. was the weakest in a month. Bloomberg analysis suggests that disappointing wage growth and a propensity to sock away gas savings may be limiting consumers' willingness to spend.
The first read of the Consumer Sentiment report this month fell sharply to 91.2, down 4.2 points from final February for the lowest reading since November. Sentiment peaked at 98.2 in mid-month January which was the highest reading in 8 years. The two components of the headline index both show weakness, at 103.0 for a 3.9 point decline for current conditions and at 83.7 for a 4.3 point decline for expectations.
The VIX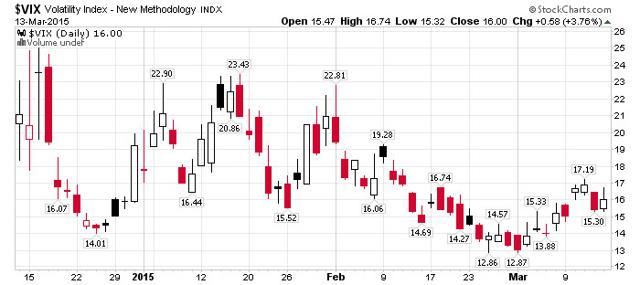 The VIX rose during the week and is showing some concern for further weakness, compared with readings in February.
The Market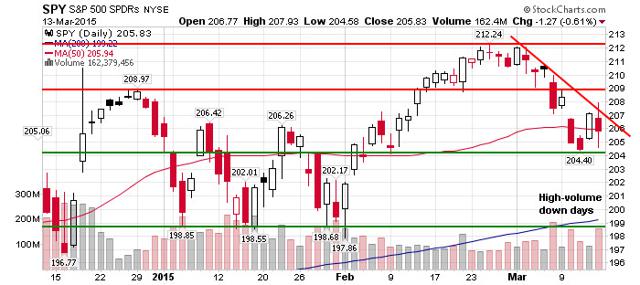 In a sudden increase in volatility, the market fell a week-ago on Friday, rose on Monday, gapped down sharply on Tuesday, rallied hard on Thursday, and finished Friday with an indecisive doji candle. Volume on down-days was sharply higher, suggesting failing confidence.
Small Caps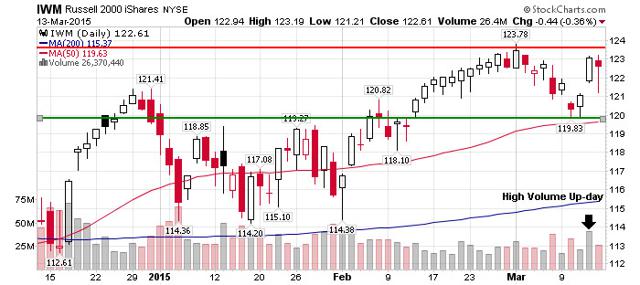 Small caps have become the bright spot, not dropping as much as the S&P500
Core Sectors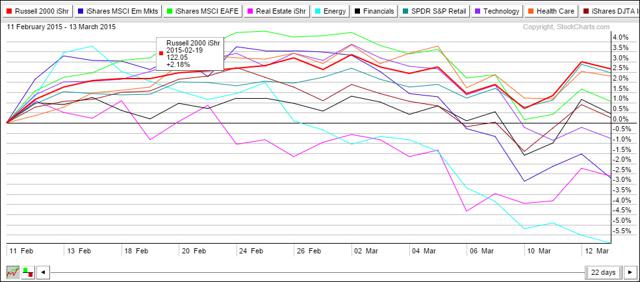 The core sectors chart covers the rally in February and the drop-off in March. The strength in the IWM chart is reflected in the core sectors, where IWM was strongest. Energy (NYSEARCA:XLE), Real estate (NYSEARCA:IYR), and emerging markets (NYSEARCA:EEM) were the weakest. Retail (NYSEARCA:RTH), for reasons I don't understand is close behind IWM, as is healthcare (NYSEARCA:XLV). XLV has a strong pharma component.
Best Relative Strength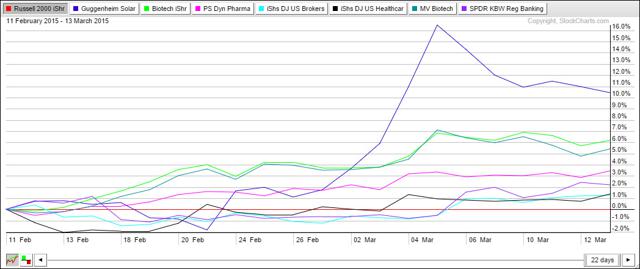 Of the 36 ETF's I follow, only six beat IWM over the 22-day period. Solar (NYSEARCA:TAN) fell in relative strength last week, but is high from the previous boost. The biotechs (IBB, BBH) are next, followed by pharmaceuticals (NYSEARCA:PJP). Regional banks (NYSEARCA:KRE) and healthcare (NYSEARCA:IHF) beat slightly. The IHF chart appears ready to break out to new highs.
Trades Last Week
Sold: TAN
I sold TAN on Monday to hold on to the large gain from the previous week, and decided that the volatility was too high to buy anything else last week.
Conclusion and Action
The failure of Greece, rapidly falling oil, the fast-rising dollar, and now the falling euro are the successive pundit excuses for why the market has backed away from all-time highs. Layered on top of this is rising expectations of a Fed interest rate increase.
Interest rates and foreign exchange have broad effects, and oil prices affect large economic segments, so we are experiencing broad "systemic" changes that contribute to volatility. In spite of the perceived threats, there are signs Europe is gradually improving, recent wholesale deflation may push the Fed back or make any rate increase minimal. The Fed isn't likely to hurt the economy when it does move.
Small cap strength is good news, showing that company operations and earnings are going well in tech, healthcare, and finance. Potentially higher rates are helping banks and brokers, and hype, new drugs and earnings are powering biotech.
I will buy IWM if it breaks out, possibly followed by IHF.
Have a great week!
Disclosure: The author has no positions in any stocks mentioned, but may initiate a long position in IWM over the next 72 hours.