Market Moving News (Summary of Articles)
Spending: Store sales held steady and moderate in the March 21 week, at a year-on-year plus 2.8% according to Redbook's same-store sales tally. This year's earlier Easter will pull sales into March at the expense of April.
Manufacturing: The PMI flash which is at 55.3, a 5-month high and vs 55.1 in final February. New orders are at a 5-month high as rising domestic sales offset declining export sales and weak sales out of the oil sector. Output is at a 6-month high and employment at a 4-month high. Input costs are down for a 3rd straight month and output prices are rising at their slowest pace in 3-1/2 years. The decline in export sales is of special note in this report which cites concerns among respondents that the dollar's strength against the euro is hurting demand.
The Fed's Richmond manufacturing sector index fell into contraction, to minus 8 vs zero in February. New orders and backlogs, shipments, and the workweek are down substantially.
Durables orders fell 1.4% in February after rebounding 2.0% in January. Excluding transportation, the core declined 0.4%, following a 0.7% drop in January. Transportation dropped 3.5%.
The Fed's Kansas City Tenth District manufacturing activity declined in March and producers' expectations moderated somewhat but remained slightly positive. Most price indexes continued to decrease, with several reaching their lowest level since 2009. The West Coast port disruptions affected 32% of firms negatively.
The service sector is up strongly for a second straight month based on Markit's flash PMI which is at a 6-month high of 58.6 in March vs 57.1 in February. Respondents are citing improvement in economic conditions, strengthening consumer confidence, and new product launches. New orders are at a 6-month high and backlogs are at a 5-month high.
The economy is weakening: the national activity index came in at minus 0.11 in February vs minus 0.10 in January. The 3-month average is now in negative ground, at minus 0.08 in February vs plus 0.26 in January. These readings offer tangible confirmation that both housing and manufacturing are pulling down economic growth. Employment continues to be the bright spot for the economy, at plus 0.11 with sales/orders/inventories fractionally positive at plus 0.02.
Fourth quarter GDP growth was unrevised overall. The economy grew 2.2%. Final sales of domestic product were nudged up to 2.3% from the second estimate of 2.1%. Final sales to domestic purchasers were revised up to 3.3% from 3.2%.
Inflation: Overall consumer price inflation rebounded 0.2% in February after falling 0.7% the month before. The February figure matched expectations. This was the first rise in the CPI since October. Energy gained 1.0% after plunging 9.7% in January. Gasoline prices rebounded 2.4% in February after plummeting 18.7% in January.
Corporate profits in the fourth quarter came in at $1.838 trillion, following $1.895 trillion for the third quarter, falling an annualized 11.5% after an 11.9% gain in the third quarter. Annualized, profits are up 2.9%, vs. 5.1% the prior quarter.
Housing is improving: Existing home sales bounced 1.2% higher in February to a 4.88 million annual pace which is above January's 4.82 million but still isn't that strong. The year-on-year rate is showing strength, at plus 4.7% in February for the strongest reading since October 2013. Inventory is at 4.6 months of supply and unchanged from January. A year ago, the rate was 4.9 months. Prices firmed in the latest report, up 2.5% to a median $202,600 and a respectable 7.5% ahead of a year ago. FHFA house prices advanced 0.3%, following a gain of 0.7% in December. The year-ago rate came in at 5.1%, compared to 5.4% in December.
New home sales picked up sharply in February to a 539,000 annual rate. Adding to the good news is a big upward revision to January, to 500,000 from 481,000. The gain drew thin supply down to 4.7 months at the current sales, rate vs. 5.1 and 5.3 months in the prior two reports. The median price fell 4.8% in the month to $275,500, up only 2.6% on the year.
Mortgage applications are up 5.0% and refinancing applications surged 12.0% in the March 20 week. Purchase applications are up 3.0% year-on-year. The average 30-year loan fell sharply, 9 basis points, to 3.90%.
Jobs are holding steady: Initial claims fell 9,000 in the week to 282,000. The 4-week average fell 7,750 to 297,000, slightly higher than last month. Continuing claims moved 6,000 to 2.416 million. The 4-week average, at 2.422 million, is 22,000 higher than in February.
Sentiment Metrics
The consumer sentiment index ends March at 93.0, up 1.8 points from mid-month. The current conditions component rose to a final 105.0 from the mid-month's 103.0. The expectations component also rose, up 1.6 points from mid-month to 85.3. Consumer confidence climbed last week to match the second-highest level since July 2007, propelled in part by gains among lower-income earners and job seekers as the labor market improves. The Bloomberg Consumer Comfort Index rose to 45.5 in the period ended March 22 from 44.2 the prior week. Measures of the economy, buying climate and households' financial well-being all improved.
The Market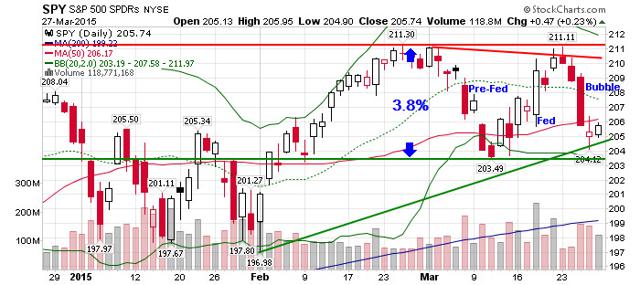 After moving to all-time highs on February 25, the market bounced off the same level on March 24, and dropped sharply the next three days until rebounding just after crossing the 50-day MA. The variation between resistance and support is 3.8%, enough to trigger lots of stops. The first sell-off was pre-fed jitters and Greece, followed by the emotional Fed rebound. Last week, pundits said traders had decided that biotech was in a bubble. IBB and BBH led a sharp technical sell-off that expanded to tech and semiconductors. SMH rebounded late Friday when Intel announced a merger with Altera.
The VIX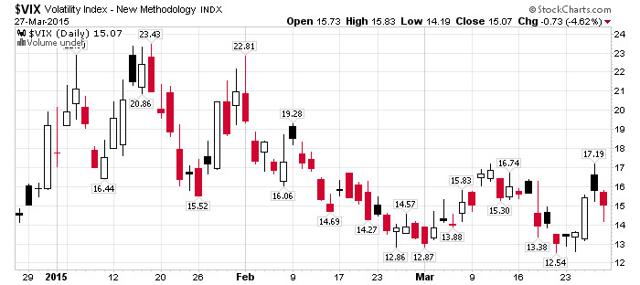 The VIX popped on Wednesday's sell-off, and pulled back as a bottom formed. This pattern indicated far less volatility that the action back in January.
Small Caps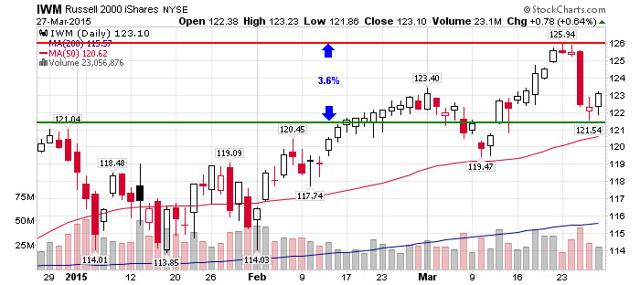 Beginning on March 10, The Russell 2000 small caps showed a steadier, stronger rise, followed by a much sharper sell-off on Wednesday. IWM still has much greater relative strength than the S&P500 (NYSEARCA:SPY) and the Nasdaq-100 (NASDAQ:QQQ). The range between resistance and support is much larger, however.
Key Indices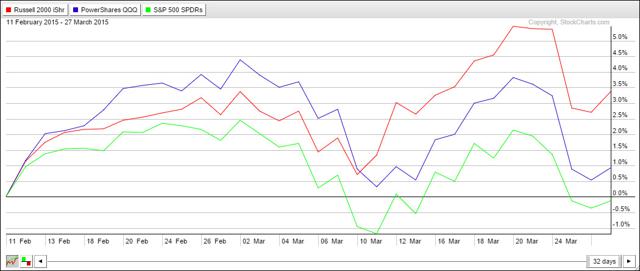 The chart above shows the switch to leadership of IWM, beginning on March 10. This is a good sign for the market, since the ETF reflects the action of 2000 stocks.
Core Sectors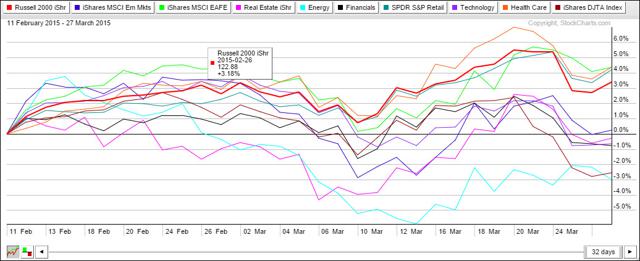 Three core ETF's beat IWM in the core group: foreign stocks (NYSEARCA:EFA), healthcare (NYSEARCA:XLV), and retail (NYSEARCA:XRT). Note the steady rise of energy (NYSEARCA:XLE), as oil prices stabilize.
Best Relative Strength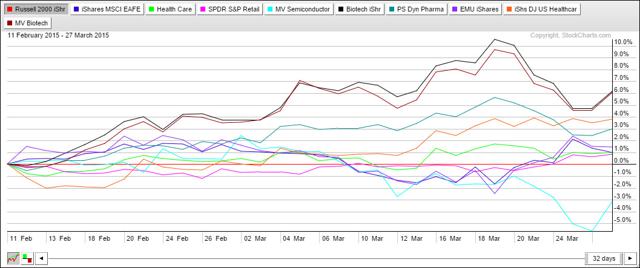 Among the 36 ETF's I cover, the strongest were the two biotechs (IBB, BBH), even after the sharp sell-off on Wednesday and Thursday. Healthcare providers (NYSEARCA:IHF) were next, followed by pharma (NYSE:PJP). Note the Friday rebound of semiconductors (NYSEARCA:SMH).
Trades Last Week
Sold: BBH, SMH, TAN
Bought and Sold: IYR, IWM
Conclusion and Action
Last week I expected more Fed-induced euphoria. Bad decision. I had looser stops on what I bought, and paid for it on Wednesday. On balance, the economic news is neutral, but the market seems overly volatile and has to prove it can make new highs.
I will hold back for a rally in IWM, and wait for signs that it will continue before buying in. IWM will be the first purchase, and later possibly TAN or IBB. Stops will be tighter!
Have a great week!
Disclosure: The author has no positions in any stocks mentioned, but may initiate a long position in IWM over the next 72 hours.