Market Moving News (Summary of 17 articles)
Details on the news are omitted this week because of a time shortage. Also, there will be no report next week, as we are traveling. Generally, manufacturing continues week, new homes are strong, and unemployment is very low. There is no significant inflation.
The VIX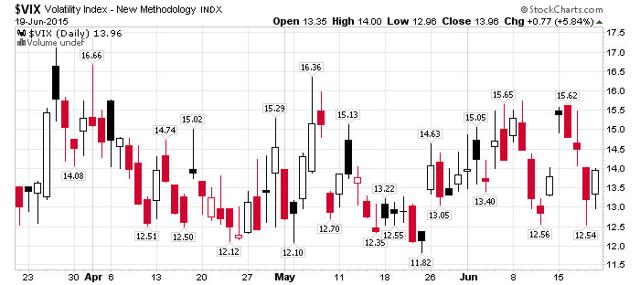 The VIX rose Tuesday ahead of the Fed announcement on Wednesday, but fell back to its "normal" range on Friday.
The Market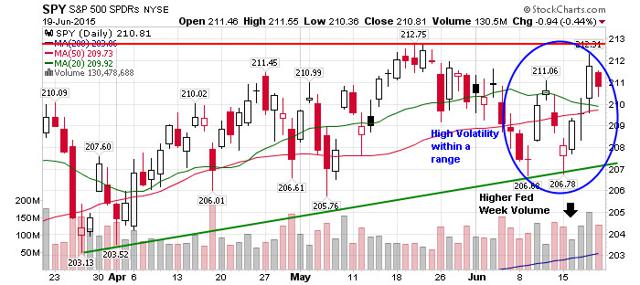 The S&P500 has been unusually volatile during the past two weeks, buffeted by Europe and the impending Fed announcement; however, it was up sharply on strong volume during the week.
Small Caps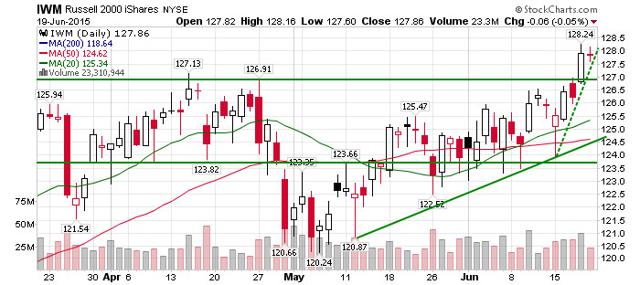 The real story is the sharp rise in small caps, rising above the 50- and 20-MA lines to an all-time high. This is the strongest evidence for a bullish outlook.
Core Sectors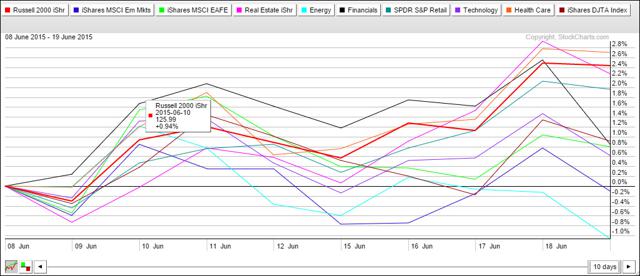 The IWM is among the strongest of core sector ETF's, beaten only by healthcare (NYSEARCA:XLV).
Best Relative Strength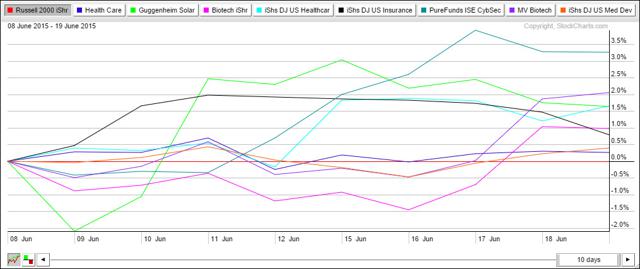 Of the 36 ETF's I follow, HACK remains strongest relative to the Russell 2000, followed by biotech (NYSEARCA:BBH) and solar (NYSEARCA:TAN), which are recovering from a slump. Also notable are is healthcare providers (NYSEARCA:IHF), which could be buffeted if he Supreme Court decides against the Affordable Care Act. Insurance (NYSEARCA:IAK) is on a relative sharp uptrend. Healthcare , a mix of pharmaceuticals and healthcare providers, and medical devices (NYSEARCA:IAI), are tracking the small caps.
Trades Last Week
Holding: IHF, XLF, XLV, PANW, HACK, SMH, XLK, IWM, FEYE
Bought: SMH, XLK, IWM, FEYE
Sold: CIEN
Conclusion and Action
News is mixed with continuing weakness in manufacturing, but strength in housing. Slowdowns in Europe and China are the probable cause of manufacturing issues. The Fed continues to boost the market, even as unemployment is very low. At this time, their hesitancy seems to come from reluctance to make Europe's problems any worse.
I am generally bullish, based primarily on the strength of IWM, but still being careful, adding small positions-that tend to grow larger if their trends continue. Biotech and solar may be opportunities next week.
Have a great week!
Disclosure: I am/we are long IHF,XLF,XLV,PANW,HACK,SMH,XLK,IWM, FEYE.