Market Moving News (Summary of 18 Articles)
Spending is moderate
Redbook reported a low reading for same-store year-on-year sales of plus 1.0 percent, noting that late July is often a slow period.
Manufacturing is improving
Durable goods orders rose a slightly higher-than-expected 3.4 percent in June. Excluding transportation, new orders rose 0.8 percent which is near top-end expectations. Core capital goods orders rose 0.9 percent. Civilian aircraft, orders surged 103 percent after falling 46 percent in May.
Contraction in the Texas manufacturing sector continues to ease, to minus 4.6 in July vs minus 7.0 in June and minus 20.8 May. For the first time this year, new orders actually rose in the month, up 0.7. Unfilled orders remain in contraction for an eighth straight month at minus 6.5.
The Richmond Fed is reporting an index of 13, the strongest among regions, and above estimates. New orders are up 7 points to 17, and backlog orders rose 7 points to 10. Shipments are strong, capacity utilization is up and inventories, because of the activity, are being drawn down. Hiring, however, is slowing.
Chicago's PMI popped back over 50 to a stronger-than-expected 54.7 in July, having been below 50 in four of the prior five months. New orders and production hit 6-months highs. Cost pressures are the strongest this year.
Economy/FOMC data is neutral and inflation is low.
GDP came in on the lower end of expectations in the second quarter, up 2.3 percent. Final sales in the second quarter rose a respectable 2.4 vs minus 0.2 percent in the first quarter. Residential investment was very strong in the latest quarter at plus 6.6 percent while personal consumption, boosted by auto spending, rose 2.9 percent. Net exports added slightly to the second quarter after pulling down the first quarter on the port strike. Inventory contribution was fractionally lower in the latest quarter. Price data show some pressure with the GDP price index at plus 2.0 percent and the core rate, at plus 1.8 percent, very near the Fed's general 2 percent target.
Markit's Service sector July flash index is up 4 tenths to 55.2. New orders are at a 3-month high and are getting a boost from consumer and business customers. Backlogs and hiring are up. The 12-month outlook, perhaps due to views on the global economy, is the softest in three years. Input prices continue to rise but final prices are flat.
The Fed took no rate action at the July FOMC meeting and saw no change in the pace of economic growth which it continues to describe as "moderate". Labor market gains are now described as "solid" and the unemployment rate as "declining". Additional improvement" is cited in housing. There were no dissents.
The advance international trade deficit in goods expanded to $62.3 billion in June from May's $59.8 billion. Advance exports of goods were $126.6 billion, down 0.4 percent and advance imports of goods were $188.8 billion up 0.7 percent on the month. The rising value of the U.S. dollar has made it cheaper to buy imported goods.
In a shocking result, the employment cost index rose only 0.2 percent in the second quarter, far below expectations and the lowest result in 33-years. Year-on-year, the drop is 6 tenths to plus 2.0 percent, among the lowest readings on record. Wages & salaries moved down to plus 0.2 percent from 0.7 percent in the first quarter and benefits at plus 0.1 percent vs the first quarter's plus 0.6 percent. Year-on-year, wages & salaries are up 2.1 percent and benefits are below 2.0 percent at 1.8 percent. This report is closely watched by policy makers and may delay the Fed's rate liftoff to December from September. The Fed's 2 percent goal for core inflation is looking elusive.
Housing reports are mixed.
Case-Shiller reports surprising weakness in home prices, at minus 0.2 percent in May. Year-on-year, prices are flat at plus 4.9 percent. Declines are widespread, hitting 12 of 20 cities including a second straight decline, at a steep minus 0.7 percent in May, for San Francisco. Price concessions may explain the strength of existing home sales in May and June.
The MBA mortgage purchase index was up 0.1 percent, and 18 percent vs. one year ago. The refinance index rose 2.0 percent in the week. Rates moved lower with the average 30-year mortgage down 6 basis points to 4.17 percent.
Pending sales of existing homes fell 1.8 percent in June. The year-on-year rate slowed to plus 8.2 percent.
Jobs are strong.
Jobless claims remain at rock bottom levels, at a lower-than-expected 267,000 in the July 25 week vs an unrevised 42-year low of 255,000 in the prior week. The 4-week average is down 3,750 to a 274,750 level that is the lowest since mid-June. Continuing claims rose 46,000 to 2.262 million while the 4-week average slipped 1,000 to 2.255 million.
Sentiment metrics are all falling off.
Consumer confidence has weakened to 90.9, mostly in the expectations component which is down nearly 13 points to 79.9, reflecting sudden pessimism in the jobs outlook, as 20 percent see fewer jobs opening up six months from now. A drop in buying plans for autos confirms weakness elsewhere in the report. Inflation expectations are steady at 5.1 percent.
The investor confidence index is down to 114.6 from an unusually high reading in June of 127.1. In North America confidence from weak earnings and global uncertainty, fell more than 20 points to 122.6-still strong. Asian confidence rose slightly but, remains inside the risk-averse zone at 89.5. European confidence is down slightly to 100.4, at neutral.
The consumer comfort index is down for a 4th straight week, a steep 1.9 points lower to 40.5.
Consumer sentiment softened in July, to 93.1 vs a mid-month flash of 93.3 and against 96.1 in June which was near the recovery high. The expectations component, which had been running very hot, fell back this month to 84.1 vs June's 87.8. The current conditions component softened less noticeably, to 107.2 from June's 108.9. Inflation expectations rose slightly in the month, up 1 tenth for the 1-year outlook to 2.8 percent.
The VIX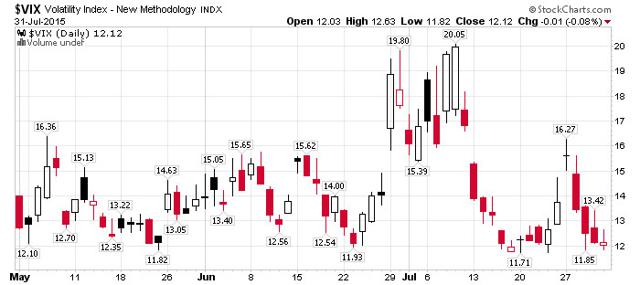 With last week's pre- and post-fed rally, the VIX is in the complacent range, suggesting that the market won't crash in the near future
The Market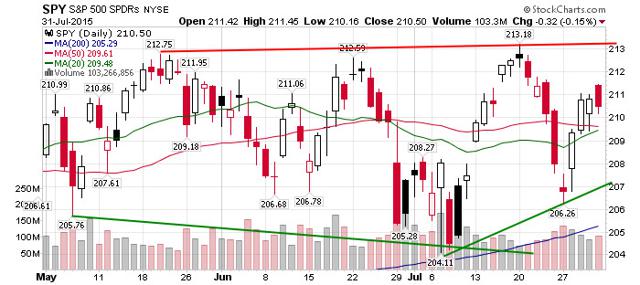 The SPY continues to move between 204 and 213, crossing through its 20 and 50 MA lines as it does so.
Small Caps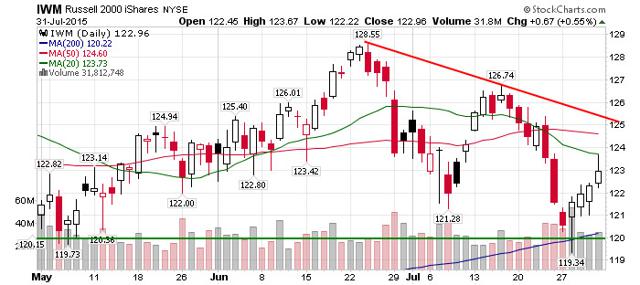 The small caps are showing lower highs and must break the trendline now at 125 if last week's steady, move higher is to become an uptrend.
Core Sector Relative Strength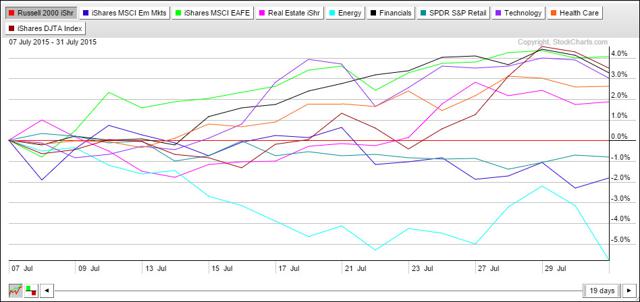 With the lack of general movement, the core sector list is split around the Russell 2000, real estate, (NYSEARCA:IYR) has the best looking pattern.
Best Relative Strength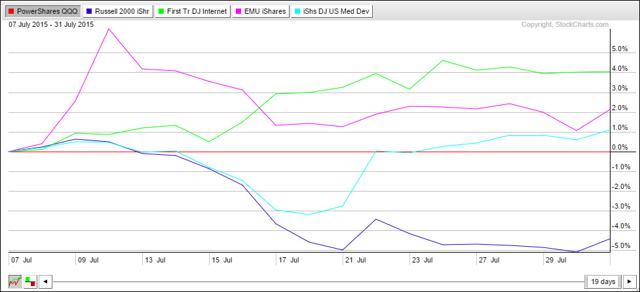 The Nasdaq 100 (NASDAQ:QQQ) is significantly stronger than the Russell 2000 (NYSEARCA:IWM). Significantly stronger ETF's are internet (NYSEARCA:FDN) and European Monetary Union (BATS:EZU). Medical devices (NYSEARCA:IHI) is also strong.
Trades Last Week
Holding: HACK, FEYE, IGV, QCOM, RTN, XLV
Bought: FEYE, IGV, QCOM, RTN, XLV
Conclusion and Action
Lots of people think a crash is coming. Short interest is up and sentiment indicators are down. Earnings disappointed, and major indicators like GDP are down, and the market has been stagnant for six months. On the other hand, durables are up and the VIX is at nominal readings, indicating that institutions are less worried.
It looks to me like the sentiment measures are looking backward and show concerns over Greece and Europe, which are now abating. The market has largely ignored China, but did react to a major drop on Monday. The world is holding back the U.S. economy, but it remains healthy.
With earnings out of the way and geopolitical activity centered mostly on China, my guess is that the market will stress out on the next FOMC announcement, scheduled for Thursday, September 17, when the first rate increase in years is likely. I am also guessing that the SPY will not break above 213 until after the reaction from the September announcement has died down. We could see a continuation of the range-bound market until then. In the meantime, I will watch IWM, QQQ, FDN, EZU and IHI for signs of strength, and be prepared to sell when the SPY nears the 212 area.
Have a great week!
Disclosure: I am/we are long HACK, FEYE, IGV, QCOM, RTN, XLV.