Market Moving news
Spending is up slightly. Americans' self-reports of spending averaged $91 in July, similar to June and essentially matching readings back to April.
The last few months have not seen changes in Americans' reported spending, but this isn't unusual for the middle of the year.
Redbook's sample reports improved same-store sales in the August 1 week but still at a depressed year-on-year rate of plus 1.7%. This, however, is the strongest rate in four weeks and compares with an average of plus 1.2% in the prior three weeks. Back-to-school demand lifted apparel sales in the latest week while clearance promotions moved remaining summer goods.
Manufacturing reports are mixed. Exports held down the ISM manufacturing index which slipped 0.8 tenths in July to a lower-than-expected 52.7 to indicate slowing monthly activity for ISM's sample. Employment growth slowed nearly 3 points to 52.7 while new export orders fell 1.5 points to 48.0 for the 5th sub-50 contractionary reading of the last 7 months.
The manufacturing PMI came in at an as-expected 53.8 for final July.
Factory orders rose nearly as expected in June, up 1.8% for only the second gain in the last 11 months. Shipments rose a 0.5% with shipments of core capital goods up 0.3%. The latter, which is a key reading that excludes aircraft, isn't spectacular but is still a solid gain for business investment. Unfilled orders, which have been in contraction most of the year, were unchanged in June. Inventories rose 0.6% in a build that falls in line with shipments, keeping the inventory-to-shipments ratio at a manageable 1.35.
Economy: Consumer spending and services are up, inflation is low, trade gap is wider.
Consumer spending rose an as-expected 0.2% in June, down from a revised spike of 0.7% in May with the slowing tied in part to lower vehicle sales. Personal income, boosted by gains for rents and transfers that offset slight slowing in wages, rose slightly more than expected at 0.4%. The key inflation reading in this report, the core PCE price index, rose only 0.1% for a very quiet 1.3% year-on-year rate. The year-on-year rate is at a 4-1/2-year low and has remained below 1.5% since November.
The savings rate is below 5.0% at 4.8% but remains on the high side, which points to consumer health and hints at underlying spending strength.
A rise in imports made for a slightly wider-than-expected trade gap in June of $43.8 billion. Imports rose 1.2% reflecting a rise in petroleum imports. Exports softened slightly in June, down 0.1% and including another decline for capital goods and also a decline for industrial supplies. Services had a surplus, unchanged from May at $19.7 billion.
Service sector growth is accelerating, to 55.7 for Markit's July sample from a 5-month low of 54.8 in June. Strength in new orders leads the report along with a rise in backlogs.
ISM's non-manufacturing index surged to 60.3 in July, the highest reading in 10 years. New orders, at 63.8, and backlog orders, at 54.0, both show substantial acceleration from June as do new export orders. Employment is robust, at 59.6. Breadth is very strong with 15 of 18 industries reporting composite growth in the month.
Housing is moving ahead. Construction spending inched only 0.1% higher in June. Year-on-year, single-family homes are up a very strong 12.8% while multi-family is up 23.7%. Housing permit data point to strength ahead. Total spending is still up 12.0% year-on-year and the second-half outlook is still positive.
A drop in rates helped boost mortgage activity in the July 31 week both for home purchases, up 3.0% in the week, and for refinancing which rose 6.0%. Purchase applications, are up 23% vs. last year. The average 30-year fixed mortgage fell 4 basis points in the week to 4.13%.
Jobs reports are near "full" employment.
Non-farm payrolls rose 215,000 in July. The unemployment rate is unchanged at 5.3%. Wages show some traction, up 0.2% in the month with the year-on-year rate over 2% at 2.1%. The average workweek is up to 34.6 hours from a long run at 34.5. Manufacturing, which is usually weak, rose a notable 15,000 in the month, and construction had a modest gain of 6,000. The broadly defined U-6 unemployment rate is down a notch to 10.4%, suggesting a Fed rate increase in September.
Jobless claims are very low the August 1 week, at 270,000. The 4-week average is down for a third week in a row, 6,500 lower to a 268,250 level that is more than 10,000 below the month-ago trend. Continuing claims are down 14,000 in the July 25 week to 2.255 million. The 4-week average is down 18,000 to 2.239 million.
ADP's estimate for private payrolls rose only 185,000.
Gallup's U.S. Job Creation Index maintained its record high of plus 32 in July for the third month in a row. A major Army cutback made for an outsized Challenger layoff count of 105,696 in July.
The U.S. Payroll to Population employment rate (P2P), as measured by Gallup, was 45.5% in July, unchanged from the previous month, and the highest rate Gallup has measured for any July since tracking began in 2010. Gallup's unadjusted U.S. unemployment rate was 6.1% in July; underemployment was 14.2%, the lowest level recorded since Gallup began tracking it daily in 2010.
Sentiment
July's Economic Confidence Index averaged minus 12 in July, down from minus 8 in June and the lowest monthly average since October 2014. The drop is attributable chiefly to Americans' increasing view that the economy is getting worse rather than better. The index began dropping in February as gas prices start to rise, and dropped further to minus 7 in May after reports of disappointing economic growth in the first quarter. Causes are the Greek economic crisis and the fall in the Chinese Stock market. Economic confidence among upper-income Americans was negative for the first time in 10 months.
The Bloomberg Consumer confidence readings continue to move lower, slipping 2 tenths in the August 2nd week to 40.3. This is the second lowest reading since November and largely reflects concerns over personal finances. The buying climate is at a 7-week low.
The VIX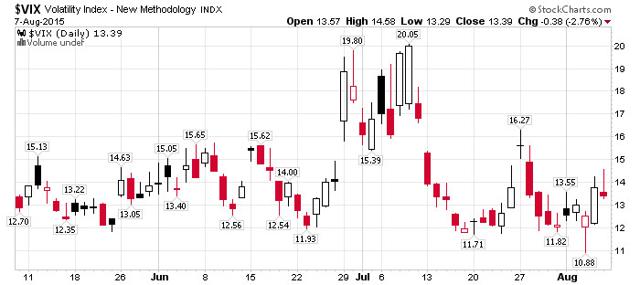 The VIX rallied with the sell-offs on Thursday and Friday, but has not reached levels of concern, which are above 16.
The Market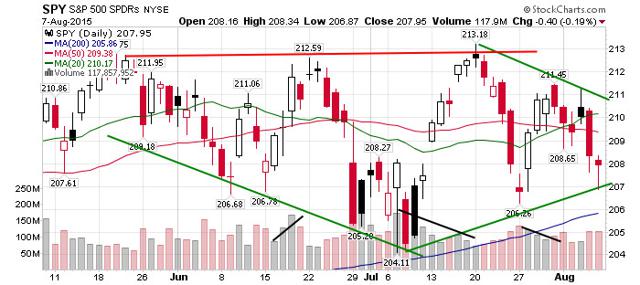 The SPY is showing something similar to a bearish "diamond" formation, if not a "broadening top" Note the falling volume on the last two rallies, and the lower high at 211.45. The 20 and 50 MA's have been breached, and the 200 MA lies at 205.9. A sell-off next week could lead into a more bearish move.
Small Caps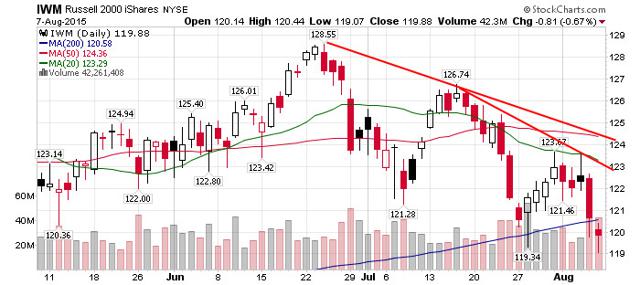 The small caps are in a secondary downtrend and have breached the 200 MA, notching two lower highs since the peak at 128.55. Note the large intra-day drops in this average of 2000 stocks. The drop from the high is 6.7%. Volume is weak on the rallies and strong on the sell-offs. This index needs a trend break, a resistance break through 123.5, higher highs, and higher lows before we will see a sustainable uptrend.
Core Sector Relative Strength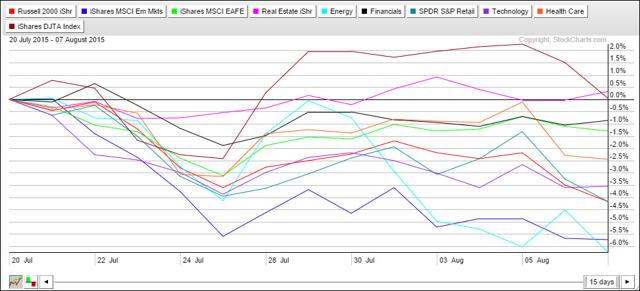 I chose a 15-day time frame since the SPX all-time high this week, to see which ETF's fell the least. Expected higher interest rates may be the cause of the strength in real estate (NYSEARCA:IYR); however the index is was essentially flat last week. Transportation (NYSEARCA:IYT) dropped during the last two days. Financials (NYSEARCA:XLF) are showing steady relative strength, but are below the 3-month and 1-year uptrends. Emerging markets (NYSEARCA:EEM) and energy lost 6% in the last 15 days.
Best Relative Strength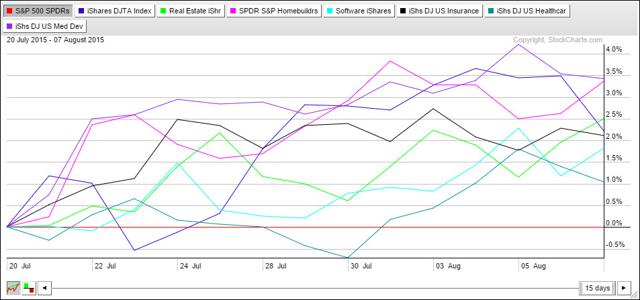 SPX was the strongest index over the last 15 days. A number of ETF's beat it. Medical devices (NYSEARCA:IHI) is a leader, followed by homebuilders (NYSEARCA:XHB). Both have put in bottoms and could be short-term buys. No ETF has a bullish chart.
Trades Last Week
Sold: FEYE, IGV, QCOM, RTN, XLV
Holding: HACK
Conclusion and Action
My guess is that the market will continue stressing over the next FOMC announcement, scheduled for Thursday, September 17, when the first rate increase in years is likely. There will be high drama unless current statistics change.
In the economic news, there was a significant item: "In a shocking result, the employment cost index rose only 0.2% in the second quarter, far below expectations and the lowest result in 33-years." There is no wage pressure, which is a big reason for the Fed to raise rates, and low wages are a drag on the economy, which could be exacerbated by a rate increase.
I will stay mostly out of the market until the current patterns change. We could see a sideways or lower market until the announcement.
Currently, the strongest ETF's are hospitals, medical devices, software, housing, and insurance, but none are in uptrends.
Have a great week!
Disclosure: I/we have no positions in any stocks mentioned, and no plans to initiate any positions within the next 72 hours.