Market Moving News (Summary of 20 Articles)
Spending is slow.Redbook continues to report very low rates of same-store year-on-year sales growth, at 1.7% in the August 22 week. August is shaping up well compared to July with Redbook calling for a 0.3% month-to-month gain.
Manufacturing is getting weaker. The national activity index rose to a stronger-than-expected plus 0.34 from June's contractionary reading of minus 0.07 (revised). July is the first gain for the index this year. The 3-month average is soft, at zero vs. June's minus 0.08.Production was July's strongest component, employment was steady at a constructive plus 0.11, and, orders & inventories slipped to 0.01.
The Richmond fed reported disappointing zero. Orders are flat at only 1 vs. 17 and 10 in the prior two reports, and backlogs are in deep contraction at minus 15. Shipments are also negative at minus 4 and capacity utilization is at minus 5.
Factory activity in the Kansas City Fed's region remains in deep contraction, at minus 9 in August vs minus 7 in July. These are deeply depressed readings that point to a long run of weak activity in the months ahead. The region is getting hit by the oil-led fall in commodity prices.
In the industrial production report for July, exports didn't hold down durables, as new orders rose 2.0% in the month. Excluding transportation, orders rose 0.6%. Non-defense ex-aircraft orders were up 2.2% following June's 1.2% gain.
Housing is strong, but prices are weakening. FHFA's home price index rose only 0.2% in June, below the low-end forecast for 0.3%. Year-on-year, price growth slipped 1 tenth to 5.6%. Sales rates are tracking at roughly double the pace of price growth, a mismatch that points ahead to price acceleration.
Case-Shiller and FHFA are pointing to a surprising flat spot for home-price appreciation. Case-Shiller's 20-city adjusted index fell 0.1% in June. Year-on-year, 20-city prices, whether adjusted or unadjusted, are unchanged at plus 5.0%.
New home sales rose solidly in July from a downdraft in June, up 5.4% to a 507,000 annual pace. Year-on-year, sales have surged, up 26%. The strength in sales has thinned an already tight market where supply is at 5.2 months, down from 5.3 months in June and compared with 6.1 months a year ago.
Purchase applications, which have been flat in recent weeks, rose 2% in the latest week and are up a very strong 18% year on year. Refinancing applications fell 1%. The average rate for 30-year fixed-rate mortgages with conforming loan balances ($417,000 or less) decreased to 4.08% from 4.11%.
Pending home sales came in at the low end of expectations, up however a still respectable 0.5%.
Jobs are strong. Unemployment remains very low with initial claims down 6,000 in the August 22 week to 271,000. The 4-week average rose slightly in the week to 272,500 but is still slightly lower than the month-ago comparison. Continuing claims rose 13,000 to 2.269 million which is just about where the 4-week average is, at 2.265 million for a 1,000 decline.
Economy
Service-sector growth is holding solid this month, well over breakeven 50 at 55.2 for the August flash. A negative is a marked slowing in new orders, but hiring remains steady and expansion efforts are underway to increase capacity. The 12-month business outlook improved in the month but is still among the weakest over the past 3 years.
The second-quarter GDP delivered a big bounce, up an annualized growth rate of 3.7%. Consumer demand was strong with personal consumption expenditures at a 3.1% rate led by an 8.2% rate for durables, a gain that was tied to vehicle spending. Residential investment was very strong, at plus 7.8%, as was nonresidential fixed investment which, boosted by an upward revision to structures, came in at plus 3.2%.
Corporate profits in the second quarter came in at $1.824 trillion, up a year-on-year 7.3%. Profits are after tax without inventory valuation or capital consumption adjustments.
The international trade deficit in goods narrowed to $59.1 billion in July from June's $62.3 billion. Advance exports of goods were $127.1 billion, up 0.5% from June, while advance imports of goods were $186.3 billion, down 1.4%. This report, like personal income and outlays also released this morning, is a positive start to third-quarter GDP.
The July personal income and outlays report inflation readings are very quiet. Core PCE prices rose only 0.1% in the month and the year-on-year rate moved plus 1.2%. Total prices are at plus 0.1% for the monthly and at only plus 0.3% for the year.
Personal income rose 0.4%, including a 0.5% rise in wages & salaries, is the largest since November last year. Spending rose 0.3% led by a 1.1 gain in durables tied to vehicle sales. The savings rate is also healthy, up 2 tenths to 4.9%.
Sentiment metrics are impacted by China
Enormous improvement in the assessment of the current labor market drove the consumer confidence index well beyond expectations, to 101.5 in August for a more than 10 point surge from July. There was a rare 6.5%age point drop to 21.9% in those describing jobs as currently hard to get.
Buying plans, however, are downbeat with fewer planning to buy vehicles and, many fewer planning to buy a house. Inflation expectations are dormant, down 2 tenths to only 4.9% which is very low for this reading.
Reflecting concerns over China, investor confidence eased in August to 108.7 from July's revised 113.2. The dip reflects weakness in Europe where the index, at 93.5, is below 100 for the first time since August 2013 to indicate demand for safety vs risk. Asia rose slightly but is also under 100 at 93.0 while North America, little changed at 119.1, continues to stand out.
The global markets aren't holding down the consumer comfort index, which is up for a second straight week, 9 tenths higher to 42.0.
The consumer sentiment index came in well below expectations, at 91.9 for the final August reading. Current conditions, the immediate impact of market events is most felt, slipped only 2 points over the last two weeks to 105.1. The expectations component is marginally lower, at 83.4. Expectations for inflation are flat.
The VIX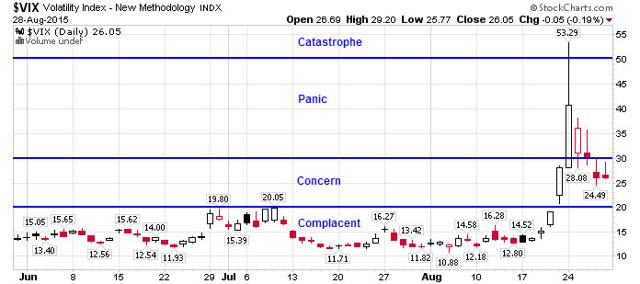 The VIX chart is marked by my informal categories of levels. Catastrophe is defined as a breakdown of market institutions, similar to what happened in 2008. The brief spike above 50 coincided with breakdown of trading systems. For a while the net asset values of ETF's were not tracking their market prices, and there were trading halts. The panic subsided on Wednesday when the market seemed to find a bottom. The VIX can remain high for extended periods of time, and I expect to remain in the concern area at least until the Fed September decision.
The Market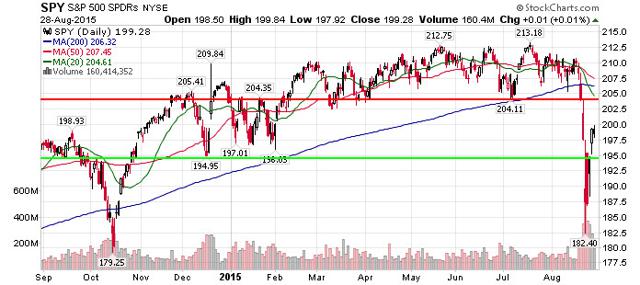 S&P500 broke through support at 204 late in the previous week, and through 195 on Monday, setting off a crisis in confidence-mostly blamed on china-leading to the huge VIX spike on Monday. A sharp rally on Wednesday established weak support at 180 that is likely to hold, because institutions realized that the Chinese economy is not likely to bring down a relatively strong U.S. economy.
Small Caps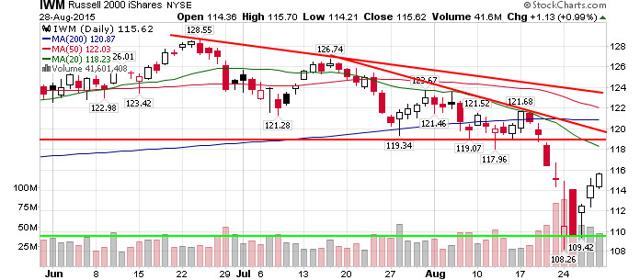 With extreme volatility in big stocks, the small caps, along with the VIX are probably the best indicators to establish the price and strength of a market volume. The IWM bottomed at 108 and is in a nascent uptrend. If strength remains, it could quickly move to resistance at the 120 area. There is no confirmation of the bounce, however, and IWM could easily drop below 108.
IWM is a bit less volatile that SPX, and is probably a good indicator for finding a bottom in the market. To qualify as an uptrend, the price needs to 1) break resistance at 119, break the trend at 120, and fall to and recover from a higher low.
Core Sector Relative Strength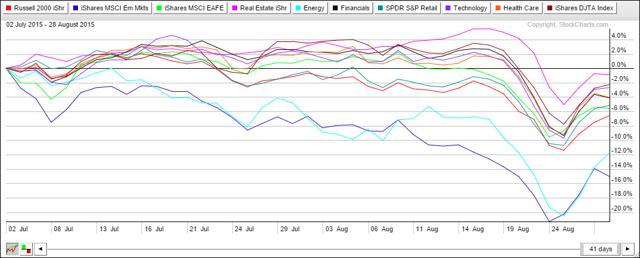 The core sector chart tells us almost nothing this week. I want out 41 days to a previous high. Real estate (NYSEARCA:IYR) and transportation (BATS:IYT) fell the least. Energy (NYSEARCA:XLE) and emerging markets (NYSEARCA:EEM) recovered from very large dips. I don't expect energy to become a leader without a strong rebound in oil prices.
Best Relative Strength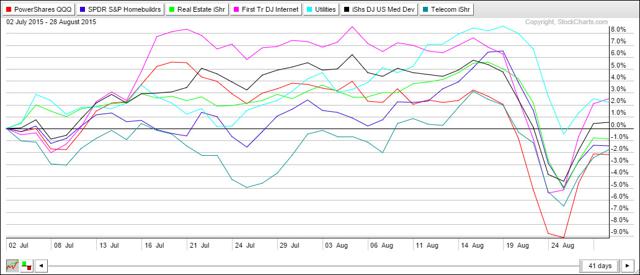 The best relative strength chart shows ETF's that outperformed the Nasdaq 100 (QQQ, in red). Two leaders are internet (NYSEARCA:FDN) and utilities (NYSEARCA:XLU); however, we need to see where this bounce goes before selecting a leading fund.
Trades Last Week
Holding: HACK
Bought and sold: QQQ
QQQ was too volatile to survive my stop.
Conclusion and Action
Last week, I concluded that there was no bottom, and Monday proved the case, as the S&P500 dropped to October 2014 levels of a sharp dip in October 2014. The VIX is likely to stay high until the 9/17 Fed decision, and I doubt if a major uptrend will form before then.
The evidence of low inflation, a fall-off in manufacturing, and unstable world markets make a strong case for holding off on an interest rate raise, but the U.S. economy could be strong enough in services, jobs, and housing to support one.
Like last week, there is still is no bottom. I am out until I see one, in the IWM and the SPX, evidenced by VIX below 20-22, at least "two-strike" trend reversals in the SPX and IWM. I may look at short-term rallies in individual stocks or QQQ.
Have a great week!
Disclosure: I/we have no positions in any stocks mentioned, and no plans to initiate any positions within the next 72 hours.