Market Moving News (Summary of 17 Articles)
Manufacturing: Statistics continue to fall.
The Richmond Fed September factory sector is negative with a minus 5 headline reading. New orders came in at minus 12, indicate weaker future activity. Shipments were at minus 3. Backlogs are in deep contraction at minus 24. Employment is a plus 3.
Markit's manufacturing reading is at 53.0 for the September flash, which is below the recovery's 54.3 average. Growth in new orders is the slowest since January.
Durable goods orders fell 2.0% in August as expected, however, excluding transportation, durables were unchanged.
The August National Activity index came in at minus 0.41. The 3-month moving average is barely positive, at plus 0.01. The manufacturing component is weak, as was employment.
The Kansas City manufacturing sector contracted to minus 8, attributed to export weakness tied to the strong dollar and energy-sector weakness tied to low commodity prices. Employment is at minus 7 and the workweek is at minus 12. Prices show contraction for both inputs and outputs.
Economy: Spending, profits up; inflation lower
Personal spending was stronger than thought in the second quarter, helping to drive real GDP to a 3.9% annualized rate. Boosted by the consumer, final sales also rose 3.9% for a 4 tenths upward revision. Personal consumption expenditures were higher at 3.6%, and the service spending component, reflecting strength in travel, was 2.7%.
Corporate profits in the second quarter came in at a revised $1.845 trillion, up a year-on-year 8.5%.
Growth in the services PMI was down 5 tenths to 55.6. The report cites solid domestic conditions for consumer-focused service providers. New orders slowed for a second month to their rate since January. Service providers worked down backlogs, but the report described hiring as "robust" in comparison to the recovery average.
Twelve-month inflation expectations from the Atlanta Fed edged back to a year-on-year 1.7% in September vs 1.8% in August.
Jobs are strong
Initial jobless claims were at a lower-than-expected 267,000 in the September 19 week. The 4-week average is down slightly to 271,750. Continuing claims came in at 2.242 million, down nearly 25,000. The 4-week average, now at 2.252 million, was down nearly 15,000.
Housing: Strengthened in mixed reports
Existing home sales came in at a lower-than-expected 5.31 million annual rate in August, the lowest since April. At 6.2%, growth in year-on-year sales is the lowest since February. The year-on-year median price, up only 4.7% to $228,700, is the lowest since August 2014. Supply relative to sales is less tight, at 5.2 months from 4.9 months in the prior two months.
Home prices cooled late in the second quarter but began to pick up in July based on FHFA's house price index which rose a higher-than-expected 0.6% with the year-on-year rate at plus 5.8%.
According to the Mortgage Bankers Association, rate declines tied to last week's post-FOMC Treasury market surge drove prospective home buyers into market. The purchase index jumped 9.0% in the week and the refinance index rose 18.0%. Week-to-week, the average rate was unchanged at 4.09%.
New home sales in August were 552,000, the highest rate since February 2008. The supply to sales ratio is lower, at 4.7 months from 4.9 months. The median price was $292,700 for a 0.5% gain on the month and a year-on-year gain of only 0.3%. By comparison, the year-on-year sales gain is 22%.
Sentiment metrics
In the September 20 week, the consumer comfort index rose 1.7 points to 41.9. The consumer sentiment report also rose to 87.2. September's final reading is the weakest since October last year. The expectations component, which tracks the jobs outlook, improved 1.2 points from mid-month to end September at 78.2 which is the lowest reading since September last year.
The VIX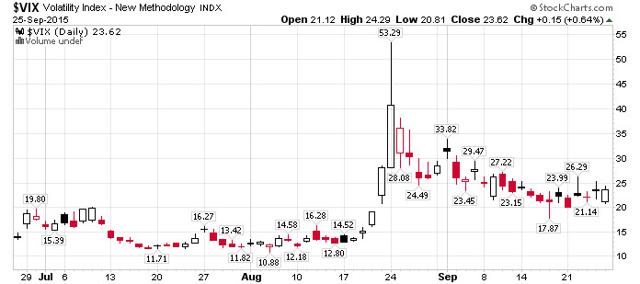 The VIX remains elevated in the "concern" level above 20, and is likely to remain so until the next Fed meeting.
The Market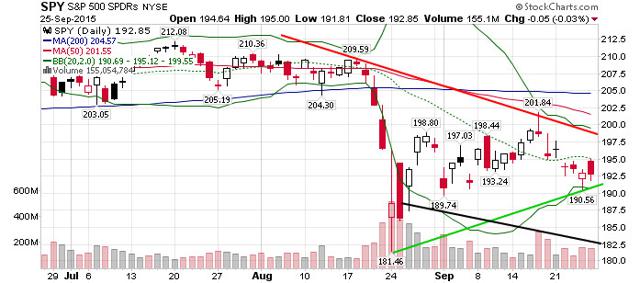 The S&P500 remains in a downtrend, but may be establishing a triangle if it can remain above the 190 area. The continuous drop since the September 17 FOMC announcement is not reassuring, and seems to indicate the markets actually want higher rates, an unusual attitude. Traders are tired of the uncertainty while waiting for the actual move.
Small Caps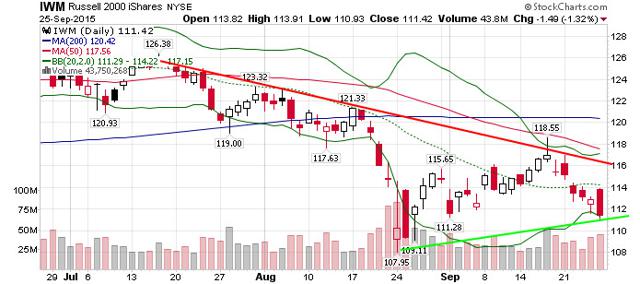 The Russell 2000 is still my indicator of choice for a change in market direction. It shows little sign of breaking a downtrend that has been in place since mid-July. Relatively high volume on the down-days since the FOMC announcement is an indication of weakness.
Core Sector Relative Strength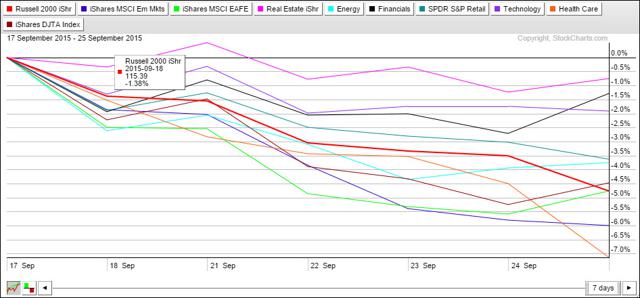 I chose the 7-day period since the FOMC announcement as the base period for a trend change, since that was the last shock to the market and it reset the focus to the November or December announcements. The Russell 2000 has lost 5% in 7 days, but all sectors are lower, suggesting a continuing bear market.
Best Relative Strength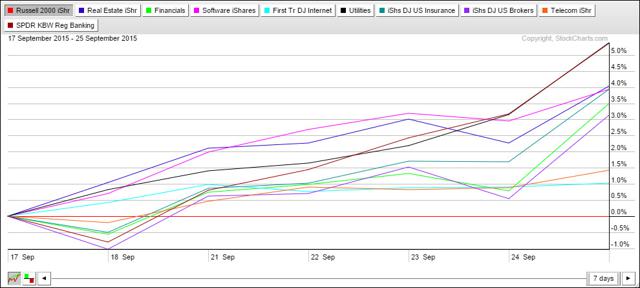 A number of ETF's beat the IWM, but the best of them, regional banks (NYSEARCA:KRE) and utilities (NYSEARCA:XLU) have charts that are only moving sideways.
Trades Last week
Sold: HACK
Holding: Nothing
Conclusion and Action
Manufacturing continues to drag on the economy. Traders are still responding to anticipated FOMC actions. While not in an uptrend, banking, finance, and brokers and real estate are leading sectors in a relative sense, probably on expectations of wider interest rate spreads. These leaders indicate a weak market.
All trends are sideways or down, so there is no reason to invest until overall trend changes. I am content to be in cash for now.
Have a great week!
Disclosure: I/we have no positions in any stocks mentioned, and no plans to initiate any positions within the next 72 hours.