How stocks did under President Trump; Dow, Nasdaq, S&P 500 notch big gains
President Donald Trump left for Florida on Air Force One this morning ahead of Joe Biden's inauguration.
From a Wall Street perspective, Trump leaves a stock market substantially higher than where it started when he entered the White House, even with the

experience of an unprecedented pandemic.

Measuring from Election Day 2016 to Election Day 2020, the S&P is up 57%, the Nasdaq is up 115% and Dow is up 38%.
"President Trump's annualized Dow return of 11.8% was the best for any Republican president since President Calvin Coolidge in the Roaring Twenties," LPL Financial Chief Market Strategist Ryan Detrick wrote in a note. "This was still below the annualized returns of Presidents Bill Clinton and Barack Obama."
Trump often used the Obama administration as a comparison.
Obama saw the Dow rise 149.4% in his eight years of office, with an annualized return of 12.1%. In his first term, the Dow rallied 72% and the S&P gained 85%.
The Dow rose 135.1% under President Ronald Reagan, an annualized return of 11.3%. The gains came mostly in Reagan's second term, where the Dow rose 82% and the S&P climbed 67%.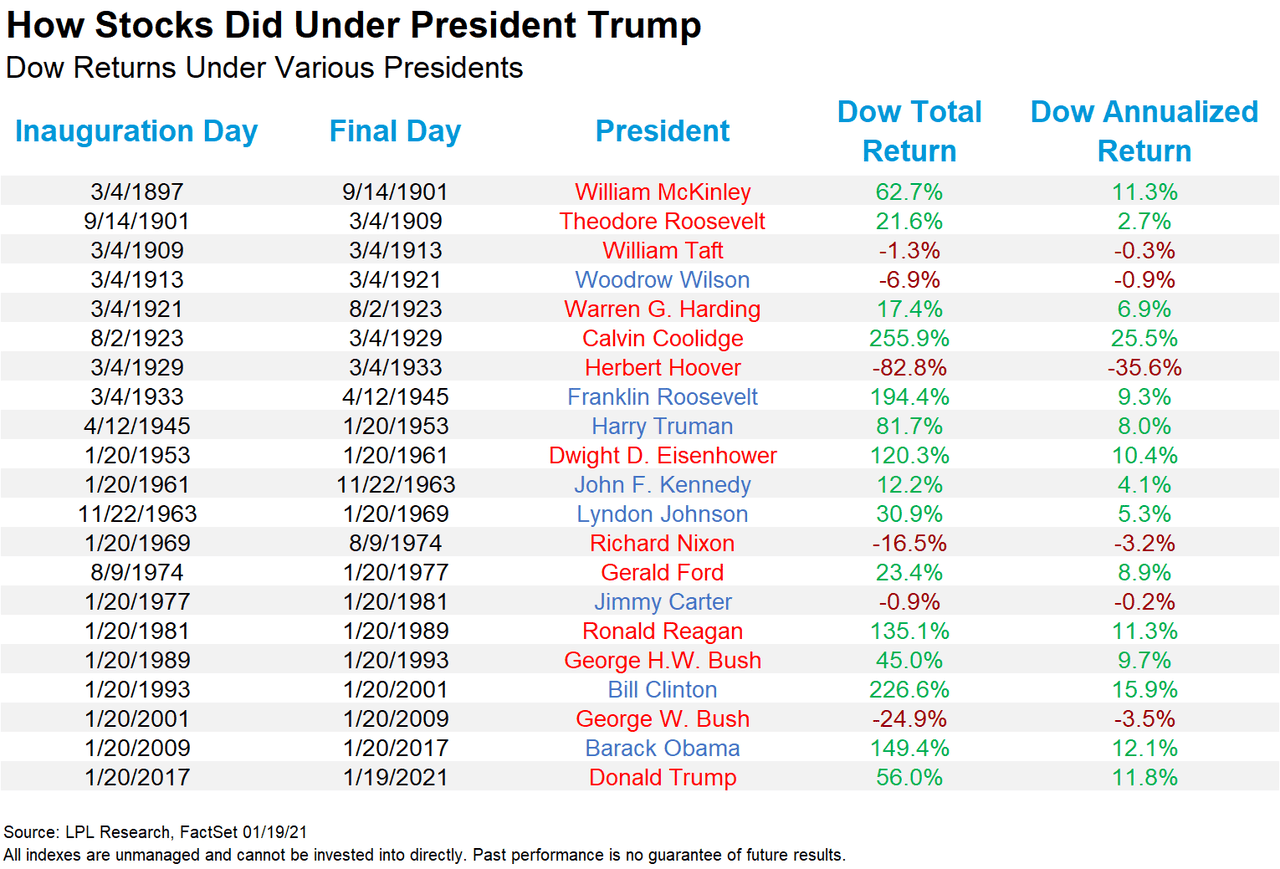 The Dow made 126 new all-time highs under Trump, LPL calculated, the most since 263 seen under Clinton. Six presidents never saw a new high in office, including Presidents Gerald Ford and Jimmy Carter.
LPL also looked at market performance after the election through to inauguration day and the 12.8% rise this time around is a record. The S&P gained 6.2% after Trump was elected through to his inauguration in 2017.
Yesterday, Kiplinger came out with the list of stocks it favors for a Biden presidency.