Consumer recovery favorites like Carnival make a case for 2021 this week: Sector Watch
Amid the earnings flurry this week, Bloomberg will host a virtual event that will focus on how the disruptions of 2020 will impact navigating 2021.
Tuesday's session will be of particular interest as executives from among the Consumer Discretionary (NYSEARCA:XLY) subsectors hit hardest by the pandemic appear, Seeking Alpha's Catalyst Watch notes.
At 12:05 p.m. ET, Hilton (NYSE:HLT) CEO Christopher will appear for his Q&A. At 12:25 p.m. ET, Carnival Cruise Lines (NYSE:CCL) CEO Arnold Donald will be the feature of a discussion. And Kohl's (NYSE:KSS) CEO Michelle Gass will talk about retail trends at 12:50 p.m. ET.
Consumer discretionary has been one of the most intriguing S&P sectors during the pandemic given the different groups. There were the early e-commerce and discount-retail winners, but the beaten-down groups, like those represented at the event, have always had a strong Robinhood enthusiasm as comeback plays.
That was often hidden by its overall performance being dominated by Amazon (NASDAQ:AMZN), and the addition of Tesla (NASDAQ:TSLA) has only made XLY more top heavy.
Recent performances for the stocks featured at the event are mixed.

Hilton is down 8% from its post-pandemic high hit on Jan. 8, but up nearly 32% in the past six months.
A decline of 3.6% on Friday took the price below the 50-day simple moving average of about $107, moving below that level for the first time since Nov. 3.
Carnival hit its post-pandemic high on Dec. 8 and it's down 14% from there. In six months it's up 33.5%.
CCL is seeing a similar technical pattern as HLT. It fell below its 50-day SMA on Friday for the first time since Nov. 13. There was a "golden cross" bullish signal on Dec. 8 when the 50-day rose above the 200-day.
Kohl's is less than 1% below its post-pandemic high of Jan. 14 and has risen 110.5% over six months.
KSS is comfortably above its 50-, 100- and 200-day SMAs. It is 82% above its 200-day SMA and it hasn't since a gap like that since 2018, when it was still only around 56%.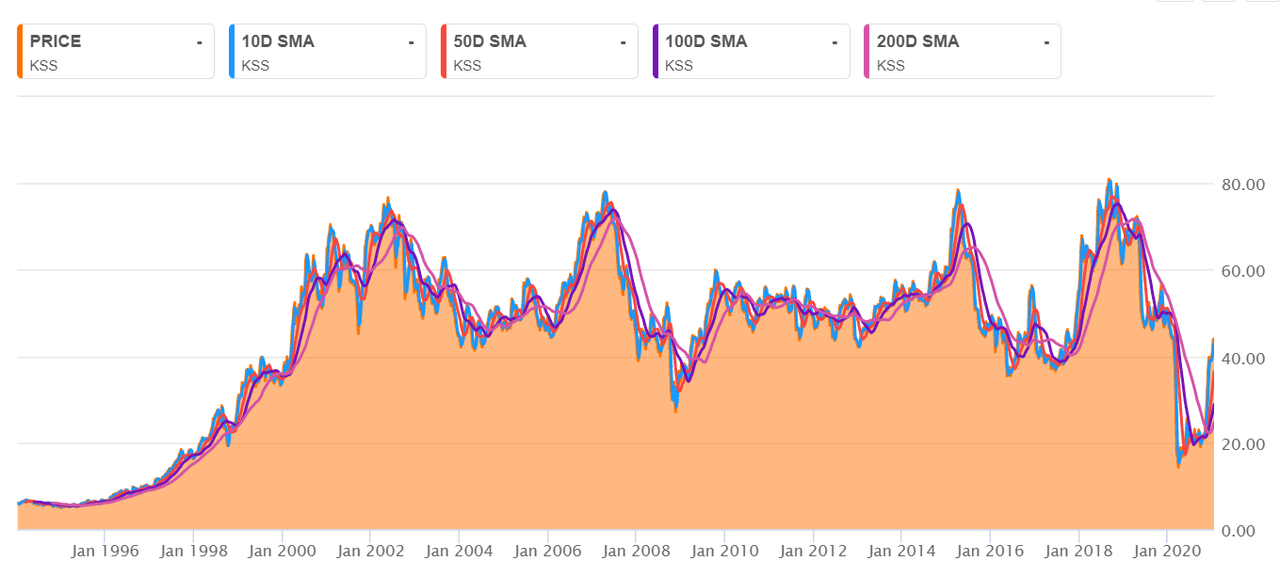 Looking to ETFs, the SPDR Retail ETF (NYSEARCA:XRT) has Kohl's at a 1.1% weighting, which is just in the top third of the holdings (its top weighting is suddenly GameStop).
XRT is at a record high and has been in overbought territory for 11-straight sessions. Its relative strength index is at 78.71.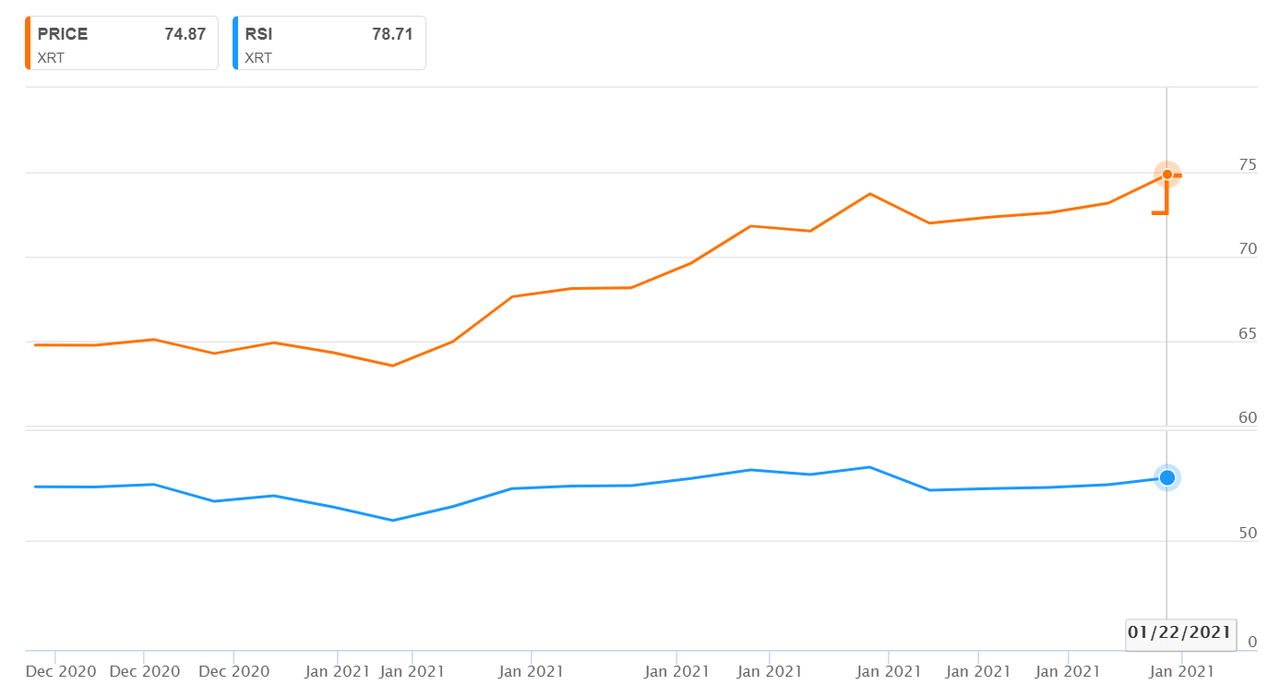 It's also looking at a record distance between price and the 200-day SMA at nearly 50%.
Seeking Alpha contributor Dividend Seeker recently wrote a comprehensive report on XRT, noting that while "I believed in the story behind the fund and was bullish heading in to 2021, these recent gains seem to be a bit extreme. As a result, I believe caution is warranted. For investors, this could mean holding off on new positions, or taking some profit now."
Carnival has the largest weighting in the SoFi 50 ETF (NYSEARCA:SFYF), which is a crowd-sourced ETF that picks the top 50 widely held U.S. stocks in SoFi Invest. It comes in at 17, with a weighting of 1.8%.
SFYF, which has only been in existence since mid-2019, is also at an all-time high. It's holding just below overbought with an RSI of 68.80.
The Invesco Dynamic Leisure and Entertainment ETF (NYSEARCA:PEJ) has the most exposure to Hilton. HLT is the sixth-largest holding with a weighting of 4.4%.
PEJ is still looking to recover to the levels it hit just before the pandemic selloff, about 6% below the peak hit on Feb. 20.
But it's also at that record gap, with the price more than 30% above its 200-day SMA.
PEJ has gone through a pandemic transformation with changes in its underlying index, with airlines going from the largest weighting to zero, streaming taking on huge importance and a boost in restaurant exposure, stocks that could see a big impact from a White House push to change how most waiters and waitresses are paid.