Global dividend payout to improve in 2021
Impacted by the pandemic, company payouts drop 10% on an underlying basis in 2020 as one in five cut their dividends and one in eight cancelled them altogether.
2020 Q4 payouts fell 14% on an underlying basis to $269B, while headline decline was

9.4%.

However, in August, Janus Henderson had expected the virus to drive corporates to cut $400B in dividends, about double the eventual outcome.

Sector-wise

Banks made the largest impact in value terms, cutting down $70B worth payments, about three times of the next largest sector, oil and gas.
But companies most sensitive to sharply curtailed consumer spending were most likely to make cuts.

Region-wise

European dividends fell by $28.4 on an underlying basis in 2020, dropping to $171.6B. "This was the lowest total from Europe since at least 2009," Janus Henderson said.
Canada saw the fastest dividend growth in the world among comparable countries and the fewest dividend cuts. Canadian dividends rose 5.9% on an underlying basis in 2020 to a new record of $46B.
China stands as the largest dividend payer in emerging markets and saw an increase in the total distributed in 2020.
Looking ahead, Janus Henderson's report outlines a worst-case scenario for dividends in 2021 falling 2% and a best-case scenario sees 2021 dividends up 5% on a headline basis.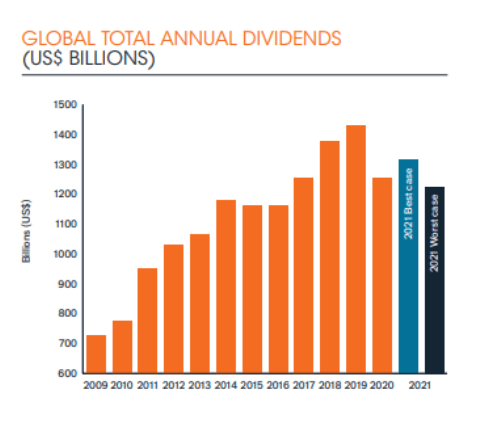 "For 2021 we must remember there is still another challenging quarter to come. Q1 will see payouts fall, although the decline is likely to be smaller than between Q2 and Q4 2020. The outlook for the full year remains extremely uncertain and our worst-case scenario sees payouts fall 2% for the full year on a headline basis (-3% underlying). The pandemic has intensified in many parts of the world, even as vaccine rollouts provide hope. Importantly we will see banking dividends resume in countries where they were curtailed, but they will not come close to 2019 levels in Europe and the UK, and this will limit the potential for growth. Those parts of the world that proved resilient in 2020 look likely to repeat this performance in 2021, but some sectors are likely to continue to struggle until economies can reopen fully. As with any economic recovery, profits are likely to rebound more quickly than dividends." the report says.