Barstool's Dave Portnoy promotes Van Eck's new BUZZ ETF
VanEck plans to launch a new ETF Thursday that aims to track the BUZZ NextGen AI US Sentiment Leaders Index, a measure of stocks that are generating "buzz" on traditional and social media.
The new Vectors Social Sentiment ETF (BUZZ

) will trade on the New York Stock Exchange. The ETF is getting a big push from Barstool Sports' "El Presidente" Dave Portnoy, who's been a major stock-market influencer on social media.

Portnoy is involved with both the index and the ETF, touting it Tuesday in an announcement and video "emergency press conference" posted on BarstoolSports.com.
Portnoy wrote that "as always I must remind you I am not a financial advisor. Don't trust anything I say about stocks. Having said that I think you'd be stupid not to invest. But what do I know? I've only been right for 20 years straight."
The BUZZ NextGen AI US Sentiment Leaders Index consists of 75 large-cap U.S. stocks that show the most positive investor sentiment in the media.
Stocks are selected and scored for the index using artificial-intelligence tools like machine learning and natural language processing algorithms, which analyze social media, news and blogs.
The BUZZ index's current holdings Twitter, DraftKings, Ford Motor Co., Facebook, Amazon and Apple. See full holdings list.
The BUZZ index has beaten the S&P 500 across a wide range of time periods, from month-to-date to five-year gains. For instance, the index has had three-year annualized returns of 32.38%. Additionally, it has seen a 89.43% one-year return. And year to date, the BUZZ index is up 17.96%: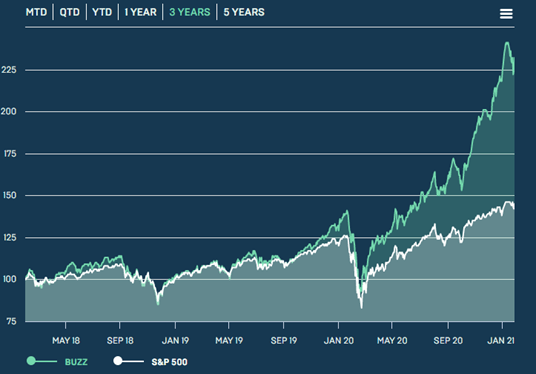 The BUZZ ETF aims to blend innovation with AI to create a new type of exchange traded fund.
There are already innovation-based funds that believe in artificial intelligence, such as Cathie Wood's ARK Innovation ETF (NYSEARCA:ARKK).
There are also massive technology ETFs and AI ETFs, such as Technology Select Sector SPDR ETF (NYSEARCA:XLK) and Global X Robotics & Artificial Intelligence Thematic ETF (NASDAQ:BOTZ).
But the BUZZ ETF aims to combine both trends into one fund.