Global IPO market in Q1 on a rampage despite faltering SPACs: Bloomberg
Bloomberg data indicate that a record $162.4B (vs. $37B in first three months of 2020) has been raised by 600+ issuers in 2021, the highest-ever, with SPACs accounting for half of the proceeds.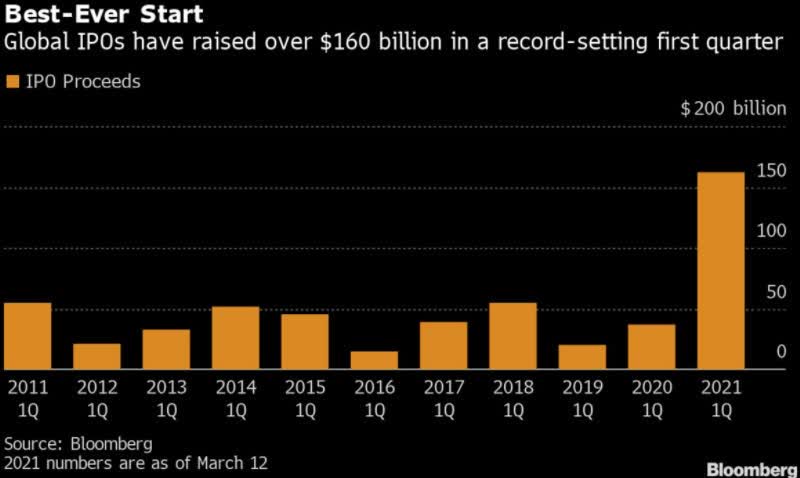 Unprecedented monetary and fiscal stimulus, ultra-low interest rates

and global markets at record levels pushed both traditional and SPAC listings.

With rising bond yields and pandemic-winner stocks loosing traction, an index that tracks SPAC listings slumped 17% from February high levels.
SPACs ETFs Watch: (NYSEARCA:SPAK) dropped 14% from Feb.16 until date while (NYSE:SPCX) was down 8% from Feb.8 levels until date.
"Volatility will weigh on the IPO market to the extent that investors may become more selective about the offerings they participate in, whereas when U.S. indexes and tech stocks are booming, there's a tendency for investors to be less selective," James Palmer, the head of equity capital markets for Europe, the Middle East and Africa at Bank of America commented.
South Korean e-commerce giant Coupang (NYSE:CPNG), backed by SoftBank's Vision Fund (OTCPK:SFTBY), surged 80% when it opened for trade on Mar.11; it raised $4.6B, biggest U.S. listing since Uber Technologies.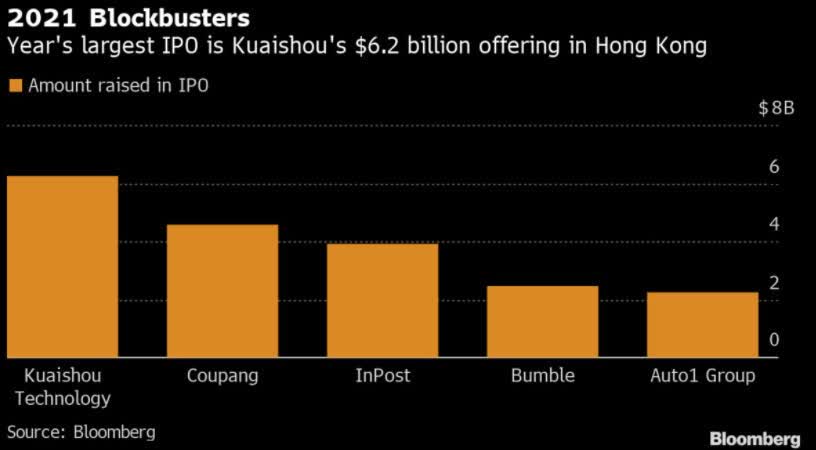 Bumble (NASDAQ:BMBL) raised more than $2.15B in its IPO in February mid when it popped 80% in first day trade.
Among laggards, Oscar Health (NYSE:OSCR) dropped in 11% on its first session on Mar.3.
"Truly disruptive companies with a unique offering, particularly with a sustainable edge, are likely to find demand for their offering regardless of the wider market," Lewis Grant, a senior portfolio manager at the international business of Federated Hermes.
European markets are also experiencing a splurge of deals after two years of dull activity; in this week, food-delivery company Deliveroo, a lockdown winner, and Vodafone Group European mobile-phone mast unit Vantage Towers AG, an income play, lay out plans for billion-dollar listings in the region.
With SPACs, the U.S. SEC recently warned investors about buying SPACs endorsed by celebrities; "With changes at the SEC, SPACs in the U.S. may come under greater regulatory scrutiny," Jason Manketo, global co-head of the equities practice at law firm Linklaters commented.
In 2020, Nasdaq Economic Research indicated that after SPACs, healthcare sector accounted for almost one-third of all new capital raised by companies; consumer companies raised higher capital than any year since 2010: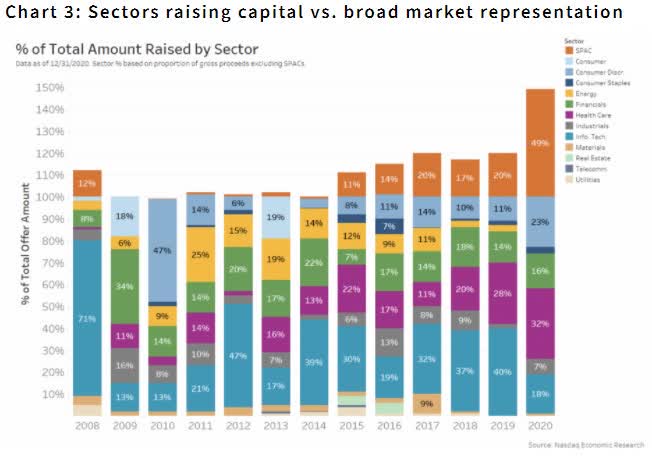 Bloomberg data indicates that 75% SPACs included in this quarter's tally of listings have not announced an acquisition yet and will refund the offer proceeds if targets not achieved before deadlines.
Related SA Reads:
SA Contributor Renaissance Capital IPO Research recently wrote, "U.S. IPO Weekly Recap: Coupang Completes Year's Largest IPO And Roblox Direct-Lists In A 7 IPO Week"
SPACs are catching the attention of short sellers (Mar.14)
Read: Various SPACs listings here.