$221.6 billion injected in net purchases of ETFs by market participants in Q1
Apr. 06, 2021 1:19 PM ET
Vanguard Mid-Cap Value ETF (VOE), VB, VO, XLE, USO, GLD
GLD, XLE, VB, VO, VBR, USO, VOE
By:

Jason Capul,

SA News Editor
8 Comments
In the latest Fund Market Insight Report by Refnitiv Lipper, investors saw equity funds post a fourth consecutive quarterly gain of

+6.31%

.
Breaking down the report and market participants can see where investment flows went over the first quarter of 2021.
Exchange traded fund investors were net purchasers for Q1 +$221.6B, injecting $182.2B into equity ETFs which saw their twentieth consecutive quarter of net inflows, $34.4B into taxable fixed-income ETFs, and $4.9B into municipal debt ETFs.
Additionally, for the first quarter in three, market participants were net purchasers of money market funds +$185.8B.
Small-cap value funds were at the top of the performance list, having their best showing since the Q4 of 2016,

+22.12%

on the quarter. After small-cap value came small-cap core funds

+15.90%

, mid-cap value funds

+15.19%

, and S&P mid-cap 400 index funds

+13.3%

.
Each of the above performances reflects quarterly gains, see full chart below.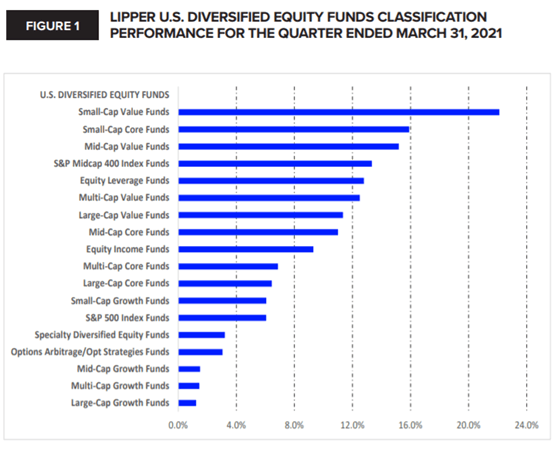 On the commodities front, there were a couple of significant areas that generated positive quarterly returns. Energy funds finished the quarter

+20.97%

and benefitted from a vaccine-related rise in oil futures, while precious metals funds finished to the downside

-5.56%

. Below is a complete breakdown of the commodities fund space for Q1.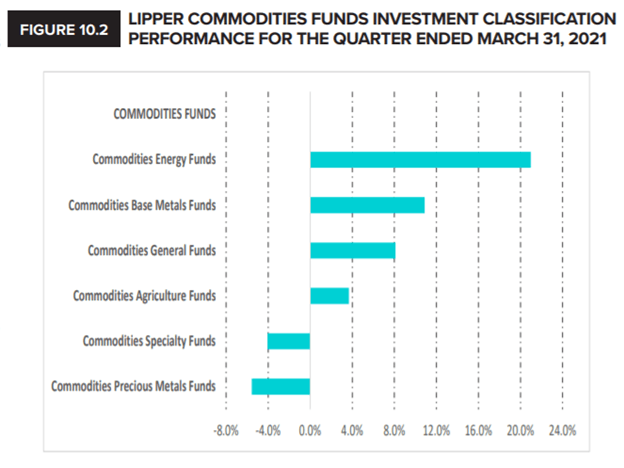 For investors that are interested in learning more about where momentum is heading in the future, see the full report and the following ETFs: Vanguard Small-Cap Value ETF(NYSEARCA:VBR), Vanguard Mid-Cap Value ETF (NYSEARCA:VOE), Vanguard Small Cap ETF (NYSEARCA:VB), Vanguard Mid Cap ETF (NYSEARCA:VO), Energy Select Sector SPDR ETF (NYSEARCA:XLE), The United States Oil ETF, LP (NYSEARCA:USO), and SPDR Gold Trust ETF (NYSEARCA:GLD).
With the continued vaccine rollout and stimulus hitting the market, investors have placed themselves in a position for the economy to re-open on a positive note. Value stocks continue to gain traction over growth.