Bitcoin in a bubble, taper tantrum biggest market risk: BofA fund managers survey
COVID-19 no longer cracks the top three in terms of what's worrying the market, while Bitcoin's rally has reached bubble territory, according to the latest Bank of America Fund Managers Survey.
Bitcoin (BTC-USD,

+5%

) set a new

record today

, topping $63K for the first time as Coinbase (

COIN

) prepares to go public.

And 74% of those surveyed say the crypto is now in a bubble, compared with just 7% who see equities in a bubble (most think stocks are in a late-stage bull market).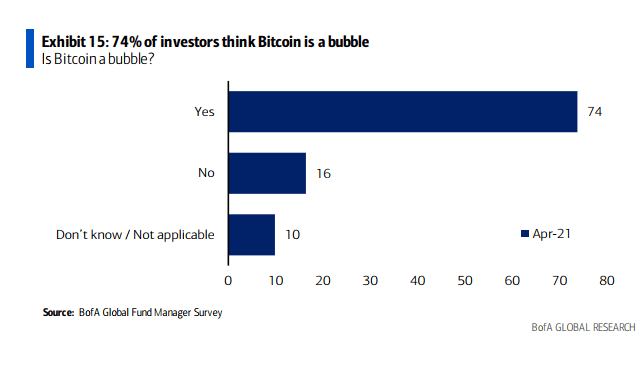 Among pitfalls, 32% think a bond taper tantrum (yields surging if the Fed removes accommodation) is the biggest risk. That's followed by inflation at 27%.
The March CPI saw the biggest monthly gain since August 2012, but the market took it in stride, attributing much of the rise to base effects.
Higher taxes was the third-biggest risk, followed by COVID.
A little more than a 30% of respondents considered long technology (NYSEARCA:XLK) the most crowded trade, followed by 27% who picked Bitcoin.
Banks (NYSEARCA:XLF) (NYSEARCA:KBE) was the most overweight sector for the first time since May 2018, followed by Industrials (NYSEARCA:XLI) and Pharma (NYSEARCA:XLV). Utilities (NYSEARCA:XLU) was the most underweight.
Big banks report earnings this week, with strong capital markets performance expected.