ETF closing bell, BDRY top performing ETF & energy leads all sectors
The U.S. major markets finished mixed on the day as the S&P 500 closed

-0.02%

, Dow Jones finished

+0.01%

, and the Nasdaq ended

-0.34%

.
The energy sector was the leading segment of the market (NYSEARCA:XLE)

+1.21%.

Crude oil climbed today as OPEC+ looks

set to keep production plans

.

See below a sector summary of the S&P 500 along with the top and bottom five exchange traded fund advancers and decliners.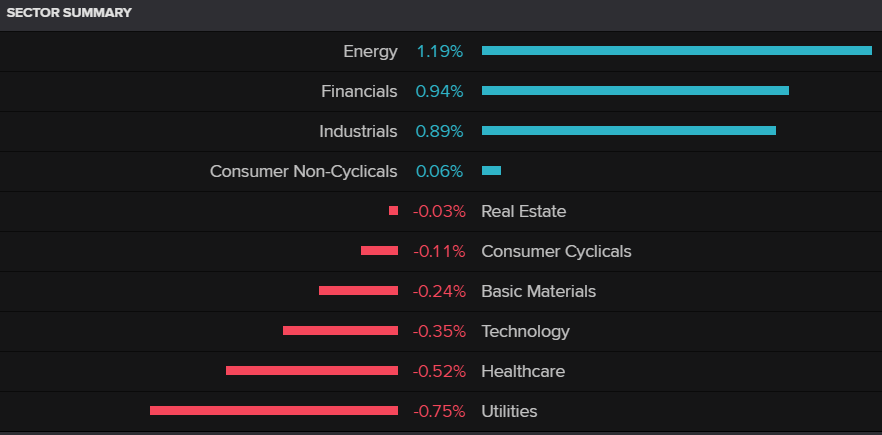 Breakwave Dry Bulk Shipping ETF: BDRY was the market's top gaining ETF. The fund is not only up Tuesday but is up year-to-date

+177.92%

.
Top 5 ETF Advancers

Pct. Chg.%

Breakwave Dry Bulk Shipping ETF (NYSEARCA:BDRY)

+7.38%

Teucrium Sugar (NYSEARCA:CANE)

+3.09%

Gaming ETF Vaneck (NASDAQ:BJK)

+2.47%

US Gasoline (NYSEARCA:UGA)

+2.32%

US Natural Gas Fund (NYSEARCA:UNG)

+2.13%

Bottom 5 ETF Decliners

Pct. Chg.%

Direxion Moonshot Innovators ETF (NYSEARCA:MOON)

-4.82%

DWA Technology Momentum Invesco ETF (NASDAQ:PTF)

-2.72%

VIX Short-Term Futures Proshares (BATS:VIXY)

-2.33%

Chile Ishares MSCI ETF (BATS:ECH)

-2.27%

Purefunds ISE Junior Silver ETF (NYSEARCA:SILJ)

-2.08%

ETF Advances & Decliners include: ETFs, ETNs & Funds only with single leverage
The major averages couldn't get much going a day before the FOMC decision and Fed chief Jerome Powell's press conference.