43 ETFs have reached 24-month highs; see the breakdown
There are 43 different exchange traded funds that have reached 24-month highs as of April 28, 2021. The ETF universe has been on fire this year with record-setting inflows that are on pace to hit $1T over the course of one full calendar

year.

The exchange traded funds that have hit 24-month highs fall in numerous different categories. When investors break it down, they can see the ETFs fall within market segments such as U.S. equity indices, international equities, U.S. sectors, corporate/credit bonds, U.S. treasury bonds, and emerging market equities.
Below is a chart that breaks down all 43 ETFs.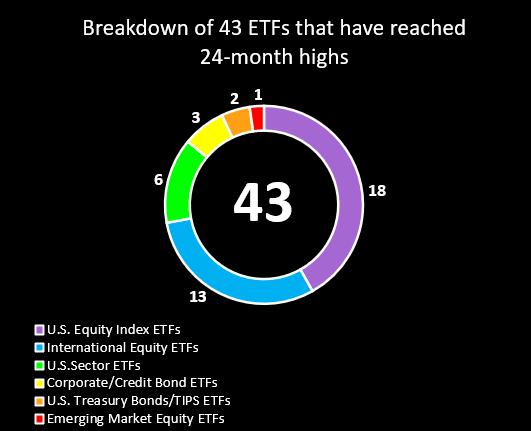 Additionally, see which exchange traded fund performed the best in each category over 24 months. Data is according to etfreplay.com, and Seeking Alpha then compiled analysis.
U.S. Equity Index ETFs: VanEck Vectors Morningstar Wide Moat ETF (BATS:MOAT),

+53.40%

.
International Equity ETFs: Vanguard Total World Stock ETF (NYSEARCA:VT),

+41.00%

.
U.S. Sector ETFs: Vanguard Telecom Services ETF (NYSEARCA:VOX),

+54.10%

.
Corporate/Credit Bond ETFs: iShares Broad USD High Yield Corporate Bond ETF (NASDAQ:SHY),

+13.40%

.
U.S. Treasury Bonds/TIPS ETFs: iShares 0-5 Year TIPS Bond ETF (NYSEARCA:STIP),

+10.30%

.
Emerging Market Equity ETFs: Schwab Fundamental Emerging Markets Large Company Index ETF (NYSEARCA:FNDE),

+18.90%

.