Will a 10-year high in commodities be more than transitory for CPI? - At the Open
May 06, 2021 8:40 AM ET
Crude Oil Futures (CL1:COM), XAUUSD:CUR, HG1:COM, LB1:COM
QQQ, SPY, USO, COM, JBP:COM, LB1:COM, HG1:COM, XAGUSD:CUR, XAUUSD:CUR, SCO:COM, CL1:COM, SPX
By:

Kim Khan,

SA News Editor
21 Comments
Commodities mostly continue to climb this morning, with the the notable exception of oil.
WTI futures (CL1:COM) (NYSEARCA:USO) are

off 0.5%

, but still above $65/barrel. Spot gold (XAUUSD:CUR) is

up 0.3%

and silver (XAGUSD:CUR) is

up 1.1%

.
In stocks, S&P futures (SPX) (NYSEARCA:SPY) and Nasdaq 100 futures (NDX.IND) (NASDAQ:QQQ) are slightly lower.
The Bloomberg Commodities Spot Index, tracking 23 spot commodities, hit its highest level since 2011 on Tuesday.
Prices are seeing a boost from good, old-fashioned high demand amid constrained supply.
Futures curves point to tight supply for many commodities, while there is "definitely optimism for an improving economic outlook to lead to acceleration of demand," PIMCO portfolio manager Greg Sharenow told Bloomberg.
Several big consumer companies have mentioned high input prices in their earnings reports and the need to pass hikes onto consumers.
But the big question for the market, especially when it comes to the Fed and tapering, is whether the record prices show up as a more-than-transitory effect in the CPI.
Next week's April PPI is likely to show a rise of 6%, DataTrek Research predicts, noting these spikes in the March PPI:
Plywood (construction sector) up 53% from the year-ago period.
Cold rolled steel (durable goods) up 75%.
Copper (construction, durable goods) up 43%.
Corn (food, animal feed) up 44%.
Wheat (food) up 32%
But it's important to note the commodities above are predisposed to wild swings, DataTrek says.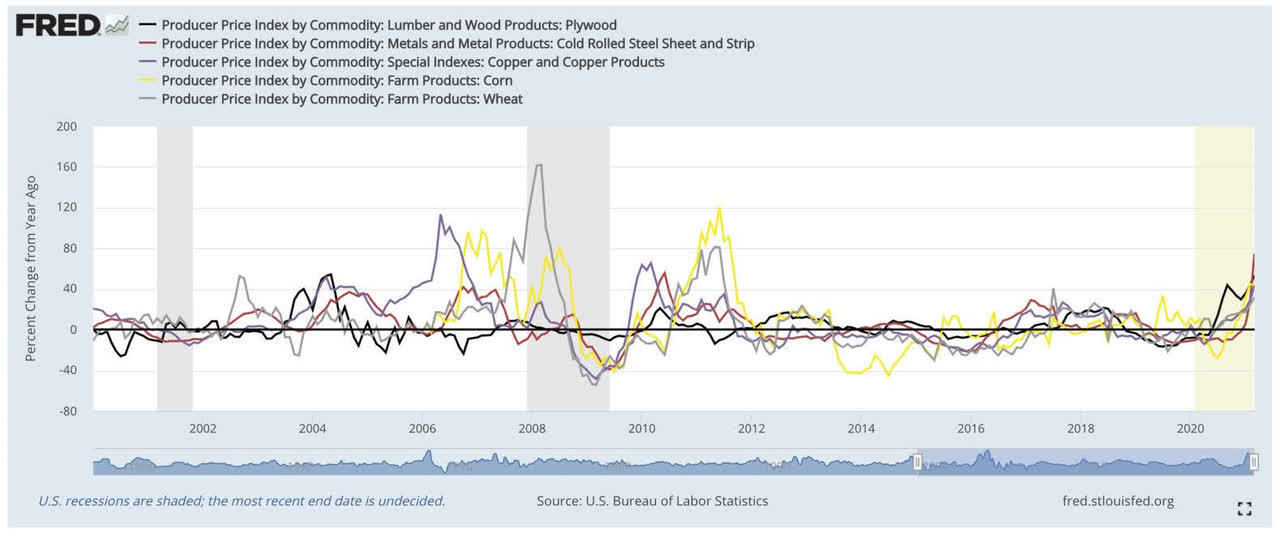 And the relationship between PPI commodity inflation and CPI headline inflation has changed after tracking closely in the 1970s and 1980s.
"From the 1990s onward, though, commodity inflation has had a weaker effect on consumer inflation," DataTrek writes. "The two are still correlated, but commodity prices are no longer as dominant an influence on CPI inflation."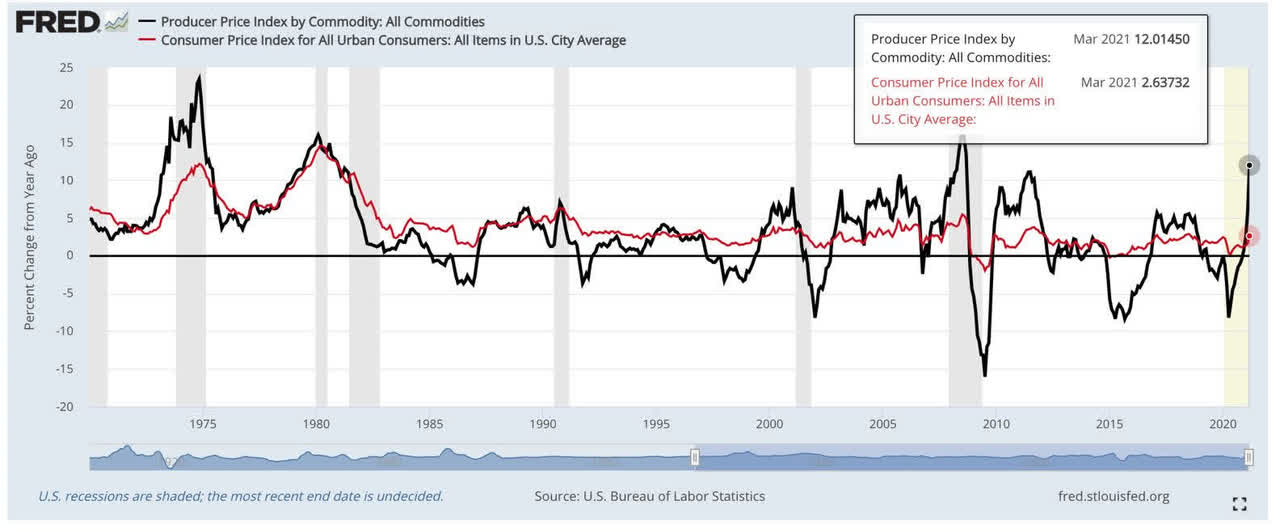 "The history since 2000 shows the cost of commodities can certainly nudge CPI higher over the short term but the effects are transitory," they conclude.
"We expect things will play out the same way in 2021–2022 but certainly recognize that there's going to be some eye-popping commodity inflation in the near term that could capture market attention."