BofA runs the numbers on WallStreetBets predicting 'up-crashes': At the Open
In the wake of the short and gamma squeezes that sent rumblings through Wall Street in January, Melvin Capital's Gabe Plotkin, who got caught on the wrong side of the GameStop (NYSE:GME) trade, predicted that hedge fund data scientists would be looking a lot closer at online stock discussions

.

And BofA Securities is out with a note today looking at whether Reddit's (REDDIT) WallStreetBets can be used to predict what they term "up-crashes."
Short answer: "no, with a but."
BofA looked at numbers from alternative data company Thinknum tracking stock mentions in WallStreetBets and focused on small- and midcap, or SMID, stocks in the Russell 2500 (BATS:SMMD).
"Overall, we found no clear 'tell' from the number, change in or share of mentions on Reddit's WallStreetBets forum for stocks including GME, AMC (NYSE:AMC) or Bed Bath & Beyond (NASDAQ:BBBY), which were the subject of 'up-crashes' in shares in Jan," strategists led by Jill Carey Hall, wrote.
"But given the potential impacts to performance from these tail-risk events, we think the data may be most useful to track on a cross-sectional basis ... where all three of the above were among the top 20 the week prior to the Jan up-crashes."
They add that retail-driven up-crashes may be here to stay, noting "our recent survey of institutional long-only and only-short equities clients suggested that retail targeting of hedge fund shorts could repeat: long-short investors are largely not planning to shift positions more frequently despite what occurred in January."
Looking at the period right before the January moves, there's no clear signal from WallStreetBets.
"The number of mentions and share of conversations is dominated by GME, and mentions for the stock spiked in Dec. well ahead of the up-crash, while mentions for AMC spiked after the stock popped, and mentions for BBBY were never as elevated," BofA says.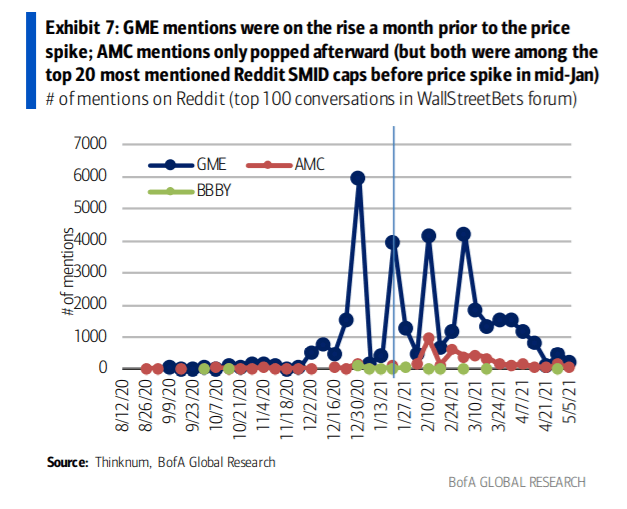 But it adds "while we have just one up-crash time period to look at, we think stocks active on Reddit may be worth monitoring for potential up-crashes going forward."
BofA ran a screen of the top 20 SMID cap stocks for WSB mentions to look for shifts with micro/macro implications, like "high turnover on the list" or "a significant jump in mentions to a dominating share of Reddit discussions for a particular stock."
The screen results (in order of trailing 2-week Reddit mentions): GME, AMC, Athene (NYSE:ATH), Inovio (NASDAQ:INO), Virgin Galactic (NYSE:SPCE), Academy Sports (NASDAQ:ASO), Clean Energy (NASDAQ:CLNE), Antero Midstream (NYSE:AM), Plug Power (NASDAQ:PLUG), Fastly (NYSE:FSLY), Cleveland-Cliffs (NYSE:CLF), Enphase Energy (NASDAQ:ENPH), O-I Glass (NYSE:OI), Moelis & Co. (NYSE:MC), Cloudflare (NYSE:NET), Workhorse (NASDAQ:WKHS), Ethan Allen (NYSE:ETH), Natus Medical (NASDAQ:NTUS), Gladstone Commercial (NASDAQ:GOOD), Avis (NASDAQ:CAR).
The founder of WallStreetBets recently dismissed the importance of big market swings up or down, saying that bubbles was a "Boomer term."