As wages and prices rise, digging into April's inflation shock reveals reasons not to panic

And the evidence of

rising prices on the producer and consumer levels keeps coming in.

McDonald's (NYSE:MCD) is boosting pay at its 650 company-owned U.S. stores by an average of 10%.
Commodities prices have eased back of late, but are still at 10-year highs.
And companies like P&G (NYSE:PG), Kimberly-Clark (NYSE:KMB), Honeywell (NASDAQ:HON), Coca-Cola (NYSE:KO) and Whirlpool (NYSE:WHR), throughout earnings season, highlighted on calls higher input costs and the need to raise prices.
But while annual retail inflation above 4% is bound to raise eyebrows, there are a couple of reasons investors shouldn't fret too much about inflation just yet (and one good reason to worry).
Supply disruption squeeze: April's CPI brought out a lot of extreme moves in component prices due to supply chain issues.
The headline grabber was a 10% rise in used car and truck prices, the most since the government started tracking the CPI in 1953. Data from the Cleveland Fed shows that those prices rose 215% on annual basis.
While the recovery may have had some impact (stimulus checks arriving at a time when people can now buy used cars with a click of a mouse), the chip shortage and the rental car market had big impacts on supply and demand.
A lack of semiconductors is hampering production of new cars. And rental car companies (OTCPK:HTZGQ) (NASDAQ:CAR) that sold off more than 770K vehicles from their fleets as travel halted are now diving into the used car market to find vehicles to meet demand.
On the wholesale side, trucking and shipping disruptions and sawmill closures pushed lumber futures (LB1:COM) limit up on several days amid demand for new homes.
But UBS says it is "highly likely that the uptick in inflation driving the recent volatility will ultimately prove short-lived" and that the bulk of the rise in commodity prices is now over.
Returning to normal: The price jumps in April were also concentrated in areas sensitive to the reopening.
"There was a big surge in hotels/motels, airfares, car and truck rentals," Renaissance Macro Research tweeted. "These industries are tied to the economic reopening and the buoyant demand in travel/tourism. Of course, the reopening of the economy only happens once and so, the Fed will not budge."
Amid the aforementioned rental car shortage, prices rose nearly 506% year over year, the Cleveland Fed shows. Lodging away from home was up 142%, public transportation up more than 97%, infant's and toddler's clothes (more outdoor activities and playdates) up 45%, and motor vehicle insurance up 35%.
Those rises are also juiced by base effects, with reopening sectors hit with price declines last April.
"The latest rise in inflation, in our view, reflects year-over-year comparisons, which will fade; the rise in commodity prices from artificial pandemic lows; and a surge in demand in select areas, including hotels, airlines, and used cars, as the economy reopened," Mark Haefele, UBS Global Wealth Management CIO, writes in a note. "In addition, labor supply headwinds should ease in the next few months once schools fully reopen, vaccinations continue to rise, and supplemental unemployment benefits expire.
Caveat: The market is a pretty good inflation gauge. Inflation expectations were a good measure of realized inflation during the last market crisis.
For all its assertions about being resolute and waiting for months worth of data, the Fed isn't immune to pressure.
It may be able to ignore the growing number of headlines about price increases and the growing statements in Washington that inflation is derailing the recovery. But it would be much harder to ignore the market, where inflation expectations are now at multi-year highs.
The 5-year breakeven rate, the difference between nominal and real 5-year yields, is at 2.72, a level not seen since the highs of 2008 (NYSEARCA:TBT) (NASDAQ:TLT) (NYSEARCA:TIP).
The 10-year breakeven is at eight-year highs at 2.51.

A BLS study looked at inflation expectations, measured by the Treasury Inflation Breakeven Rate Curve, and realized inflation, measured by the CPI, before, during and after the Great Recession (July 2003 to January 2018).
The study found the average deviations between the two did not exceed 80 basis points and over two years or more did not exceed 55 basis points.
"In short, market-based inflation expectations, as measured by the U.S. Treasury Department TBI Curve, reasonably approximated realized inflation in the years before and after the financial crisis," BLS economist Jonathan Church wrote.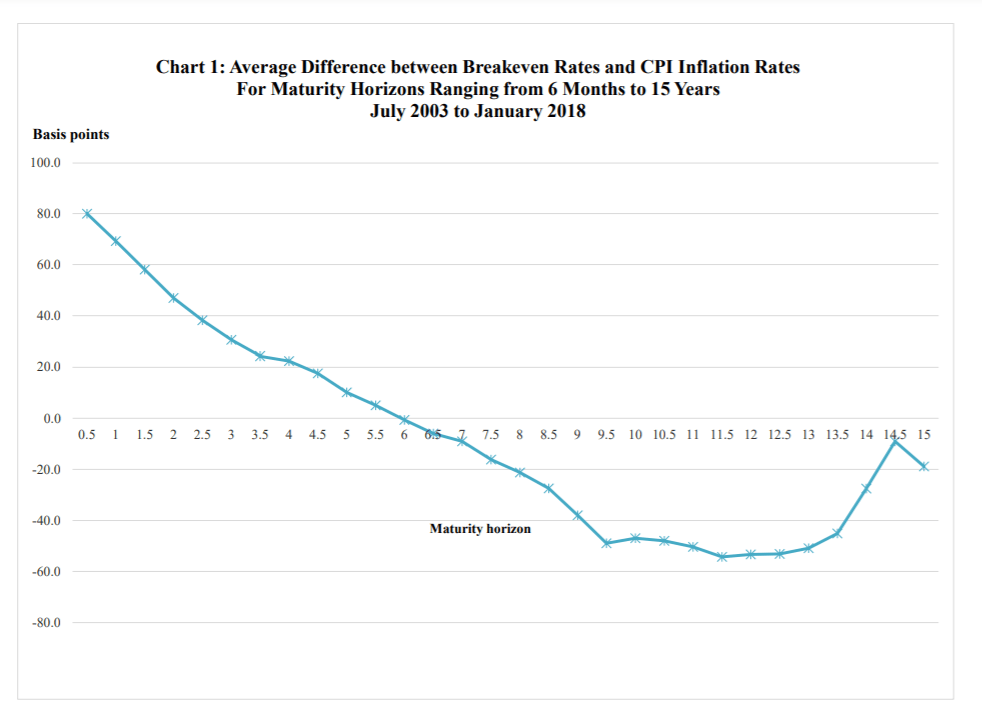 The Chicago Fed also provides its own measures of inflation that omit outliers to get a better signal of underlying inflation.
The median CPI is the "one-month inflation rate of the component whose expenditure weight is in the 50th percentile of price changes." The 16% trimmed-mean CPI "is a weighted average of one-month inflation rates of components whose expenditure weighs fall below the 92nd percentile and above the 8th percentile of price changes."
Both showed an increase in inflation in April, with the median CPI at a 2.1% annual change and the 16% trimmed-mean CPI showing a 2.4% rise.
Among ETFs sensitive to inflation and higher rates are the megacap growth sectors like Info Tech (NYSEARCA:XLK), Communications Services (NYSEARCA:XLC) and especially Consumer Discretionary (NYSEARCA:XLY) if companies find it tougher to pass on costs.
Momentum stock ETFs like ARK Innovation (NYSEARCA:ARKK) are also vulnerable.
ETF's designed to hedge against inflation include (NASDAQ:VTIP), (NYSEARCA:SCHP), (NYSEARCA:SPIP) and (NYSEARCA:STIP).
Read why Seeking Alpha contributor David Haggith thinks inflation will "kill this market."