Global interest rates move off of 5,000 year lows: At the Open
Last year marked the secular low point for inflation and interest rates and 2021 is bringing global rates off the lowest point since 3000 BC, BofA Data Analytics says.
In the chart below, BofA illustrates the path of long- and short-term rates

covering a period that includes the Great Depression, the Napoleonic Wars, the fall of the Roman Empire and the building of the Pyramids at Giza.

Sources include BofA's own strategy department, the Bank of England, Global Financial Data and the influential book "A History of Interest Rates" by Sidney Homer and Richard Sylla.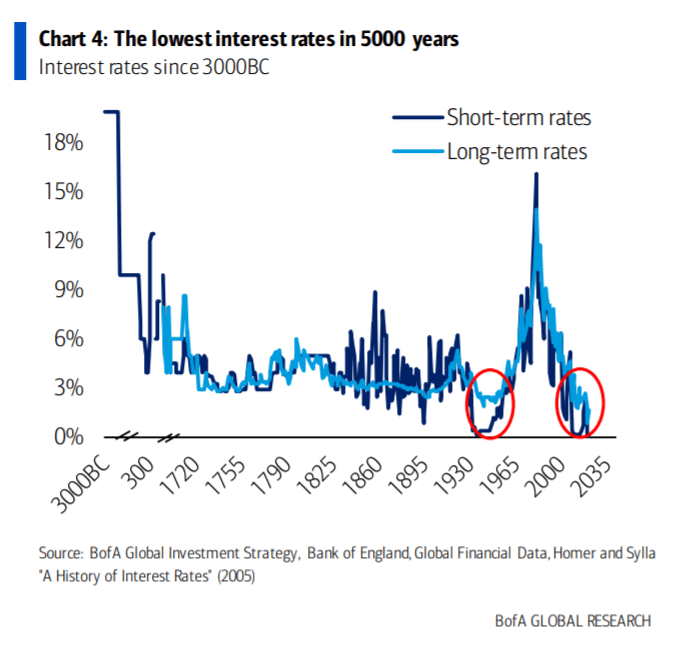 What's changed from last year, according to Chief Investment Strategist Michael Hartnett and team?
New central bank mandates.
Excess fiscal stimulus, including universal basic income.
Less globalization.
Fading deflation from disruption.
Demographics.
Debt.
This chart has actually been popping up for a few years, and was developed by economist Andy Haldane during his time at Bank of America Merrill Lynch. He's now the chief economist at the Bank of England.
Inflation hedging growing: Hartnett also notes that investors are indicating inflation worries, with cash flowing into inflation-protected Treasuries (NYSEARCA:TIP) and bank reserves.
The flows into TIPS of $1.9B are the biggest in 23 weeks and are just behind Financials (NYSEARCA:XLF) for biggest flows year to date.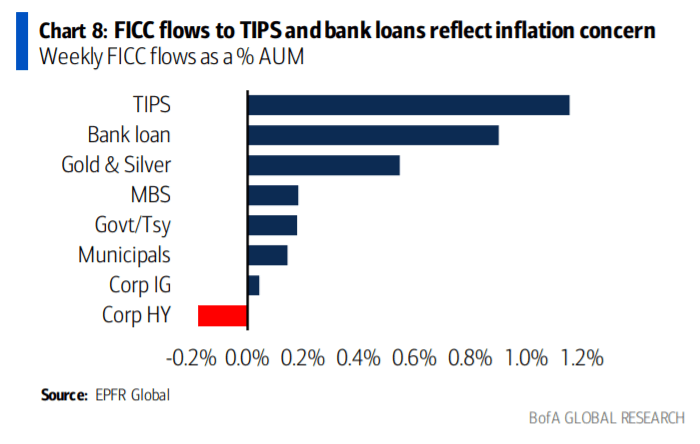 3 summer calls: For the upcoming months, Hartnett highlights:
Tech (NYSEARCA:XLK) correctly discounted H1 inflation, but "likely struggles until Fed folds & tapers and/or China eases," which will be August or September at the earliest.
Among S&P (NYSEARCA:SPY) sectors, cyclicals will be cyclical, as the secular inflation view doesn't mean these stocks can't pull back. "Peak profits" means early cyclicals like Homebuilders (NYSEARCA:XHB), Chips (NASDAQ:SOXX) (NASDAQ:SMH), Broker-Dealers (NYSEARCA:IAI), Industrials (NYSEARCA:XLI) falter. Late cyclicals like Resources (NYSEARCA:XLB) (NYSEARCA:GNR) tactically pull back in Q3.