Travel & Leisure is poised for a reopening economy
With the summer months around the corner, vaccine rollouts continuing to see progress, and an economic reopening poised to come alive, the travel and leisure space has become a growing space of interest.
Furthermore, fueling the reopening, the CDC has now issued

new guidance that vaccinated individuals can abandon masks indoors.

According to data reported by the CDC, 46.6% of the total population of the United States have received at least one dose of the COVID-19 vaccination, and 35.8% are fully vaccinated.
Moreover, cases have come down throughout the country from the peaks in late December and early January. See a visual chart below.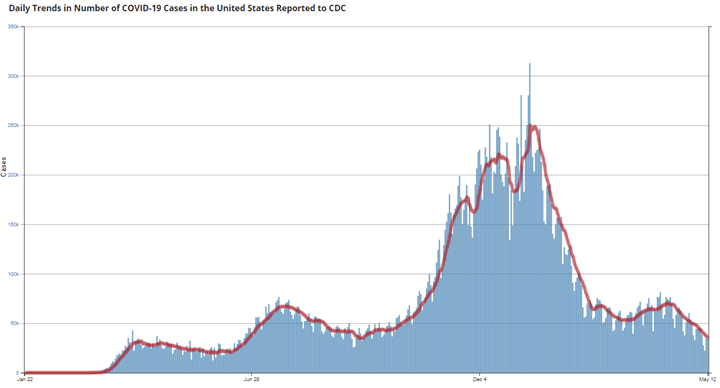 With cases coming down and the vaccine rollout continuing to show promising results, more and more individuals should be looking to participate in traditional lifestyle activities. Activities such as traveling and family gatherings as well as sporting events, shows, concerts, restaurants, hotels, and more can potentially see a boost in traffic.
Market participants can see data provided by the TSA and see that air travel is at its highest point in one year. While there is still room for improvement as the country looks to get back to its pre-pandemic highs, momentum is currently favoring the upward trend. Below is a chart that depicts TSA throughput for one calendar year from today.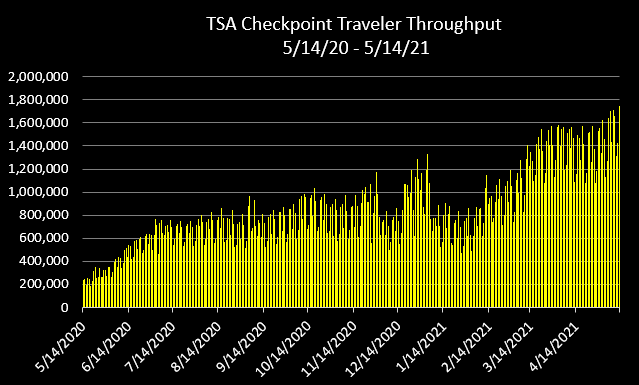 For market participants considering investment decisions that may touch on the broad travel and leisure industry, a few exchange traded funds that may be worth analyzing are below.
ETFs and their daily price action: (NYSEARCA:JETS)

+3.10%

, (NYSEARCA:PEJ)

+3.18%

, (NYSEARCA:AWAY)

+3.44%

, (NYSEARCA:XTN)

+1.85%

, (NYSEARCA:BEDZ)

+2.63%

, and (NYSEARCA:EATZ)

+2.41%

.