As investors ditch bitcoin, they are returning to gold, J.P. Morgan says: At the Open
May 19, 2021 8:35 AM ET
Bitcoin USD (BTC-USD), XAUUSD:CUR
GLD, IAU, SGOL, PHYS, OUNZ, QGLDX, BAR, BTC-USD, GLDM, AAAU, XAUUSD:CUR
By:

Kim Khan,

SA News Editor
123 Comments
Institutional investors look like they are moving away from Bitcoin and back to traditional gold in a dramatic change in fund flows, J.P. Morgan says.
Bitcoin (BTC-USD) is

down another 12%

early, while spot gold (XAUUSD:CUR) (NYSEARCA:GLD) is

down 0.4%

.
"It felt like

we had capitulation this morning," Galaxy Digital founder & CEO Mike Novogratz said in a CNBC interview.

"Humpy Dumpty never gets put back together in two days when he cracks. It's going to to take a while. The market will consolidate. It will find a bottom somewhere. I'm hoping it's close to here."
"The bitcoin flow picture continues to deteriorate and is pointing to continued retrenchment by institutional investors," Nikolaos Panigirtzoglou, managing director for global market strategy at J.P. Morgan, writes in his note on funds and liquidity. "Over the past month, bitcoin futures markets experienced their steepest and more sustained liquidation since the bitcoin ascent started last October."
Institutions are unwinding Bitcoin futures and building up long positions in gold futures.
And bitcoin funds are also seeing a steady deterioration, with four-week flow turning negative for the first time, Panigirtzoglou writes.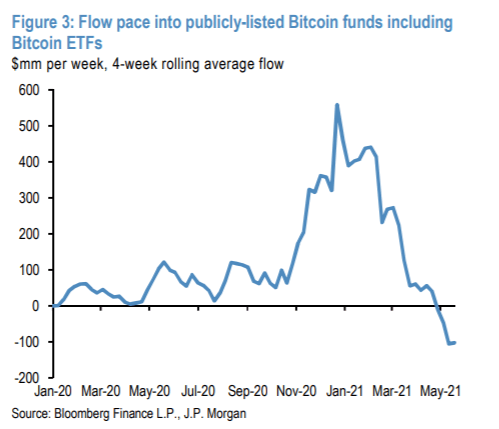 At the same time, cash has been heading to gold ETFs, reversing the pattern of Q4 2020 and the start of this year.
"It is not clear what is driving this shift," he adds. "Perhaps institutional investors are fleeing bitcoin as they see its previous two quarter uptrend ending and thus seek the stability of traditional gold away from the rapid downshifting of digital gold."
"Or they perhaps view the current bitcoin price as too high relative to gold and thus do the opposite of what they did in the previous two quarters, i.e. they sell bitcoin and buy gold."
With the momentum signals for Bitcoin still in positive territory it also may be a bit early to characterize it as oversold, he says.
Seeking Alpha contributor Jussi Askola outlined this past weekend whey he believes gold to be a poor inflation hedge.
And Clem Chambers digs into all you need to know about Bitcoin's 2021 tumble.