Goldman's group of hedge fund VIP stocks matches worst drop ever; Facebook now tops list
Facebook (NASDAQ:FB) now tops Goldman Sachs' Hedge Fund VIP List, the 50 stocks that appear among the largest 10 holdings of hedge funds.
But the group also matched their biggest three month fall on record, ZeroHedge reports.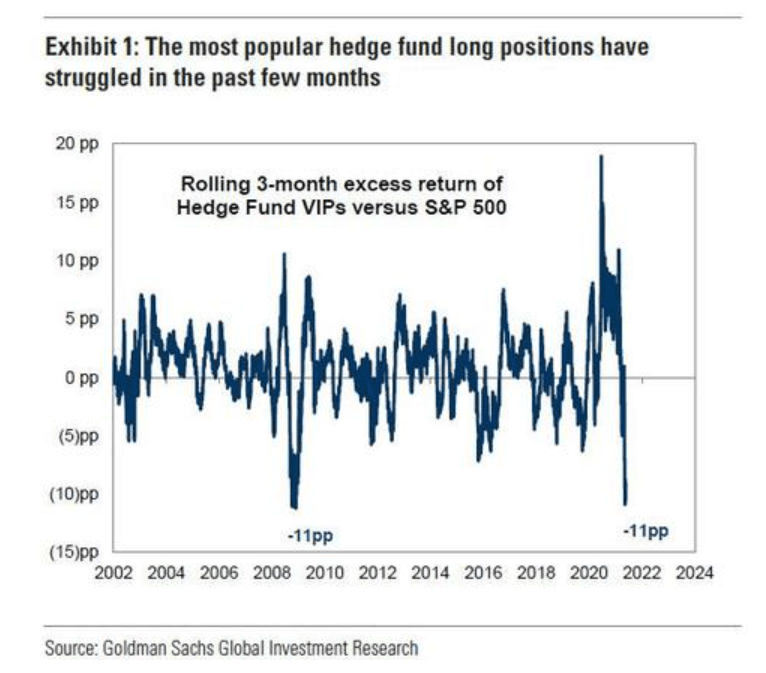 Goldman strategist Ben Snider

and team updated their list as Q1 13F filings came in from 630 hedge funds with 10-200 distinct U.S. equity positions.

The top five remained the same, but Facebook moved to the top slot.
Facebook rose nearly 8% in the first quarter and is up nearly 17% year to date, the second-best performer in the megacaps behind Alphabet (NASDAQ:GOOG) (NASDAQ:GOOGL), up nearly 32%, which comes in at No. 4 at the VIP list.
All the megacaps make the top 10 except Tesla (NASDAQ:TSLA), which didn't make the list at all.
The top 10 are:
Facebook
Microsoft (NASDAQ:MSFT)
Amazon (NASDAQ:AMZN)
Alphabet
Alibaba (NYSE:BABA)
Visa (NYSE:V)
Mastercard (NYSE:MA)
Apple (NASDAQ:AAPL)
Alexion Pharma (NASDAQ:ALXN)
Sea Ltd. (NYSE:SE)
Caesars Entertainment (NASDAQ:CZR) makes the highest debut at No. 23. Other new entrants include Adobe (NASDAQ:ADBE), Citi (NYSE:C) and GM (NYSE:GM).
Talend (NASDAQ:TLND) is the stock with the smallest market cap on the list at $2B.
The big quarterly drop pushed hedge fund managers to rotate aggressively from tech to value, ZeroHedge says.
Investors just took the most cash out of tech funds since 2018.