S&P 500 SPDR (SPY) witnesses highest short interest levels in 2021
The largest exchange traded fund, SPDR S&P 500 Trust ETF (NYSEARCA:SPY), which has assets under management north of $350B, is witnessing market participants taking the largest short position in the fund in 2021. The short interest in SPY has steadily been rising through

the course of May, now sitting at 4.8%.

This level which is the highest year-to-date is still not to the levels investors saw back in 2020, where short interest in SPY climbed higher than 7%. The rising levels in short positions have come on relatively quick, as back at the end of March 2021, short interest in SPY was at 1.7%.
Per Bloomberg, Chris Zaccarelli, Chief Investment Officer at Independent Advisor Alliance, stated: "We don't think the bull market is in any danger of ending prematurely. But with a 10% or greater pullback happening on average once every two years at least since 1980, we do believe a pullback of that magnitude is likely this year."
Another thing to note is that since March 25th of this year, SPY has also witnessed outflows of nearly -$10B leave the fund. Below is a chart showing the fund flow data of SPY from March 25th – May 24th, and investors can see there were outflows of -$9.36B.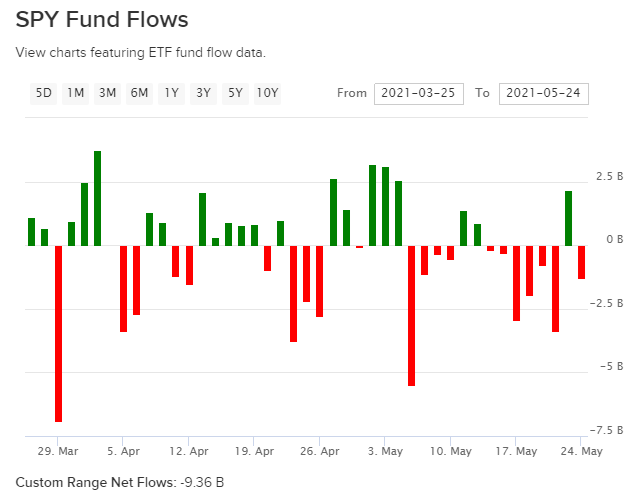 Closing out the trading day on Tuesday and SPY finished

-0.20

%

.