Oil & Gas continues to trounce green energy
Jun. 02, 2021 1:14 PM ET
iShares S&P Global Clean Energy Index ETF (ICLN), XLE
XLE, OIH, IEZ, XES, GRNTF, TAN, ICLN, CTEC
By:

Jason Capul,

SA News Editor
52 Comments
Oil & Gas ETFs continue their march to the topside as they inversely trade against many green energy-related names. Energy stocks are the top performing aspect of the market in Wednesday afternoons trading session, while specific green energy names are among the worst performers.
Oil and gas is currently trending upward as crude oil hit its highest trading levels in more than two years, dating back to October of 2018 yesterday after OPEC+ agreed to continue the current pace of gradually easing oil supply.
Per the Guardian, new data divulges the fact that the United Kingdom, United States, Canada, Germany, France, Italy, and Japan committed $189B to support oil, coal, and gas between January 2020 and March 2021, compared to spending $147B on clean energy.
The investment community has pumped large amounts of capital into the oil and gas space as it has been the top-performing sector of the market year-to-date.
Examining two different exchange traded funds, Energy Select Sector SPDR ETF (NYSEARCA:XLE) and iShares S&P Global Clean Energy Index ETF (NASDAQ:ICLN) and investors can see the apparent divergence in performance.
Below is a year-to-date chart of the two ETFs and the performance of the S&P 500, which is tracked in the middle.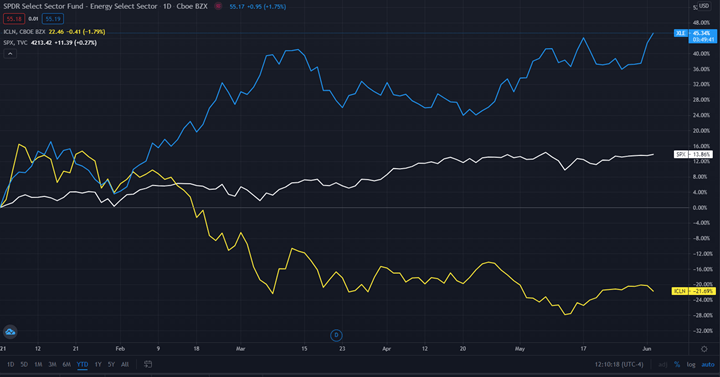 Additional oil & gas ETFs and their daily performance: (NYSEARCA:XES)

+8.99%

, (NYSEARCA:OIH)

+8.15%

, and (NYSEARCA:IEZ)

+7.75%

.
Additional green energy ETFs and their daily performance: (NASDAQ:CTEC)

-1.97%

, (NYSEARCA:TAN)

-1.73%

, and (NYSEARCA:GRN)

-1.59%

.