Secondhand stonks? AMC's run hitting passive investors: At the Open
Like passive smoking in a bar, passive fund investors could be getting the impact of moves in AMC (NYSE:AMC) and GameStop (NYSE:GME), whether they plan to or not.
While AMC's management is warning investors to steer clear of its shares

at these levels

unless they are prepared to lose it all

, the meme stocks are having an outsize influence on indexes.

DataTrek Research looks at what's happening with the small-cap standard Russell 2000 (RTY) (NYSEARCA:IWM) as market caps soar.
"You'd think that with just over 2,000 companies the Russell would be impervious to single stock moves," DataTrek says.
But you'd be wrong for Thursday, they say.
As of last night, AMC's Russell 2000 weighting was 0.82%. Its 17.9% decline yesterday translated into nearly 15 basis points down for the index.
That would be 18% of the Russell's 0.84% drop yesterday.
"While these numbers may seem small, remember that we're currently in a low volatility environment (VIX below 20) so every blip that impacts returns is meaningful," DataTrek says.
"The Russell has been in a holding pattern since its March highs, and we still favor large caps. The 'AMC effect' is not really part of our recommendation to stick with the S&P 500 over the Russell, but it is still worth understanding."
"This is nuts (& certainly not a plug for any individual stocks), but 5 largest stocks in Russell 2000 are now: AMC, Caesars (NASDAQ:CZR), GameStop, Plug Power (NASDAQ:PLUG), & RH (NYSE:RH) … worth pointing out that all but RH have negative trailing 12m EPS," tweets Liz Ann Sonders, Schwab chief investment strategist.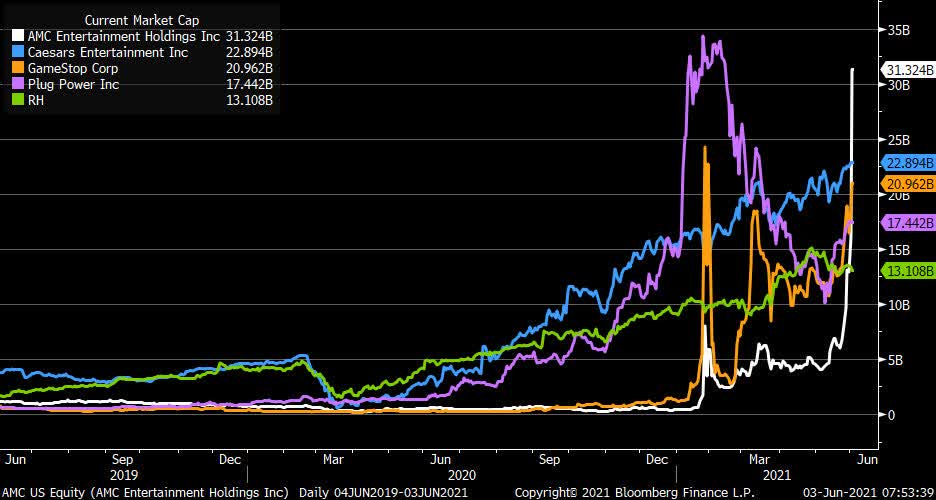 Twitter is even more aflutter about the fact that AMC and GameStop are the top two stocks in the Russell Value 2000 (NYSEARCA:IWN).
"Meme stock mania is making its way to a passive market cap weighted indices," tweets Matthew Mishkin, co-chief investment strategist at John Hancock Investments. "Perhaps this will give active management a long awaited advantage."
The Russell indexes will be rebalanced later this month.
So far, the SoFi Social 50 ETF (NYSEARCA:SFYF) and Invesco Dynamic Leisure & Entertainment ETF (NYSEARCA:PEJ) have benefited the most from the AMC rally.
AMC says it's looking to sell 25M more shares next year to take advantage of this year's surge.