Can The Boring Company make inroads after opening Las Vegas Loop?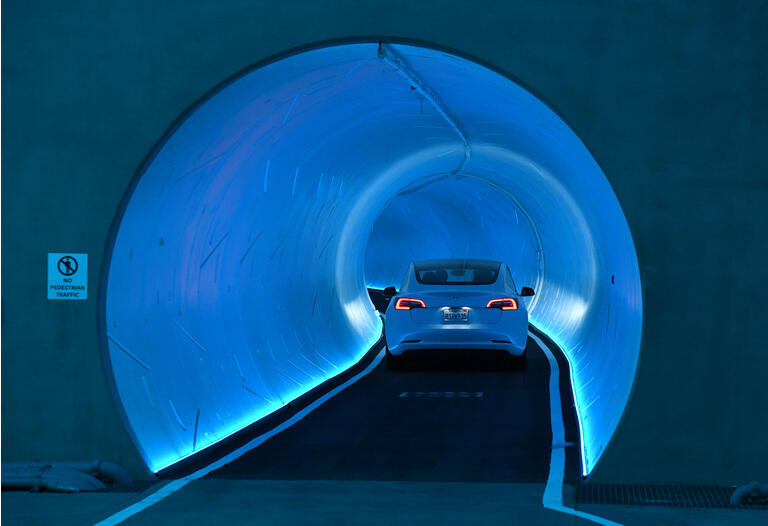 Mixed reviews are pouring in for The Boring Company's first operational tunnel, which opened last week under the sprawling Las Vegas Convention Center. Teslas shuttle visitors from one end of the complex to the other, reducing a 45

minute walk to a two-minute underground ride that's surrounded by glitzy lighting. The 1.7-mile stretch (each tunnel is less than a mile) was built at a cost of $47M, plus another $5.5M paid to third party inspectors. The project could eventually expand along the Last Vegas Strip, and to Allegiant Stadium and McCarran International Airport.

Flashback: The Boring Company started from Elon Musk's grand vision of revolutionizing transit. In 2016, he got fed up with the gridlock in Los Angeles, tweeting he was "going to build a tunnel boring machine and just start digging." The idea was to design intra-city ("loop") transit systems for passenger vehicles, which could eventually transition to autonomous cars or Hyperloop-based transportation for longer inter-city routes. The Boring Company was initially formed as a subsidiary of SpaceX, before becoming an independent business in 2018.
When first announced, Musk said the Las Vegas Convention Center (LVCC) Loop system would be able to transport people from point A to Point B at 125 miles per hour, with no restrictions. However, at launch last week, the network was transporting cars at around 35 mph. "We simplified this a lot," Musk said last October. "It's basically just Teslas in tunnels at this point, which is way more profound than it sounds." At maximum capacity, Boring hopes to bring in a fleet of 62 Teslas capable of holding five people each, with a transport capacity of about 4,400 people per hour.
Outlook: Projects from The Boring Company have been highly publicized, but many of them have gone up in smoke. Those include the Chicago Express Loop (linking downtown Chicago with O'Hare Airport) and the Baltimore–Washington Loop (linking the two cities with future plans to connect NYC), as well as the Westside tunnel concept in LA (parallel to Interstate 405) and the Dugout Loop (bringing Los Angeles Dodgers fans to the ballpark). Other negotiations and discussions are still underway in Fort Lauderdale, Miami, San Jose and San Bernardino.