BlackRock's total ETF assets surpasses $3 trillion under management
Jun. 14, 2021 3:46 PM ET
iShares iBoxx $ Investment Grade Corporate Bond ETF (LQD), AGG, IEMG, IEFA, IVV, BLK
AGG, LQD, IVV, BLK, IEMG, IEFA
By:

Jason Capul,

SA News Editor
19 Comments
Assets under management for BlackRock's (NYSE:BLK) exchange traded fund business have surpassed the $3 trillion-dollar threshold for the first time in history in this past month of May. Additionally, the exchange traded fund space continues to grow at

a fast pace, now with more than $400B in net inflows year-to-date.

Per the Financial Times, BlackRock recently predicted that the ETF industry could reach up to $15 trillion by 2025. "There are decades of growth ahead for ETFs," says iShares executive Salim Ramji, with ETFs accounting for just 3% of total equity and bond market assets globally.
So far this year, BlackRock has seen $103.76 billion in net inflows, dwarfing the $28.99B it saw at this point in 2020. Below is a year-to-date chart breaking down BlackRock's fund flows.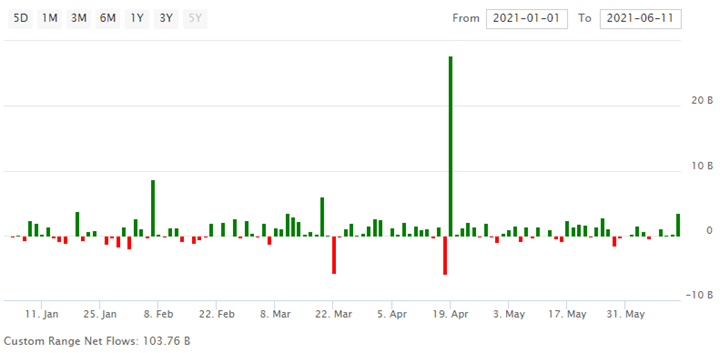 Data and chart are per etfdb.com.
The ETF space is witnessing rapid growth not only with traditional exchange traded funds but now with the increasing demand for thematic and ESG investing, the space is growing at an explosive pace.
BlackRock now has 389 different ETFs and some of the largest and most prominent funds are as follows: (NYSEARCA:IVV), (BATS:IEFA), (NYSEARCA:IEMG), (NYSEARCA:AGG), and (NYSEARCA:LQD).