Jerome Powell notes risks to 'transitory' inflation story in press conference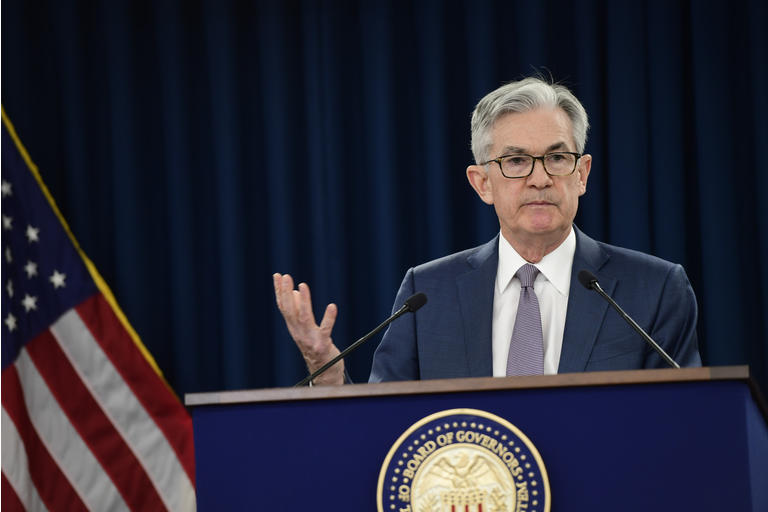 The U.S. real GDP is "on track" to its strongest growth in decades, but the recovery remains "incomplete," Federal Reserve Chairman Jerome Powell said during his post-decision press conference.
He still describes rising inflation is

due to mostly "transitory" factors, but admits there's a risk that inflation may be more persistent than they currently expect.

The FOMC members expect inflation of ~3.4% at the end of this year, but then move down next year.
Powell points to supply bottlenecks and price increases resulting from the reopening of the economy. Such examples include the movement in lumber prices and used-car prices. (added at 2:46 PM ET).
3:30 PM ET: Press conference ends.
3:29 PM ET: When asked about whether tapering asset purchases will risk a "tantrum" from the market (as occurred in 2013): "We will do what we an to avoid a market reaction," but the Fed will make the change and communicate it well in advance when the policymakers judge it's appropriate, Powell said.
3:28 PM ET: During the last minutes of the press conference, the Nasdaq

rises less than 0.1%

, erasing its loss after the Fed's statement came out. Dow pares its loss to

-0.5%

and the S&P

-0.2%

also trims is decline.
3:24 PM ET: While the FOMC members' forecasts see GDP growth moderating to 3%-3.5% next year from about 7% this year, "it's still a very strong growth," Powell said, pointing out that the U.S. didn't have any year with 3% growth between the 2008 financial crisis and the pandemic.
3:14 PM ET: "If we see inflation moving materially above what see as consistent to our goals and persistently so," the Fed would act to bring it down, he said. Still, that's not the FOMC's expectation. There's a possibility that inflation "could be quite low going forward," he said.
3:10 PM ET: Powell has no announcements to make regarding changes to the banks' supplementary leverage ratios and had no further information on when an announcement will be made.
3:08 PM ET: According to forecasts, "we're going to be looking at a very strong labor market pretty quickly," the Fed chair said.
After the Great Recession, the Fed was surprised by the labor supply outperforming expectations, Powell said. "We'll have to be alert to see if that will happen again," he said.
However, there may be some differences this time, including a large number of people retiring, Powell said.
3:00 PM ET: Regarding any move to taper asset purchases, the process will be "orderly, methodical, and transparent" and the Fed will communicate its plans "well in advance" of executing the change. Powell declined to say how far in advance that would be communicated.
2:56 PM ET: The committee didn't have any discussion on when they thought they may start raising rates, Powell explained. It would be premature to discuss that now, he added.
Powell also noted that the committee's dot-plots aren't a "great forecaster of future rate moves."
2:52 PM: "It's good to see longer-term inflation expectations moving up" closer to the Fed's goals, he said.
2:50 PM ET: It will be "appropriate" for the FOMC to talk about a plan to taper asset purchases at coming meetings, assuming economic progress continues, Powell said.
Update at 2:41 PM: Powell explains that when the FOMC eventually decides to raise rates, policy will still remain "highly accommodative."
Developing... Check back for updates.
Watch event live here.