After a weak July for Financials, can payrolls help by boosting yields?: Sector Watch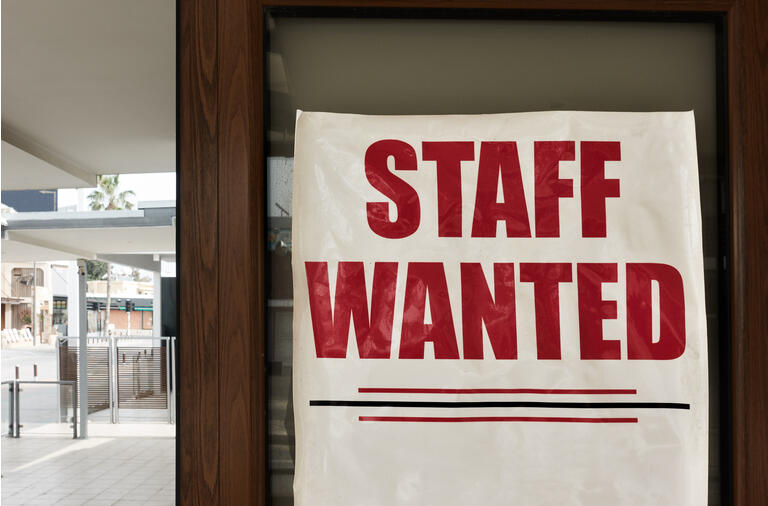 With the Fed still laser focused on the labor market, a big payrolls number Friday could bring tapering closer and kickstart the reflation trade.
The Financials (NYSEARCA:XLF) was the second-worst performing sector in July, down 0.5%, behind

the 8.3% drop in Energy and a 2.3% rise in the S&P

(NYSEARCA:SPY)

.

The SPDR S&P Bank ETF (NYSEARCA:KBE) fell 3.6%.
During the month, the 10-year Treasury yield (NYSEARCA:TBT) (NASDAQ:TLT) has dropped 25 basis points to 1.23%.
A rise in rates could provide some much-need net interest margin help for banks and and Wall Street is still looking for rates to hit 1.75% by the end of the year.
In what was seen as a dovish press conference last week, Federal Reserve Chairman Jerome Powell said the FOMC has "some ground to cover on the labor market side."
"I would want to see some strong job numbers."
Economists are looking for nonfarm payrolls to have risen by 900K in July in Friday's jobs report.
BofA Securities is calling for payrolls to be up 750K, noting that the high-frequency data flow between the June and July payroll periods suggests deceleration in hiring activity.
While our forecast signifies some moderation in the pace of job gains, it would still be another step towards 'substantial further progress' that the Fed is looking for in its assessment of the labor market," economists led by Ethan S. Harris write.
"One key feature of our forecast this month is we expect a significant share of the job gains to come from the public education sector," Harris adds. "According to press reports, summer school enrollment was up strongly across the country as students try to make up for lost time during the pandemic."
"More school time over the summer suggest more teachers remained on payrolls in July, mitigating the usual 1mn+ layoffs seen in local government education payrolls on a nonseasonally adjusted basis."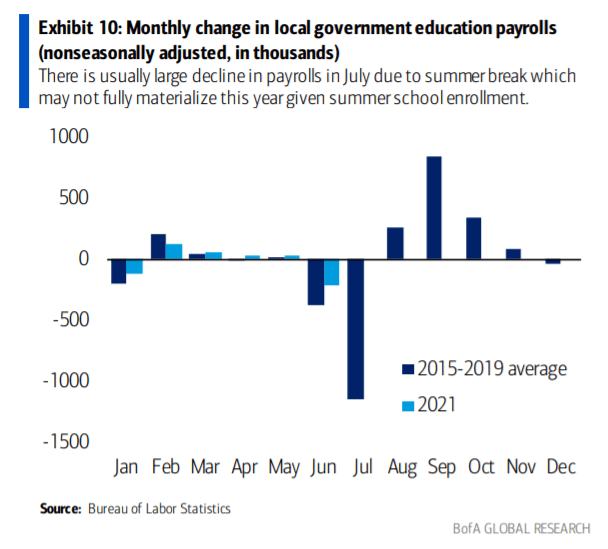 Jefferies Chief Economist Aneta Murkowska is much more bullish, calling for a rise in payrolls "well above" 1M and closer to 1.5M, citing expiring UI benefits and seasonal factors.
"Aggregating claims based on program expiration dates shows that the most meaningful declines occurred in the second and third weeks after the last enhanced UI payment," she wrote in a note. "This implies a sizable NFP increase in July and even larger gains in Sep/Oct."
BofA credit strategists warn that a big NFP gain could result in a "boomerang effect' for the Fed.