Sen. Elizabeth Warren: Crypto markets might need bailout someday without proper regulation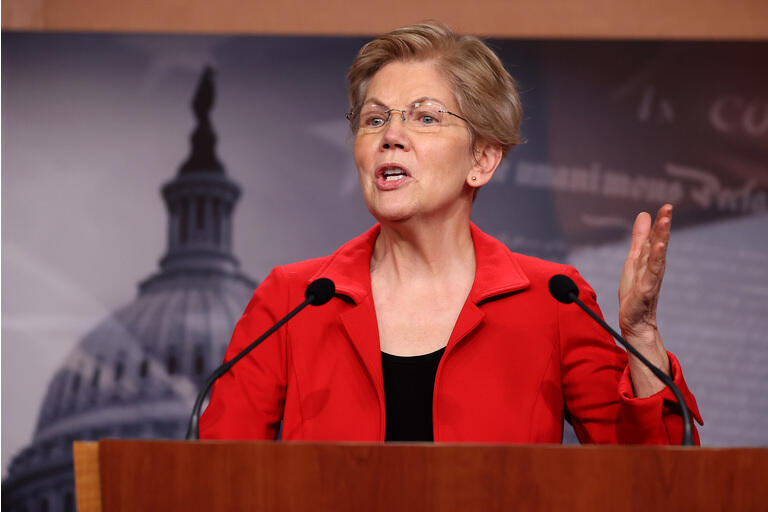 U.S. Sen. Elizabeth Warren (D.-Mass.) said Wednesday that an expanding cryptocurrency market could pose a threat to the U.S. financial system if a proper regulatory framework isn't put into place.
In an interview on Bloomberg

TV, Warren also expressed concern about Federal Reserve Chairman Jerome Powell, suggesting that she was skeptical about reappointing the head of the central bank because of what she sees as a soft approach to regulation.

Commenting on the crypto market, the senator compared the asset class to certain markets ahead of the 2008 financial crisis, saying she doesn't want "the U.S. taxpayer to get called on" to backstop another failing financial market.
Warren argued that the crypto market could approach that dangerous area "the bigger it gets and the more it stays outside" the financial regulatory structure.
The senator, who has been an outspoken critic of cryptocurrencies, comparing them to "snake oil," acknowledged some potential benefits from the asset class.
She said crypto could be used for the democratization of the financial system, though regulation would still be needed to prevent more people from coming into the market "to be cheated."
On Fed Chairman Powell, Warren charged the central bank chief of weakening regulation "over and over."
She called for a top Fed official who could give equal focus to monetary policy and regulation.
Sen. Warren joins SEC Chair Gary Gensler in calling for stepped-up regulation of cryptos like Bitcoin (BTC-USD) and Ethereum (ETH-USD). Earlier Wednesday, Gensler said more oversight is needed for what he viewed as a "speculative asset class."