ARK Invest says growing use of robots could boost the S&P industrials
Cathie Wood's ARK Invest said Thursday in a new report that robotics use in the manufacturing industry is in its infancy, and wider adoption could help S&P Industrials stocks.

ARK wrote in the report that

machines have altered the agriculture business over the past century, enhancing its profitability and offering a hint at what could be an impending, similar manufacturing revolution.

The firm said that while robot usage in overall manufacturing is already six times higher than in all other industries, it's still one-sixth that of the auto industry and one-fifteenth that of Amazon (NASDAQ:AMZN):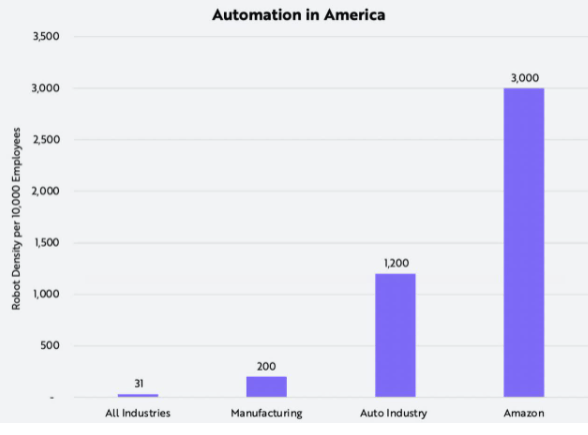 (Source: ARK Invest)
"If capital spending does accelerate automation, companies focused on operational efficiency should be able to increase their returns on investment," ARK wrote. "In fact, from 1990-2018, the decline in labor as a percent of revenue in the S&P Industrial sector seems to have contributed to an increase in its operating margins."
Two of ARK's ETFs that provide exposure to automation and robotics are the flagship ARK Innovation ETF (NYSEARCA:ARKK) and ARK Autonomous Technology & Robotics ETF (BATS:ARKQ) which were

+0.47%

and

-0.08%

at last check on Thursday.
However, ARK isn't the only ETF issuer that's bullish on automation in the manufacturing or agricultural industries.
For instance, Global X recently launched the AgTech & Food Innovation ETF (NASDAQ:KROP), which invests in companies involved in innovation in the agricultural space.
The firm recently noted that the global market for agricultural robots could reach $21B by 2026, almost triple the market size in 2020.
Global X AgTech & Food Innovation ETF (KROP) was

-1.33%

heading into the close in Thursday's trading session.
As for the future of robots in manufacturing, you can read ARK's complete report on the subject here.
Meanwhile, ARK wrote in a separate report Tuesday, that it's optimistic about the market opportunity in the Chinese healthcare sector.